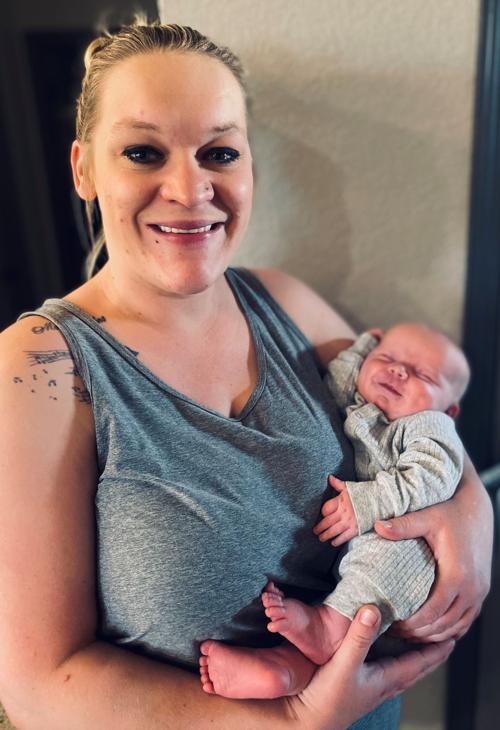 Giving birth can now be an event that helps others heal. Monument Health and Dakota Lions Sight and Health have introduced a birth tissue donation program at Monument Health Rapid City Hospital.
Dakota Lions Sight and Health is a nonprofit eye and tissue donation organization headquartered in Sioux Falls. Its birth tissue donation program coordinates the donation and collection of birth tissue, which includes amniotic membranes and umbilical cords.
Nicole Whipple of Rapid City was the first woman to participate in the birth tissue donation program when her second child, Rowen, was born on Sept. 16.
Whipple's son was born by a scheduled Caesarean section. Before Rowen's birth, Whipple said she was approached at a doctor's appointment about the birth tissue donation program.
"It sounded like something I wanted to participate in. If I'm able to help anyone or give anything, I certainly want to do that," Whipple said.
At the hospital before Whipple's Caesarean section, staff from Dakota Lions visited Whipple to introduce themselves. After the surgery, the medical team gave Dakota Lions Whipple's birth tissue.
"I had the C-section and (Dakota Lions) was waiting outside. As soon as the baby was delivered and we knew everything was good, (the medical staff) was able to give them the birth tissue," Whipple said. "Overall, it was a great experience and I would recommend that anybody think about it. It's stuff we don't need anymore so if it can help somebody, it might as well."
Birth tissue is gathered after a baby is born through a planned Caesarean section and poses no risk to the mother or baby. Rapid City Hospital performs about 20 planned C-sections a month.
Birth tissue contains cells that stimulate healing. Grafts have been shown to have anti-microbial and anti-inflammatory properties. Additional benefits include quicker recovery, pain suppression and reduction in scar tissue. Birth tissue, including placenta tissue, umbilical cord and amniotic fluid, is used to treat a ailments as diverse as traumatic burns, skin cancer, difficult-to-heal wounds, neurological damage, ulcers, eye injuries, blood disorders and many others.
A single placenta donation can help 20 to 40 people.
"We are proud to be part of this initiative," said Tina Dillon, manager of Labor and Delivery at Rapid City Hospital. "We can help countless patients recover from serious ailments, without any risk to mother or child. This is another way we can provide a caring experience for patients all over the country."
The Dakota Lions birth tissue donation program was introduced in North Dakota and South Dakota this year. The program launched in Fargo in January and at Avera in Sioux Falls in June.
In conjunction with this new program, Dakota Lions Sight and Health created educational materials that can be shared with expectant mothers to inform and encourage donations. These materials are being made available to health care providers to help educate their patients about the process and benefits of birth tissue donation.
"As an organization we have always focused on ensuring health care professionals have dependable access to the safe donated tissue they need to deliver the very best care to their patients. The addition of the birth tissue donation program continues this effort and also supports our mission: To help enable the restoration of the gifts of sight and health," said Marcy Dimond, CEO of Dakota Lions Sight and Health.
Dakota Lions Sight and Health serves South Dakota, North Dakota, northern Nebraska and western Minnesota. For more information, go to dakotasight.org/.