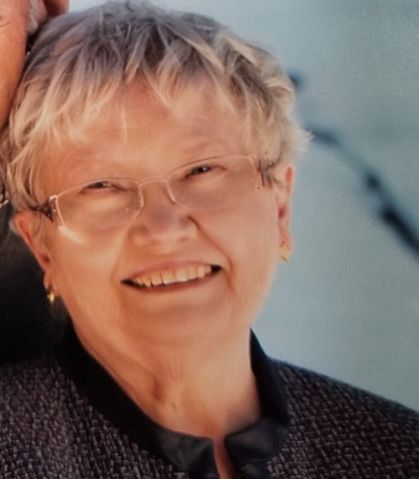 Retired teacher Doneen Grimm's life could be summed up in three simple words: Spreader of cheer.
Grimm, who'll celebrate her 80th birthday on July 8, has written encouraging notes and letters every day for decades to friends, family, former students and strangers.
In Grimm's honor, her daughters have launched a letter-writing campaign. Anyone who's ever received a card or letter from Grimm is invited to send her one for her birthday. Since an in-person birthday party isn't possible during the COVID-19 pandemic, Grimm's family hopes she will be showered with the same kind of cheer she has shown others.
Grimm's daughters said cards and letters can be mailed to 255 Texas St., Apt. H350, Rapid City SD 57701.
Grimm was born in Hermosa and has spent her entire life in the Black Hills. She graduated from Rapid City High School and earned a teaching degree from Black Hills State College. She began her career teaching second grade at the former Jefferson Elementary School in Rapid City. After taking time off to raise her daughters Coleen Nelson, Joleen Wilson and Donita O'Meara, Grimm founded and opened Rainbow Preschool at First Presbyterian Church. She ran the preschool for about 30 years, retiring in the mid-1990s.
Longtime friend Diana Glover met Grimm in the fall of 1958, when Glover and Grimm were college freshmen. Glover later taught at Rainbow Preschool. Neither Glover nor Grimm's family are sure what started Grimm's prolific letter writing, but it's a habit Grimm has had for most of her life.
"I do know when we were in our late 20s or early 30s, one of her very good friends was very ill," Glover said. "Doneen mentioned she'd written her a letter and was writing to her every day. She felt it's much easier to write every day because you get continuity going. She felt that was easier than to write once a week."
Writing is Grimm's spiritual mission, an opportunity to give people attention and encouragement, Glover said.
"Doneen believes in building people up, affirming them in their activities and successes," Glover said. "(Her cards and letters) always affirmed our friendship, which is very tight. … It was always encouragement and congratulations for a new grandchild and every aspect of our lives. She could pick up on it and make a positive of it.
"I am blessed to have been the recipient of many such cards, and if I kept them all, I'd have at least a hundred," Glover said.
O'Meara's earliest childhood memories include her mother writing letters, always by hand in her beautiful cursive handwriting.
"I remember her sitting in a recliner in the morning and evening with her little writing board and she would be writing letters. My whole life, that's what I know of her," O'Meara said. "When she was still working, my dad would get up at 5 a.m. and she would get up and make him breakfast, and she would sit down in her pajamas and write some letters before we got up and as we got up, and then she had time later in the day when she would also write letters."
When Grimm's daughters went to college out of state, letters from home came often.
"I was the youngest. She wrote every day and it was things like, 'This morning I made your dad some oatmeal for breakfast' and 'In preschool today we're going to learn about squares,'" O'Meara recalled, chuckling. "It was things like that that would be no news to anybody else, other than it was a letter in my mailbox. It was consistent. It was darn near every day."
"She carried that tradition to the grandkids in college. They all got letters from grandma," Wilson said, noting that her mother often tucked in newspaper clippings of things she thought would be of interest.
Nelson now has three children and lives in Minnesota. O'Meara has two children and lived in Colorado and Idaho before recently returning to Rapid City. Wilson has three children and lives in Rapid City.
After college, O'Meara said frequent letters continued to faraway daughters and grandchildren.
"My children were young and (my mother) would write in the language of her preschool – very simple wording. She always addressed it right to the kids so it was very personal. It was not uncommon she would slip a dollar bill or five dollar bill inside," O'Meara said. "Our kids grew up having that special connection to their grandma."
Grimm sends cards and letters in honor of special occasions, or comes up with her own.
"Sometimes for us adults she would send us a letter and … she would say something silly like 'Happy Chinese New Year' or find some random holiday," O'Meara said.
"It's a good reminder that we are all able to keep connected by letters and communication even when we can't gather together," Nelson said.
Grimm's teaching career inspired reasons to send hundreds, if not thousands, more cards and letters. Colleen Lecy taught at Rainbow Preschool, and three of her five children were students there. Grimm sent notes to the students, and to parents when she knew they needed encouragement, Lecy said.
"I think Doneen was very aware of the importance of relationships and giving feedback to people. That's a real sense of who she is. Not giving false praise, but to help people to recognize when they should be proud of themselves," Lecy said.
As a result, even the most challenging student Lecy can recall was so fond of Grimm that he invited her to his birthday party.
"Everybody she ever taught felt like they had a connection to her," Wilson said. "She would get graduation announcements from everybody she ever taught, and wedding announcements. She would get boatloads of those year after year."
In recent years Grimm has volunteered with the Crossroads program at First Presbyterian Church. The programs sends Bible study lessons to prison inmates nationwide, then matches an inmate with a volunteer mentor whose role includes writing a letter of encouragement. Those letters are kept anonymous, said Dawn Bargeman of First Presbyterian Church, and the inmates often answer Grimm's letters.
Wilson and O'Meara said it's not uncommon to be out in the community and encounter someone who says, "I know your mom. She wrote me a letter!"
"A letter now and then is enough to let people know you still remember them and care enough to write," Wilson said. "It really is her legacy. … I think (my sisters and I) all have aspirations to be like our mother but none of us have to that extent. We still write thank you notes and birthday cards but we have not kept up her level of letter writing!"