KADOKA — Cedar Amiotte didn't take any plays off Friday night.
The Wall senior carried the brunt of his team's rushing attempts on offense, but always came back out on the field to lead his squad's backfield on defense.
The result? A 178-yard, two-touchdown performance on offense paired with two interceptions on defense to help No. 5 Wall pull away from rival Kadoka Area in a Class 9A showdown in what ended up being a blowout result, 61-18 on the road.
"Whenever we were on defense and we were in Tampa, that's a Cover 2 (defense), I just sat back and watched the quarterback and tried to make plays whenever I could," Amiotte said. "On offense, I tried to pick a gap, hopefully not get laid out, and our line did really well today. It was fun."   
Amiotte also caught a pass for 45 yards, giving him more than 200 yards from scrimmage. Teammate Mason Heath collected 89 yards on the ground as part of a three-touchdown performance, while Eagles (3-0) quarterback Burk Blasius went 4 of 6 for 83 yards and a touchdown. Wall totaled 285 rushing yards.
"He's a team player, a great leader, and he's a really important piece to our team," Wall head coach Lex Heathershaw said of Amiotte. "In the same breath though, he gets those touchdowns from our offensive line, and that's where the work's done; up front in the trenches."
Garrett Hermann completed 4 of 6 passes for 83 yards for the Kougars (1-1), throwing two touchdowns and three interceptions. Gabriel Fauske earned 72 rushing yards on 15 carries, while Tyus Williams tallied a touchdown along with 42 yards on the ground on 11 carries.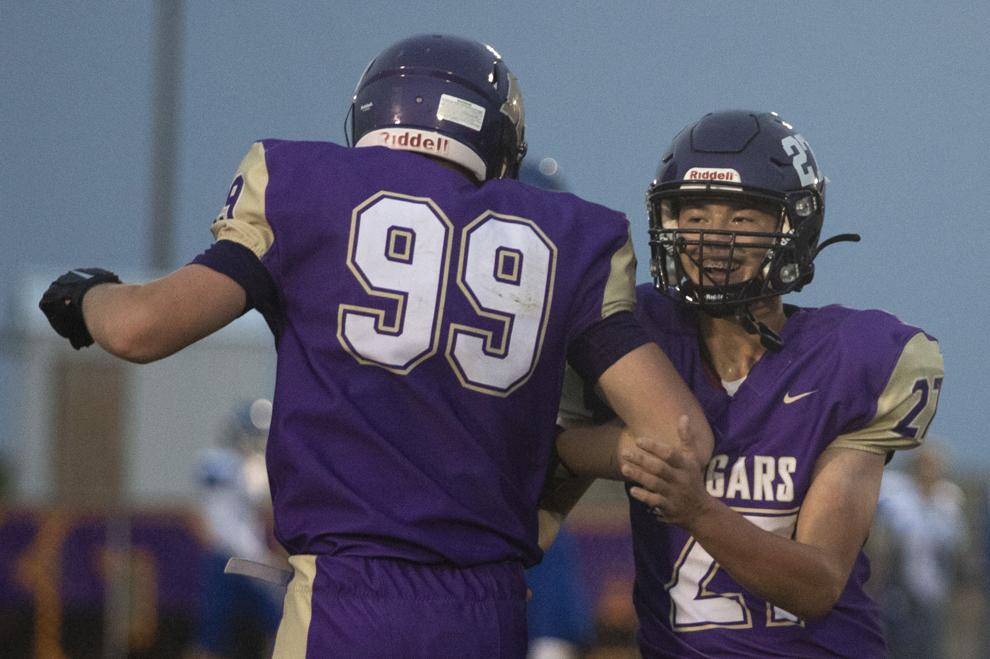 Kadoka Area surprised early by getting its offense going and executing a 19-play drive on the game's opening drive, capped off by a 4-yard touchdown pass from Hermann to Fauske. On its second drive, Hermann tossed up a jump ball in the end zone on fourth down, and Gus Stout came down with it, fighting through a pass interference infraction to score the touchdown and make it 12-6 in the first quarter.
"You've got to hand it to Kadoka," Heathershaw said. "They're a well-coached team and Coach (Chad) Eisenbraun does a good job with his kids, and they play hard."
Wall's first points came on its first offensive play from scrimmage, as Amiotte took a handoff and busted up the middle for a 52-yard touchdown. Blasius lost a fumble on his team's next possession, but the Kougars got the ball back after the Eagles failed to capitalize on the turnover and pulled ahead on a 23-yard touchdown scamper by Heath.
Kadoka Area's offense stalled after its second touchdown, however, while Wall's stayed loose, scoring on a 2-yard QB keeper from Blasius following rushing bursts of 21 and 30 yards from Amiotte.
Blasius added another touchdown before halftime, connecting with Rylan McDonnell in the end zone from 7 yards out to put the Eagles up 28-12 with 1:07 to play in the first half.
Fauske helped move the Kougars into enemy territory before halftime, but an aired-out pass from Hermann was picked off by Amiotte to keep it a 16-point margin at intermission.
Kadoka Area surprised its rival with a successful onside kick to begin the third quarter, but it failed to get a first down on its ensuing drive. Blasius answered with a 45-yard pass to Amiotte before Heath slipped down the sideline for a 12-yard touchdown 1:31 into the second half.
Heath then ran in a score from 12 yards out to make it 40-12 in the frame.
Amiotte grabbed his second pick on the Kougars' next possession, and the Eagles capitalized with a touchdown run from Blasius, who bounced outside for an 8-yard score with 3:29 left in the third.
"We just had to wake up defensively," Heathershaw said. "Kadoka brought it right at us, kind of drove it right down our throats and gave us an eye-opener, so we had to keep our nose to the grindstone and keep working hard."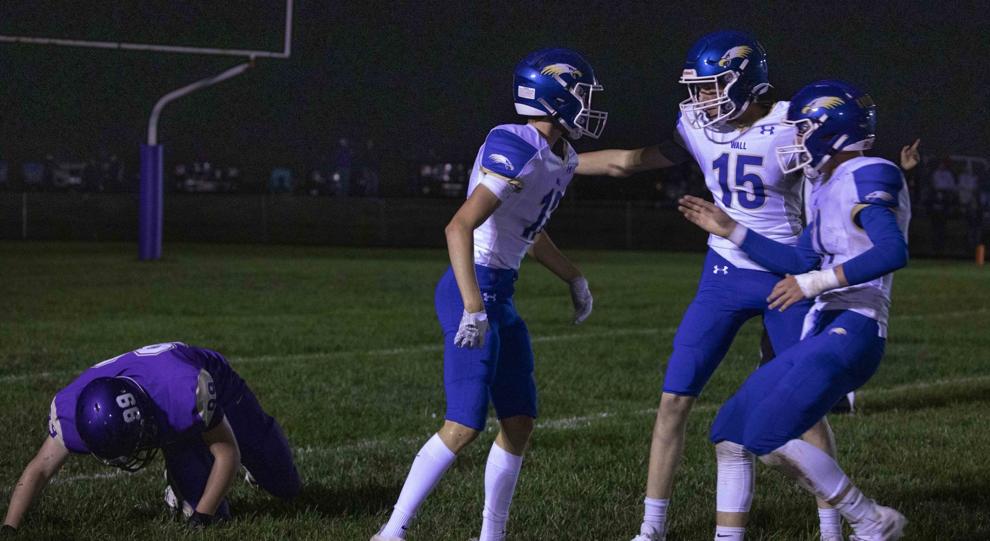 Wall put together an 11-play drive to open the fourth quarter and capped it off when Amiotte took a pitch right and hustled for an 11-yard touchdown to make it 54-12 and induce a running clock. 
Kadoka Area found its first points since the the first quarter with an 8-yard touchdown run from Williams, who fought his way through a defender to cross the goal line, but Wall immediately answered on its next play on offense with a 93-yard scoring run by Ethan Ferguson with 2:28 remaining, which Heathershaw believes is a school record.
"We've kind of got a three-headed monster that's coming together with Amiotte, Heath and Ferguson. Those guys run the ball hard, so we're going to do a lot of things with our backfield.
Wall travels to Philip (2-0) next week, while Kadoka Area plays Jones County (0-2) on the road.