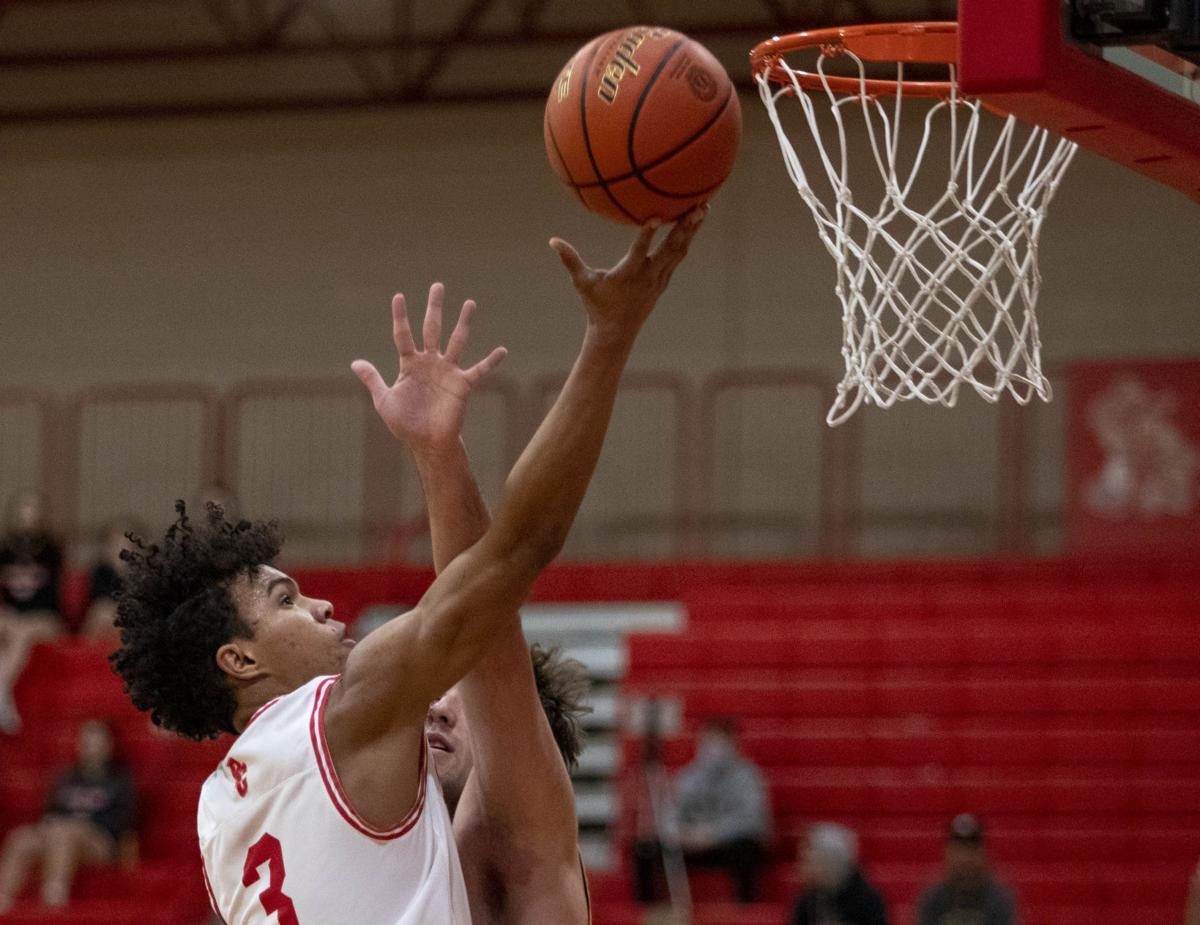 Rapid City Central's Micah Swallow hit the biggest shot of his career on Jan. 23 when his half-court 3-pointer beat Sioux Falls Roosevelt, the eventual Class Aa state champions.
The season didn't end like the Cobblers would have preferred as they were knocked off in the SoDak 16, but Swallow would continue to have an outstanding season after that half-court shot, capped with his selection to the Class AA Boys All-State Basketball First Team.
Swallow and White River's Joe Sayler were among the local West River players to earn first-team honors in the all-state teams that were announced Wednesday by the South Dakota Basketball Coaches Association.
"It's pretty amazing to be chosen amongst the best in the state," Swallow said. "Being on the first team is like a big deal to me because I have been improving a lot over the years trying to make a name for myself."
It didn't hurt to hit a buzzer-beating, game-winning half-court shot to make a name for himself as well.
"In practice before games we would always shoot half court because Coach (TJ Hay) said you never know if you are going to take that shot. The shot just went in," he said.
Swallow saw his scoring average jump from 15 points a game for the Cobblers his junior season to 22.9 this past season. At 6-foot-3, he also averaged 10.7 rebounds a game.
"It took a lot of work," Swallow said. "I went to a lot of camps, I went to a lot of tournaments, I went to a lot of AAU tournaments," he said.
Swallow looks to continue his basketball career in college and is working on those details at this time.
That opportunity in college would be a dream come true.
"I just love the sport, I really love to play basketball," said Swallow who also played football and competed in track for the Cobblers. "I just want to be able to compete, and compete against other good players. I just have that drive to keep going."
Although the high school season is over, Swallow has three games left in all-star competition. He competed in the 3-Class Tournament a couple of weeks ago in Salem, and will be part of — along with his brother Julian — the 2021 Lakota All Star Boys Basketball Game April 24 at the Rushmore Plaza Civic Center. He'll also compete in the all-star tournaments in Spearfish and Sioux Falls.
"That definitely is going to help me get better because you are playing with really good players who play really good defense, and you are going to have to play good defense," he said. "It helps you out understanding what you are going to be playing at the next level."
Also named to the AA first team were Matthew Mors of Yankton, Caden Hinker of Mitchell, Jackson Hilton of Brandon Valley, Tyler Feldkamp of Sioux Falls Roosevelt and Eli Williams of Sioux Falls Washington. Mors (24.5 ppg., 7.3 rpg.), the University of Wisconsin commit, was named the Class AA Player of the Year.
Sayler said he has been in the gym probably since he could walk, in older brother Nick's shadow.
He's providing a much larger shadow these days, not only as a Class B all-state first team performer as a sophomore, but as an early verbal commit to South Dakota State University.
He committed to Division I college basketball even before his sophomore season.
"That's very exciting and I'm very happy and grateful for the opportunity that Coach Hendo (Eric Henderson) provided for me," Sayler said. "It was a fun summer (2020). I played very well in the summer and they offered toward the end of it. I took it. I've always been a Jacks fan, I've always loved the fan base and I've always loved the togetherness there. I'm excited to not offer-chase as much and have my future set so I can focus on other things like getting better and getting stronger, improving everywhere."
Still, earning all-state honors was exciting, he said, although he said it is not an individual award
"My teammates were a big part of this, not just me," he said. "It's one award for my team, not just me. But I was pretty happy."
Just a sophomore, Sayler has been a part of the White River team, technically, since he was a 7th grader. He saw very limited action that season but saw more minutes as an 8th grader, building towards his outstanding 2020-2021 campaign.
"It's been a journey, a lot of hard work has been going into it," Sayler said. "I thank Coach (Eldon) Marshall for giving the opportunities for us young guys to experience it when we were in middle school. As you move on the game slows down for you, and that is what happened to me this year."
This past season, Sayler led the way with averaging 29.3 points a game, 6.1 rebounds a game and 2.6 assists per contest.
Again, he deferred to his teammates for getting him the ball, opportunities and positions for him to score.
"I take them head on with having a mindset that it is just one play and if I mess up, I got to go back to it the next time," he said. "I just have to keep moving forward and keep going to the bucket. If I see a couple of shots fall in, then I'll shoot outside a little more."
Kalen Garry of De Smet was named the Class B Player of the Year, averaging 23 points and seven rebounds a game. Also named to the first team were Connor Libis of Dell Rapids St. Mary, Trace Ortman of Canistota, Gradee Sherman of Viborg-Hurley and Sam Aslesen of Howard.
Winner senior guard Brady Fritz proved to be an outstanding scorer for the Warriors all season and was among the six players named to the Class A first Team.
Fritz averaged 26.4 points a game, while averaging 4.9 rebounds and 2.5 assists. He also had 47 steals.
Other first-team selections were Paul Bruns of Dakota valley, Jakob Dobney of Vermillion, Isaac Bruns of Dakota Valley, Oliver Vincent of Sioux Valley and Colin Rentz of Dell Rapids. Paul Bruns was named the Class A Player of the Year, as he averaged 27.9 points a game.
Two Black Hills Conference players were also named to the all-state teams as Jace Kelley of Custer and Ryan Wojcik of St. Thomas More were both named to the third teams.
Kelley led the Wildcats in scoring at 23.5 points a game, along with 6.2 rebounds and 2.3 assists per outing.
Wojcik paced the Cavaliers by averaging 13.3 points, 5.8 rebounds, 2.2 assists and 2.1 steals a game.