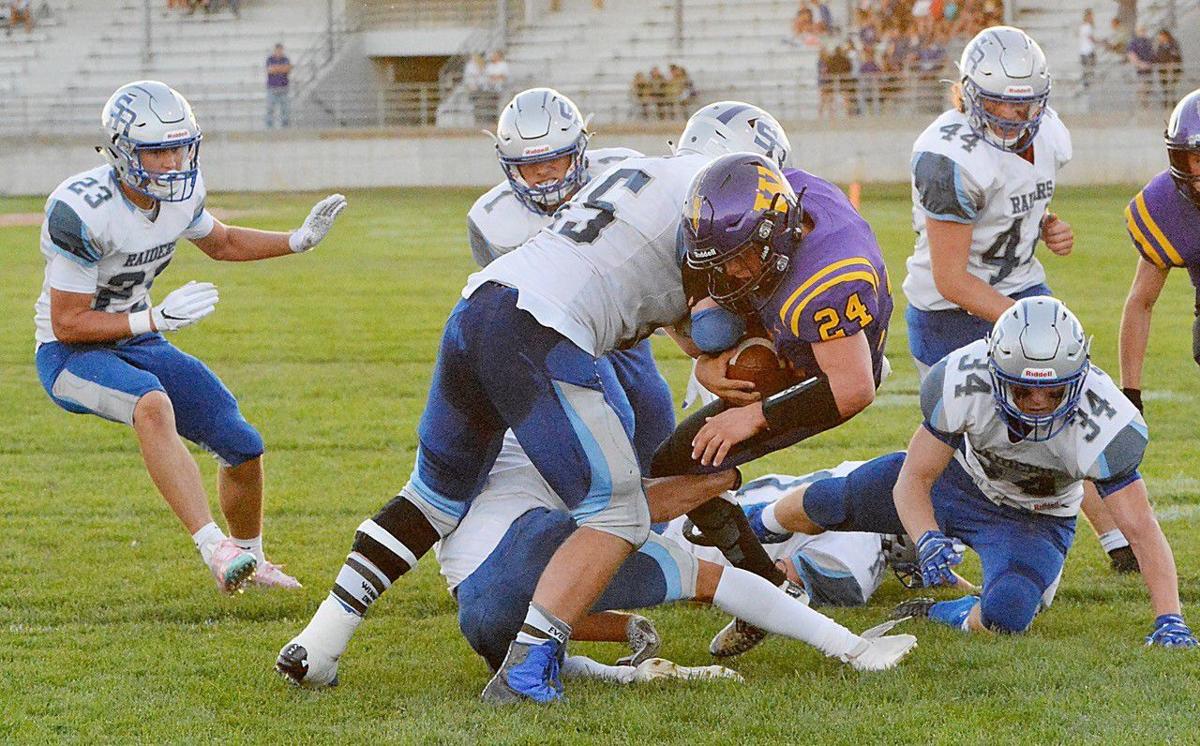 The road was not kind to the Rapid City Stevens and Rapid City Central football teams the first two weeks of the season.
There was improvement from Week 1 to Week 2, but both teams still came out on the short end to fall to 0-2. Now for Week 3, both teams are finally home with the annual Rushmore Bowl at O'Harra Stadium.
Central opens with a 4 p.m. matchup against Watertown, while the Raiders face Harrisburg at 8 p.m.
"It's going to be nice for the boys," first-year Stevens head coach Michael Scott said of being home. "When you start the season with two away games, especially when you start the season with O'Gorman — the state champs last year — it will be nice not having to trek across the state on the bus. That's six or seven hours that you are asking your football players to sit on a bus and go play a football game. Hopefully that gives them the energy to just go out and execute in (Friday's) game."
Central first-year head coach Neal Cruce echoed Scott's statements, saying coming back home is big for the team.
"Those six-hour bus rides, those are not easy for teenage boys. They are antsy and they are ready to play, and they have to sit there," he said. "It is tough for them and it is tough of those on the other side, it is not easy. But it is part of it, so it will be nice to be home and not have to travel."
Young Raiders looking to put things together
The Raiders showed signs of improvement after losing to O'Gorman in the opener 43-0, but still struggled against a Watertown team that Scott felt they were matched up well against.
The Arrows picked up their first win with a 30-7 victory.
"Hats off to the Watertown coaches, but I feel like we had opportunities and we didn't respond to them, and the coaching staff at Watertown took advantage of the opportunities," Scott said.
It has been a tough start for the Raiders and Scott, who was an assistant last season for Steven Svendsen.
He said he is not a believer of making excuses, but when he looks at what his players were up against, where some of the schools in East River were practicing since June 1, compared to the end of June or early July in Rapid City, his players are behind.
"We haven't had as much time as some of the other schools because we didn't have access to the gym at high school," he said. "Obviously the kids are going through another head coaching change, so hopefully the fans are patient with us and they take it in consideration to where we are currently at with the program.
"We're also a very young team. I went away from the norm of playing the same 15 or 16 group of kids on both sides of the ball. I felt like for us to truly compete with those schools East River, we had to go in a different direction, and that is to develop young talent."
Through two games he said the offense just hasn't executed, but defensively against Watertown, he was pleased with the effort.
Scott credited defensive coordinator John Crosswaite, as well as Cody Bene and Paul Ferdinand, for their work with the defense.
"They (the defense) have given us opportunities from an offensive standpoint, we just haven't been able to a capitalize," he said. "And that begins and ends with me. I point the finger at myself as the head coach. I have to go back to the drawing board and say, 'Hey, what can I do differently to make sure I am putting these kids in the best possible situation to succeed?'"
Scott said the offense was overwhelmed as some of the plays were college-level plays and he was asking a lot from them. Behind sophomore quarterback Jon Jenson, he said now they are going to dial back a bit.
"I told the boys we were going to focus on 10 plays, and if we can perfect these 10 plays, we'll open the book up and add more," he said. But until then, this is what we are going to focus on."
Harrisburg, now in its second season at AAA, comes into the game at 2-0, crushing Rapid City Central 63-7 and beating Sioux Falls Washington 35-17.
"Harrisburg is solid and a very well coached team," Scott said. "When I played for the (Sioux Falls) Storm, they were basically nonexistent, so their coaches have gotten that program heading in the right direction. They will come out and be aggressive. They have a quarterback (Jack Tiegen) that is solid and a running back (Anders Clayton) who goes downhill and is not afraid to bang."
Cobblers feel like they are making strides
Compared to the 56-point loss to Harrisburg in the opener, the 35-7 defeat to Aberdeen Central showed Cruce that his team was capable of improving.
"Harrisburg is arguably one of the top teams in the state, and having to travel there for the first competition that we had as a team, with a new staff on the sideline, that was a rough one and it was humbling for our team," he said.
Between Week 1 and Week 2 on the scoreboard, Cruce feels they improved. He thought they played three solid quarters against Aberdeen Central, but some things didn't go their way.
"We got a whole lot better in a short amount of time," he said. "We are definitely going to look to improve this week and see how things will go."
Cruce said they got a lot better on defense in a week's time, but offensively he said they are still struggling. Starting later than most teams, he said his coordinators are working hard and putting their time in to figure things out.
He said they are gaining ground.
"I feel like the kids have bought in, they work hard and we haven't had any character issues. They want to win and they want to work. They show up and do that every day," he said. "We got hit in the mouth early in Week 1, but instead of laying down, they got a whole lot better in a week's time."
Watertown is 1-1, losing 48-28 to Sioux Falls Lincoln but beating Stevens 30-7.
The Arrows have an athletic quarterback in Kale Stevenson who can get outside the pocket, so Cruce said the Cobblers have to make sure they are home on the backside so he doesn't come out the back door.
On defense, safety Dawson Schmidt plays over the top and the offense has to know where he is at all times.
"Those two guys are very good players, and in the trenches they are big," he said. "Size is not one of our strengths, so we'll have to use quickness to beat them to the punch off the ball."
Be the first to know
Get local news delivered to your inbox!