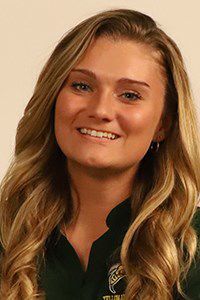 The Black Hills State women's golf team finished Day 1 of the Swan Memorial in Thornton, Colorado in 19th place.
After the first day of play, the Yellow Jackets have a team score of 410 (+122). The top three teams after Day 1 are Colorado Springs (+22), Midwestern State (+23), and Colorado Christian (+27).
The top golfer from BHSU is returning junior Jocelyn Olson. Currently, Olson sits tied for 94th with a score of 95 (+23).
The remaining golfers for BHSU are all tied for 103rd with a score of 105 (+33) these golfers include Reese Robinson, Cami Langley, and Anna Talarico.
The Yellow Jackets tee off for Day 2 of the Swan Memorial tournament at 8:00 a.m. Tuesday.
BHSU RODEO STARTS SEASON ON HIGH NOTE
Black Hills State rodeo traveled to the University of Wisconsin - River Falls to compete in the Falcon Stampede on Friday and Saturday.
The women's team finished the weekend in second place with 200 points. Contributing to the points in the goat tying were Riley Donnelly in third place with a 14.9 on two and Karli Verhulst in sixth place with a 16.1 on two. Madi Moody placed sixth in the long go with a 7.9 and Cashae McGee placed nineth with an 8.0.
In the breakaway, Brooklyn Hanson finished in fourth place with a 3.5 on one followed by Chanci Kraft in seventh place with a 3.7 on one.
Sydney Maher took the win in the barrel racing with a 32.99 on two runs. Also placing was Hanson in third with a 33.36 on two and Verhulst in sixth with a 33.53. Emilee Pauley placed fourth in the long go with a 16.75.
The men finished the rodeo in second place with Austin Madison winning the Men's All-Around title.
Madison placed second in the tie-down roping with a 27.0 on two followed by Riley Staton placing fourth with a 33.7 on two. Collin Palmer placed sixth in the long go with a 13.8.
In the team roping, Staton took home third place with a 24.4 on two followed by Clayton Backhaus in fifth with an 8.0 on one. Nick Bjork and Riley Hannum placed seventh in the long go with a 13.1.
Madison also earned a first-place finish in the steer wrestling with a 10.0 on two head.
The Yellow Jackets will travel to North Platte, Neb. to compete in a double header rodeo on September 16-18.