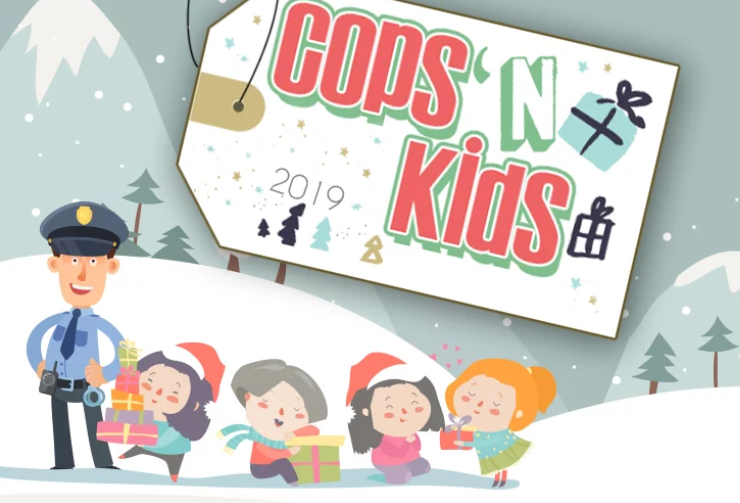 Black Hills Badges for Hope took over a program that was struggling last year. The organization, formed by two men who lost good friends and fellow police officers to a shooting in Rapid City in 2011, helped 34 children have a better Christmas last year.
This year, they joined with 107.1 KSLT and set a goal of tripling the impact of the program. They are about halfway to their goal, and Senior Officer Jason LaHaie said with the help of the community, they will make it.
"We are confident that we will reach the goal, but we will need help from the community to make it happen," LaHaie said. 
The main mission of Black Hills Badges for Hope is too help children in the area. He said Cops 'N Kids will provide $100 to 115 children - about 90-100 from Rapid City and the rest from Spearfish - to purchase needs for their families and also a present for themselves. This year, Power 107.1 KSLT joined teamed up with them because this program fits their mission as well.
"We got involved because we wanted to invest in the future and make Rapid City a better place," said program director Jamie Knapp. "Our mission is to reach out to people with hope. A lot of kids here are homeless or at risk. They need a safe place sometimes."
The program brings children together with police officers in a good way instead of a tragic or scary time. It will help them trust officers and develop a better relationship.
"This program lets us let our guards down," LaHaie said. "We get to just be human for a while."
You have free articles remaining.
LaHaie said it was humbling to shop with the kids who are often very aware of the needs in their family.
One child purchased silverware for his grandmother, others bought shoes, some wanted to spend more on their siblings than themselves.
"These kids aren't spending 100 dollars on legos," LaHaie said. "The money makes Christmas better for them, but it also helps meet needs."
The staff at KSLT also got involved because they heard of officers reaching into their own pockets to make sure each child got what they needed. 
"These officers do so much for the children, and we wanted to join them," Knapp said. 
"Every dollar helps," LaHaie said. "But we need more than just money."
When the officers take the children to shop, all of the gifts for themselves and their families are wrapped. volunteers make that happen too.