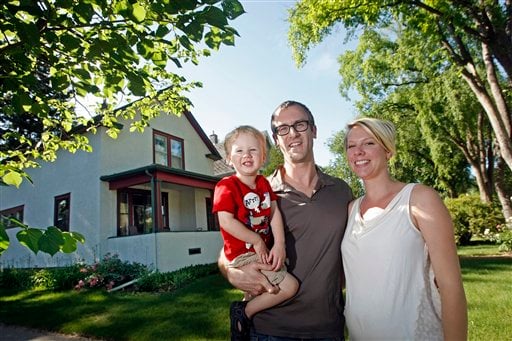 FARGO, N.D. | A wave of hospitality ridden by visitors with open minds and open hearts is crashing into this area.
It's called couch surfing.
More than 100 people in the metro area have registered with the online network couchsurfing.org that connects passers-through-town and curious destination seekers with natives willing to open their homes and lives to them.
The site extends around the world, with detailed profiles that give surfers and hosts an idea of what each has to offer.
Stephen and Sarah Wilson of Fargo have opened their homes to many a surfer after living here for about five years. Stephen first heard about couch surfing while looking for a place to stay in New York City while Sarah was working there for a short stint.
For a small contribution — less than $30 — a host or surfer can become verified, something the Wilsons took the time to do.
"That was important for folks looking for a place to know that we are legit and safe," Stephen Wilson said. "I think that has increased a lot of our traffic. We've hosted quite a few people from all over the world, even folks here in the United States."
The rules of couch surfing are essentially set by the hosts. Stays can be for a few hours, a few nights or just an overnight.
Eric Schafer of Fargo first started surfing and hosting while living in Austin, Texas. He's now considered a founding member.
Interactions between hosts and surfers can vary from just an open couch or guest bedroom to hosts who take the surfer on excursions or out with other friends and family.
"Some people really open their lives to you and, if you are the type of person who is just going to abuse that, you have no business doing it," Schafer said.
Schafer said while he's open to any interaction, he likes hosts with specific rules, those who are very upfront about their expectations.
For Aberdeen, S.D., native Kayla Schneider, her first couch surfing experience was when she spent the night on a Kansas couch en route to Texas, where she was studying.
"Some people just do it to save money, which is part of it, but not really. Each party should get something out of it," Schneider said.
Now a resident of Fargo and registered with couchsurfing.org since July 2010, she has hosted four times.
"What's cool about couch surfing is for some people who can't or don't travel, people can come to them," Schneider said. "Even though you're in North Dakota, you can feel for a moment you're in Europe or something like that."
Surfers can choose to stay with a host of the same sex or with couples such as the Wilsons.
"Some people wouldn't do it by themselves, which is good. You can't just expect the good of people out there," Schneider said.
Hosts also can be selective.
"(My co-workers) say, 'How can you trust these people?' " Wilson said. "I read their profile, and when I meet them, I can still say no when they come in the door. I'm not going to jeopardize my home or my family."
Considered by many to be the purest form of hospitality, Wilson said he is happy to take part.
"For me, it has a sense of obligation. We purchased a home, we have space, and with that comes an obligation to share that," Wilson said.
The online network does what it can to keep all involved safe. It also works on a system of referrals. Hosts and surfers leave feedback on each other's profiles.
"It brings people together and it opens up doors around the world, which is just a great place. There are people who abuse it, but those are the people that get kicked out pretty quick," Schafer said.
Schafer said he knew a host who participated because he believed that he was putting karma out into the world and his good deeds would return to him in other ways.
"I like that view," Schafer said.
Some liken couch surfing to common church community directories that offer members places to stay throughout the country.
"It's more than, 'Oh, I need a place to stay, and we're going to share experiences for a while.' You can actually become friends with people." Schneider said.
While hosting, the Wilsons have helped visitors get a feel for Fargo life, from karaoke with another couple to the surfer who got to be an extra in a movie filmed here.
"When they're here, we try to say, 'Hey, here's Fargo,' " Wilson said. "It's fun to meet people from wherever they are in their life's journey."
In its infancy, the couch surfing site consisted mostly of college students, but now members are of all ages and backgrounds.
"Couch surfing is coming to life here, which is nice," Schafer said.