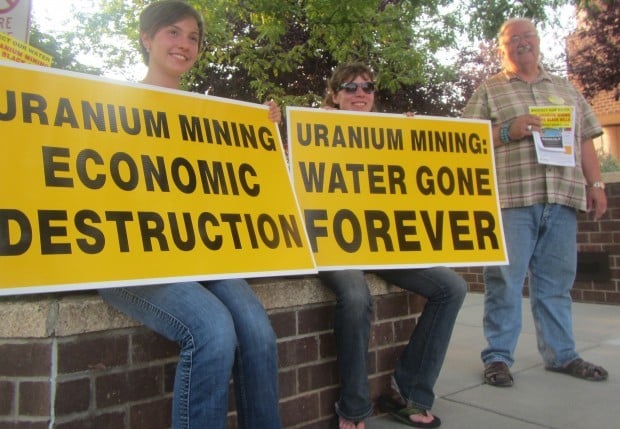 The Rapid City Council passed a resolution late Monday night expressing "grave concern" over a proposed uranium mining operation near Edgemont.
The 9-1 vote came after council member Steve Laurenti sought to continue the discussion until state hearings for mining and water rights permits for Powertech concluded.
"I will tell you that this issue ranks in the top handful of issues that have generated public concern," Mayor Sam Kooiker said. "This has really gotten peoples' interest and there is a lot of concern in the community, and I believe that people have the right to ask questions about this issue."
Kooiker encouraged Laurenti to join the rest of the council in its decision to oppose the mine.
However, Laurenti stood firm with his vote against the resolution, maintaining that more information was needed before he could take a stand against the operation.
"The problem I have, from a logical standpoint, is to oppose something or even to have grave concern, grave meaning that I have a fear for my life," Laurenti said. "I don't fear for my life over this issue at this point."
Laurenti said he doesn't necessarily support the mine, but more debate is needed and the council should wait to see what comes from the state permit hearings.
"The bottom line is, it's very difficult for me to have grave concern about something I don't have a lot of information on," Laurenti said. "I'll be honest with you, I would be dishonest with my constituents and with all of you tonight if I said I had grave concerns about this issue at this point."
The mine would draw up to 9,000 gallons of water per minute from the Inyan Kara and Madison aquifers. The Madison Aquifer supplied Rapid City with 60 percent of its water resources in 2012, according to city officials.
[This report has been changed to reflect a clarification. The Rapid City Council passed a resolution expressing grave concern over the proposed uranium mining operation near Edgemont.]