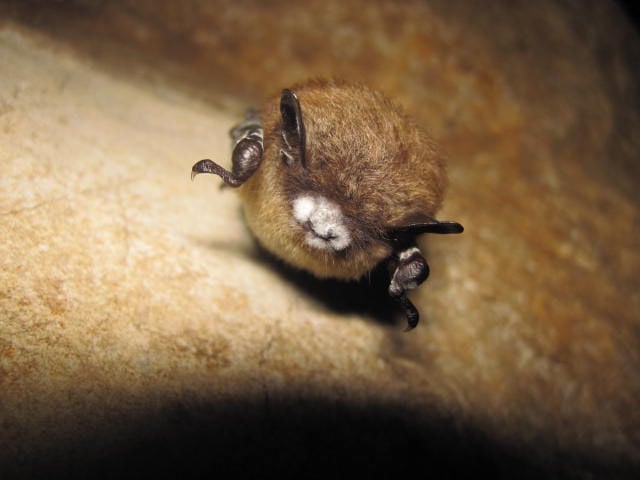 A deadly bat disease has been confirmed in South Dakota for the first time.
According to a joint news release from several state and federal agencies, researchers observed wing lesions on a bat earlier this summer near Jewel Cave National Monument in the Black Hills National Forest. Laboratory testing in early June at the U.S. Geological Survey's National Wildlife Health Center confirmed the bat was a victim of the deadly white-nose syndrome.
The bat was believed to be of the species Myotis volans, or long-legged bat, and efforts are underway to verify that. If the identification holds up, the bat would be the first of its species to be found with the syndrome.
Previously, the fungus that causes the disease was confirmed at Badlands National Park in South Dakota.
Federal and state agencies are working together to limit further spread of the fungus and disease into other cave areas in northern Colorado, Wyoming and South Dakota. Bats are important for healthy ecosystems and contribute an estimated $3 billion annually to the U.S. agriculture economy through pest control and pollination.
"Conservation of bats requires all of us to think into the future, to think about what needs to be done today to ensure bats are with us for decades to come," said Richard Truex, regional wildlife biologist with the U.S. Forest Service.
Currently, 43 caves in national forests within the Rocky Mountain Region have seasonal or yearlong closures in place, including 20 caves on Black Hills National Forest land. Starting in the spring of 2019, additional cave closures may be implemented for area national forests.
Public education and decontamination measures for white-nose syndrome will continue at Jewel Cave National Monument and Wind Cave National Park in South Dakota to protect bats and cave resources, said the recent news release, while opportunities will be maintained for underground recreation, education and scientific discovery.
The long-legged bat caught in the Black Hills National Forest, just south of the boundary of Jewel Cave National Monument, is the 11th bat species to fall victim to white-nose syndrome. Earlier this year, the disease was confirmed on a cave bat in Kansas and the fungus was detected on a western small-footed bat in South Dakota.
White-nose syndrome is not known to affect humans or other animals, but it has killed millions of bats across North America. 
"Now that white-nose syndrome is here in South Dakota, threatening bats, it is more important than ever for people to avoid disturbing bats and to take precautions to prevent further spread of the fungus," said Silka Kempema, a biologist with South Dakota Department of Game, Fish & Parks.
State and federal wildlife and habitat managers are asking for the public's help in limiting the spread of white-nose syndrome by adopting the following precautions:
• Stay out of closed caves and mines.
• Decontaminate caving and hiking gear and boots, and do not reuse gear that has been used in areas affected by white-nose syndrome.
• Contact a state wildlife agency or the U.S. Fish and Wildlife Service immediately about sightings of bats with white-nose syndrome, or if bats are spotted flying outside during freezing temperatures.
• Do not touch live or dead bats.