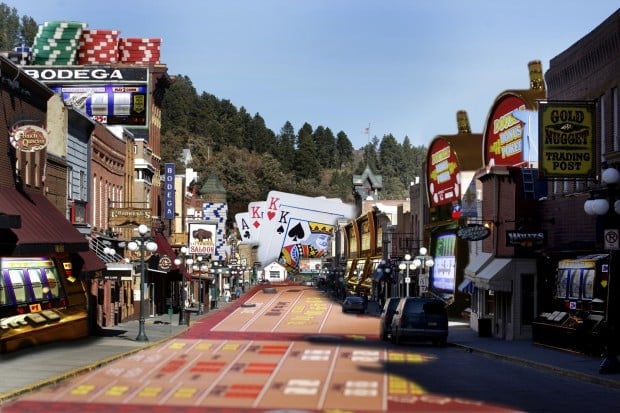 It was, in a way, a sacrifice.
When fire broke out on Deadwood's Main Street on a frigid December night in 1987, it consumed a handful of businesses and destroyed two historic buildings.
The Syndicate Fire, as it was called, burned down the 99-year-old Syndicate Building and the neighboring structure that housed F.L. Thorpe Black Hills Gold jewelry. And if city firefighters hadn't been able to hold the brick firewall that separated the gold company from the Old Style Saloon No. 10, it could have been even worse.
"We wouldn't have stopped it until it got to Wall Street - the entire city block," said Ken Hawki, the city's fire chief at the time.
Yet as it turned out, the Syndicate Fire may have saved dozens of other historic buildings by helping convince voters to try what some called the "Deadwood Experiment," to see whether legalized gambling could generate enough money to save a community in decline.
Although not everyone is completely pleased with the transformation, most would agree the experiment worked.
"We've rebuilt our city from the bottom up," said Francis Toscana, the city's mayor since 2001. "It's been a great run for the city."
But it's not over yet, according to many who are already looking ahead to Deadwood's future. In other words, like South Dakota weather, if you don't like the current incarnation of Deadwood, just wait awhile: It's bound to change.
For decades after the 1875 gold rush, Deadwood was a thriving retail center for the Black Hills. With a colorful history that included prostitution, opium dens and illegal gambling, along with mythical Old West characters such as Wild Bill Hickok and Calamity Jane, it was also an entertainment destination.
But over time, things changed. Rapid City became the area's business hub. Interstate 90 bypassed Deadwood in 1964. Deadwood's brothels were shut down after a raid in May 1980.
By the late 1980s, Deadwood had become a seasonal tourist destination with a lot of empty storefronts and a population of fewer than 2,000 people.
It also had a financial crisis. The city paid its bills with warrants, which were honored like checks but essentially amounted to small bank loans that were repaid, with interest, twice a year, Toscana said.
Meanwhile, the city's historic buildings were eroding - or burning down. The Lawrence County Courthouse had been closed because of structural problems, and some feared that Spearfish would try to take over as county seat. Deadwood's future looked bleak.
But a group of seven local residents had a plan.
Mike Trucano, Tom and Linda Blair, Bill Walsh, David Larson, Mary Dunne and Melodee Nelson banded together to form the Deadwood You Bet Committee. They proposed legalizing limited-stakes gambling as a way to bring in tourists and provide a source of funding to revitalize the historic mining town.
In 1987, the committee and other Deadwood residents lobbied the state Legislature to put the measure on the ballot, without success. They then collected more than 30,000 signatures to refer the issue to a public vote in 1988.
Video of the Syndicate Fire helped drive home fears that Deadwood could soon be lost. And on Nov. 8, 1988, South Dakota voters approved Deadwood gambling, 64 percent to 36 percent. The following April, Deadwood voters approved limited-stakes gambling by a 3-1 margin.
"The city was in decline," said Toscana, a Lead native who moved to Deadwood in 1975. "The city's infrastructure needs were great."
Were they ever. City streets, sidewalks and government buildings were in disrepair. Even worse, Deadwood's ancient water and sewer systems were in horrible condition, with corroded pipes and only three working shut-off valves (the city now has hundreds).
Deadwood used two water sources on separate systems, meaning half of the town could be without water. That was a definite problem, especially considering the fire hazards posed by old buildings that had been remodeled countless times.
Legalized gambling, with a portion of tax revenues and fees going to the City of Deadwood, seemed a great way to address those problems. But no one was prepared for what came next.
"We thought the Old Style would have a few slot machines and blackjack tables," is how Nelson put it.
After all, consultants had projected that gamblers would wager $2 million in the first year of Deadwood gambling, with bets limited to $5.
Legalized gambling started at high noon on Nov. 1, 1989, with people waiting in line at slot machines and card tables in Deadwood's 14 gambling halls. On that day, the only other places in the country to legally gamble were Nevada and Atlantic City, N.J.
Gamblers in Deadwood bet $13.8 million in the first month alone. By the end of June 1990, they had wagered a total of $145.4 million, nearly 73 times the projected amount.
In July 1990, gamblers bet $1.2 million in one day. And by the end of the first year, Deadwood gamblers had wagered nearly $281.5 million at Deadwood's card tables and slot machines.
More than 80 casinos sprang up in the first year. According to a Rapid City Journal story, Deadwood lost more than 40 retail businesses to gambling within 12 months.
"We had no idea that was going to happen," Walsh said later.
Real estate prices soared. Building permits flooded city offices at a rate comparable to that found in a city of 75,000 people, according to Mark Wolfe, who was hired as the city's first historic preservation officer in early 1990.
New casinos were opening weekly, all of them scrambling for employees to serve the gamblers who came in droves. Consultants had estimated gambling would create 100 jobs; instead, it created more than 1,000.
That was when Toscana entered politics, asking then-Mayor Bruce Oberlander to appoint him to the city's planning and zoning committee.
"I was concerned with how fast Deadwood started to change," Toscana said. He worried the city's residential district would be taken over by gambling.
He wasn't the only one. In 1990, Deadwood - which had been a National Historic Landmark since 1961 - was added to the National Trust for Historic Preservation's List of most endangered historic sites. Ironically, the "danger" was development pressure created by gambling.
But after the initial boom in the summer of 1990, winter arrived, and tourists left. Many casinos struggled to survive; not all did.
Meanwhile, the ambience of downtown Deadwood was changing.
Walsh, a Deadwood You Bet Committee member and then-owner of the Franklin Hotel, said that in the beginning, downtown business owners had a "gentleman's agreement" that casino interiors would follow a Western theme.
But more and more "outsiders" were opening casinos, and they didn't all share that vision. As a result, Wolfe fielded lots of building proposals for ideas that didn't fit Deadwood's history.
"Trying to get everybody on the same page about the significance of the history ... was a huge obstacle at first," Wolfe said.
Despite some growing pains in the industry, people kept gambling, and money kept coming in. According to a government report, Deadwood's total city budget went from $1,596,400 in 1989 to $11,102,900 in 1995.
Soon, millions of dollars' worth of improvements were being made. Some, like the cobblestone streets and
antique-style lighting that now grace Main Street, were clearly visible to tourists.
Other improvements went beyond the cosmetic and profoundly improved life for local residents. Most
importantly, the city's ancient water and sewer systems were replaced. Toscana estimates the city also put
$1 million into retaining walls to shore up the steep hillsides cradling the town.
Gambling revenue helped restore city hall, the former railroad depot, the Adams House and Mount Moriah Cemetery. By 1992, the National Trust for Historic Preservation had removed Deadwood from its "most endangered" list.
Meanwhile, most of the folks who came to town with a "get rich quick" mentality had moved on.
By 1999, Deadwood was facing a new challenge: how to continue to survive and thrive when many states and several Native American reservations in the state now offered casino gambling.
Gambling growth had leveled off, although Deadwood got a boost in 2000, when voters agreed to raise bet limits to $100.
Consultants recommended that Deadwood focus more on its unique "Wild West" heritage to attract visitors and to diversify the economy. Over the past 10 years, community leaders have followed that advice. And this time, the consultants appear to have been right.
"We really started pushing the history of Deadwood and the Black Hills," said George Milos, executive director of the Deadwood Chamber of Commerce. "We knew that it was a destination that people wanted to come to."
HBO's "Deadwood" series and country stars Big & Rich, who filmed a Country Music Television special in Deadwood, also helped raise awareness of the town. Visitors can now find historical re-enactments and museum programs that tell more of the local history.
After visitors are here, Milos said, "we're confident that they will game. And it's worked."
Looking aheadAs for Deadwood's future, city leaders point to two key developments: this week's opening of The Lodge at Deadwood, which can handle conventions of more than 1,000 people, and renovation of the Slime Plant - once used to process mine tailings - into an entertainment venue slated to open in July 2011.
"I think that that convention center's going to be enormously successful," Milos said, adding that he expects it to also spark retail activity in town. "Now we can compete on (a larger) level. And that is a big deal."
Some people still complain about Deadwood gambling and how it changed the town, but Toscana says those complaints are fewer and farther between these days.
"Most of the people who were the most vocal about gaming coming in ... have either left or changed their mind," he said.
"The detractors can say what they want, but it really has saved the town," said Milos, who grew up in Deadwood. Without gambling, "I think we'd be in trouble."
Gambling carried a price, to be sure. Some historic buildings have been lost. So have more than 40 retail businesses, although many likely would have closed, anyway, without gambling.
Local gathering places also have been lost to gambling - and with them, a lot of the rough-and-tumble feel of the close-knit mining town it once was.
"I'm sad that Deadwood has lost all of the wonderful, wonderful characters of the last 20 or 30 years," Walsh said, remembering folks such as gunfighter Joe Barcelone and hardware store owner Agnes Ayres, who refused to sell her building during the gambling boom of 1990. "In losing those characters, I think we've lost part of the history of Deadwood."
With Walsh's sale of the Franklin Hotel in 2005 and the recent announcement that the Keehn family, longtime owners of the Old Style Saloon No. 10, are putting that business up for sale, another chapter in Deadwood's history appears close to an end.
But Walsh, for one, is excited about what's to come. With the Lodge at Deadwood and the former Slime Plant coming on line, the city is "reinventing Deadwood" in what he called the "third phase" of Deadwood gambling.
"It's going to be a really, really exciting time again," he said.
Challenges remain, of course. Parking will always be an issue in Deadwood, as will affordable housing for casino workers.
"I would like Deadwood to be a place where the people who work here can afford to live here," Trucano said. "The challenge to Deadwood, like so many small communities in South Dakota, is being able to draw and keep people here, to make it a community where people want to raise their children."
City leaders are working on it. Preservation money is helping improve community amenities such as the Deadwood Recreation Center. A nonprofit, 24-hour day care center is also in the works, which would be a great help for casino workers.
Financially, the city is in much better shape than it was 20 years ago, too.
"We pay by checks now," Toscana said with a grin. "Our checks are good."
So, it seems, was the original intent of the Deadwood You Bet Committee.
"We said, 'We're going to make Deadwood fun again,'" Walsh said. "And I think we've accomplished that."