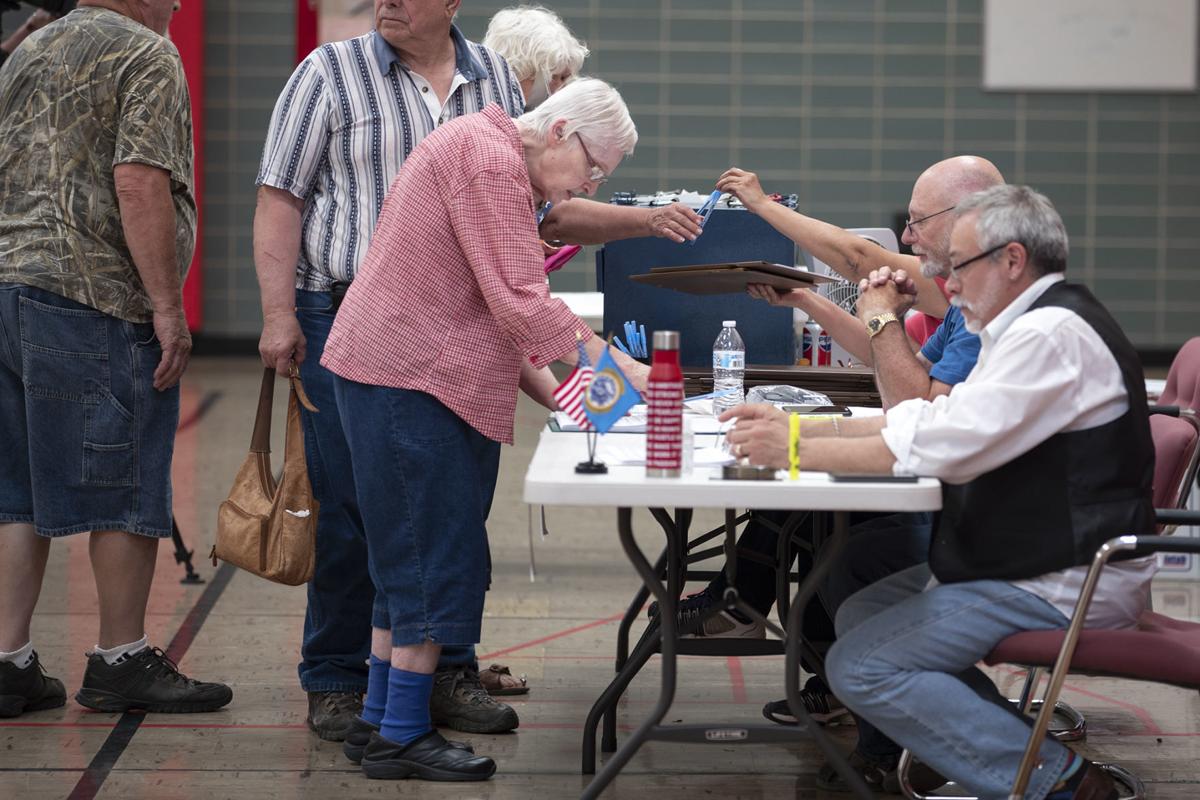 Two voting-rights experts said provisional ballots should have been offered to voters Tuesday morning in Pennington County while the opening of polling places was delayed by electronic poll-book problems, but state and local election officials viewed the situation differently.
The opening of some polling places was delayed for up to about 90 minutes in Pennington County, and for shorter durations in Hughes County, as poll workers struggled with computers that would not connect to internet-based electronic poll books. The poll books are used to determine whether voters are registered in the precinct where they show up to vote.
The situation resulted in some voters leaving without casting a ballot, perhaps to return and vote later in the day, or perhaps not. Eventually, printed poll books were brought to the 16 affected polling places in Pennington County, and the affected polls opened, some as late as 8:22 a.m. instead of the scheduled 7 a.m.
Julie Pearson, the auditor and top election official in Pennington County, said no directive was issued to offer provisional ballots to inconvenienced voters Tuesday morning. Instead, local election officials focused on a state law that allows them to extend the hours of polling places that are affected by emergencies. At some Pennington County polling places, hours were extended past the scheduled 7 p.m. closing time to as late as 8:45 p.m.
"We didn't even suggest provisional ballots this morning because we were following the law to extend hours," Pearson wrote in an email to the Journal. "But if anyone would have used them, those ballots would have followed the appropriate procedure for further research after the polls close."
Edgardo Cortes, election security supervisor at the Brennan Center for Justice at the New York University School of Law, said the situation seemed tailor-made for provisional ballots.
"It seems like a textbook example of where you would want to use provisional ballots to make sure people are able to vote, because you have an issue where you aren't able to determine their eligibility," said Cortes, who was formerly the commissioner of elections for the state of Virginia.
In this case, the "issue" was the malfunctioning electronic poll books, Cortes said.
Kea Warne, of the South Dakota Secretary of State's Office, told the Journal that it would have been inappropriate for poll workers to give provisional ballots to voters affected by the electronic poll-book problems. Without access to the poll books, Warne said, poll workers would not have known whether to give voters a Republican, independent or Democratic ballot for Tuesday's primary election.
But Cortes said that's precisely the purpose of a provisional ballot. If a voter's registration cannot be confirmed, either because the poll book is not available or the voter's name isn't in the poll book, the logical next step is to give the voter a chance to fill out a provisional ballot that can be accepted or rejected later. In such an instance, Cortes said, poll workers simply have to ask voters their party affiliation.
Heather Smith, executive director of the American Civil Liberties Union of South Dakota, also said provisional ballots should have been offered while the electronic poll-book problem was preventing people from voting.
"Poll workers should not have directed voters to return at a later time," Smith said. "It's a major inconvenience to ask someone to go to their polling place twice. Most of us don't have that kind of time and flexibility during the day."
Although Warne, the state elections official, disagreed about the appropriateness of using provisional ballots, she acknowledged that there should have been a better backup plan in place in Pennington County. In the future, Warne said, her office might recommend that Pennington County keep paper books on hand at polling places as backups for the electronic poll books.
Cortes said there are benefits to electronic poll books when they work.
"One of the big ones is speed and accuracy of check-in," Cortes said. "They really provide that benefit. But you have to plan for the 'what if' when something goes wrong."
Later Tuesday, the situation in Pennington and Hughes counties grew even more bizarre when everyone who voted after 7 p.m. at a polling place with extended hours was apparently forced to vote by provisional ballot rather than a regular ballot. The Secretary of State's office pointed to a federal law that says, in part, "Any individual who votes in an election for Federal office as a result of a Federal or State court order or any other order extending the time established for closing the polls by a State law in effect 10 days before the date of that election may only vote in that election by casting a provisional ballot."
The Journal questioned whether the federal law is applicable to independents and Democrats whose ballots did not include a federal office, but the Secretary of State's Office did not immediately respond to that inquiry.