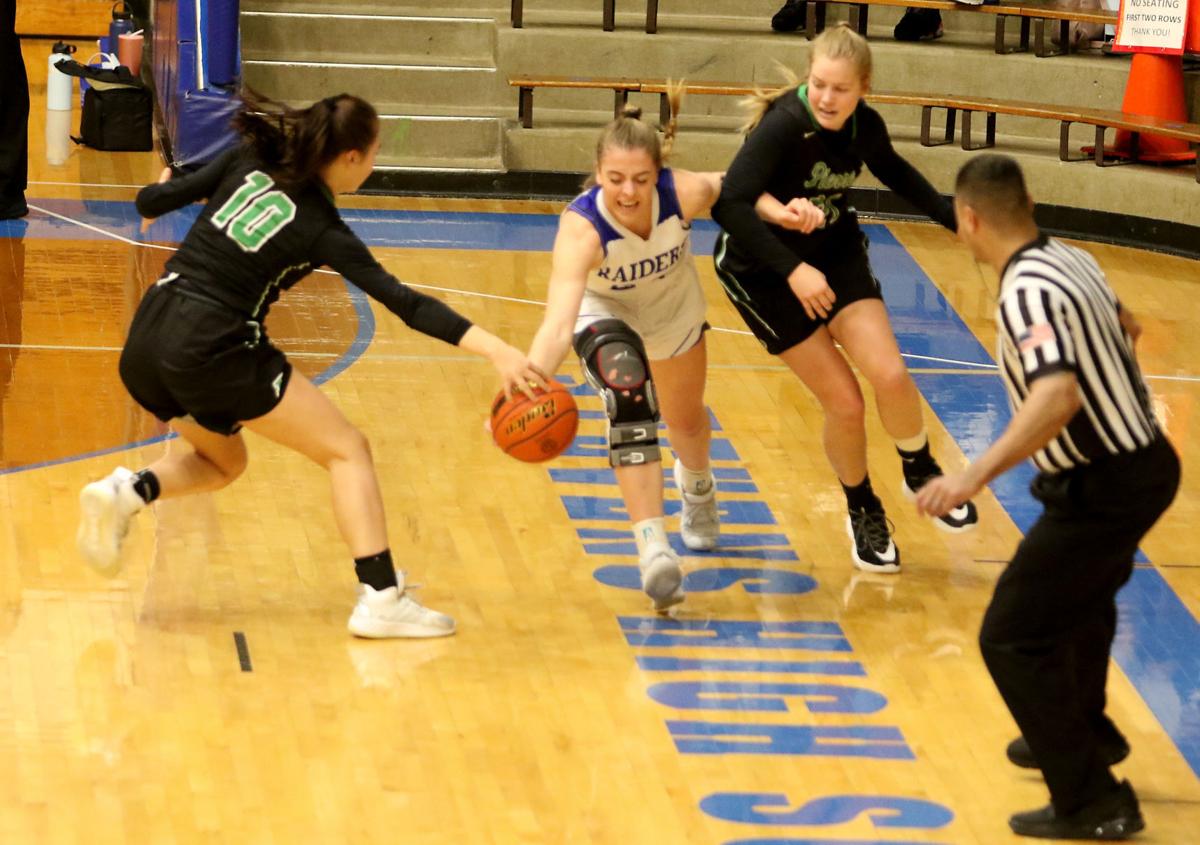 The Rapid City Stevens girls basketball team dazzled in the first half Friday night, forcing turnovers, tallying easy buckets and holding Pierre T.F. Riggs without a field goal for the majority of two quarters.
The No. 11 Governors made the right adjustments and eventually found their game, even outscoring their opponents in the second half, but a 28-point deficit proved too much as the No. 6 Raiders' scintillating first-half performance propelled them to a 49-34 win in the Class AA SoDak 16, securing a place in the program's eighth straight state tournament.
Leading a squad that began the season 1-3, Stevens head coach Michael Brooks was still confident he'd reach this spot.
"I thought we were going to be there," he said. "With COVID, pretty much having two months not in school and not being able to do any basketball for a summer, I knew that it was going to find its way, but it was going to take some time to get to that place."
Bailee Sobczak scored a game-high 13 points on 5 of 11 shooting and earned three steals for the Raiders, while Jayda Mcnabb finished with 12 points on 5 of 8 shooting and Grace Ellis, picking up just six points, collected seven steals. Stevens (15-5) shot 41% from the floor and went 5 of 7 from 3-point range.
Remington Price ended with a team-high 11 points on 3 of 12 shooting for the Governors, while Jessica Lutmer hit a trio of 3s and chipped in nine points. Pierre (8-13) shot 29% and went 6 of 17 from deep.
"We prepared really well this week in practice," Sobczak said. "I think there were times in practice when we really had to lock in, and maybe there was a moment where we had a lull, but we had to figure out how to fight back through that, and I think when you get into a game, that takes away the nerves because you know you've already got everything prepared."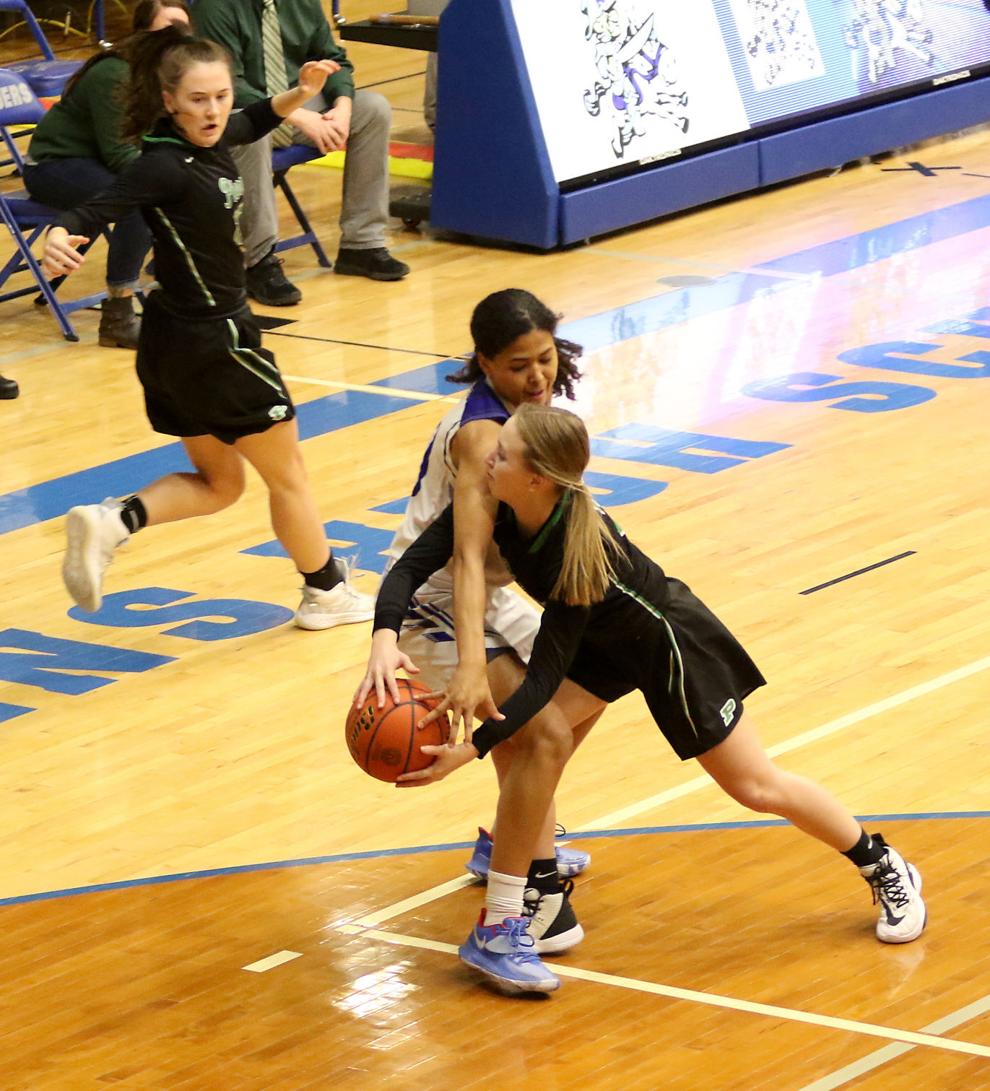 By the time the Governors scored their first field goal, the Raiders already had 29 points to their names. Jaden Matkins completed a 3-point play and Sobczak notched a bucket off a steal as part of a 7-0 run to begin the contest. Kaiser picked up the first point for her team with a free throw with 5:40 to play in the opening quarter before Stevens proceeded to drop 12 in a row to end the period up 19-1.
Ellis and Sobczak both drilled 3s on the run, while Sobczak added a steal and fastbreak layup.
"Honestly, I was a little surprised they only scored one point, but when you look at it, our defense was great. We played lockdown D," Sobczak said. "On the offensive end, we were sharing the ball, and that's something we've been stressing so much, just sharing the ball, finding the open shot, finding the greatest shot you can take, and I think that's why we were able to separate the game by that much."
Those 12 consecutive points turned into a 22-0 run as Kenadi Rising tallied three points on the effort and Taaliyah Porter hit a 3 from the corner to give the Raiders their largest lead of the night, up 29-1.
Pierre's first make from the floor came with 3:37 left before halftime when Price earned a 3-point play. The Governers then grabbed seven of the final nine points of the second quarter, thanks to back-to-back 3s from Lutmer and Price, to make it a 31-11 affair at the break.
"It was a great start," Brooks said. "I was impressed with our defensive intensity, and just how we shared the ball. I thought things were flowing pretty well." 
The Governors responded to a lackluster 18% shooting efficiency in the first half by shooting 39% in the second, cutting their deficit down to as little as 13 but never seriously threatening the Raiders. Lutmer drained a pair of shots from beyond the arc and Layni Stevens tallied another, but their feats were met by Mcnabb and Sobczak, who fired in 3s of their own.
"Pierre's a good team. They've been playing really well the last five games, so we knew it was going to be a challenge," Brooks said. "Sometimes our pressure at the beginning of games can rattle an opponent, and it did for a little bit, but we knew that they were going to find their rhythm and that they were going to knock down shots because they have been shooting the ball well lately."
Pierre's last points, a corner 3 from Price and two free throws by Kaiser, made it 47-23 with 2:42 remaining. A Mcnabb putback off a fastbreak miss helped seal the victory for the Raiders.
"When we get tired, it's our communication that is really key. In any sport, that's what's really important," Sobczak said. "Especially with this group of girls, we all like to talk, so it's just bringing it on the basketball court so when we let them get on a little bit of a run, it was our talking that led to pulling it back together, getting focused and buckling down to finish the basketball game."
Stevens, the No. 6 seed in the Class AA State Tournament, will face No. 3 Harrisburg (19-2) in the quarterfinals at 7:15 p.m. Mountain Time March 11. The Raiders have not reached the second round of the event in their six previous appearances — last year's tournament was canceled because of COVID-19 — with their best performances coming in 2016, 2017 and 2019 when they finished in fifth place due to consolation games.