For a driver with a heap of championships, winning isn't the first thing on John Garrigan Jr.'s mind for 2021.
The four-time International Motor Contest Association hobby stock points winner at Black Hills Speedway, Garrigan Jr. was back at the Rapid City race track Friday night as a new season kicked off, and for this year's campaign, he's focused on having fun.
After 23 years spent in the sport, letting go of poor performances is a skill he's picked up.
"Sometimes when you have a bad night you feel like it's the end of the world, and you learn after a few years that there's going to be another race," said Garrrigan Jr., a Rapid City native. "There's going to be another day." 
Among the to-do list of preparations for Opening Night, getting the car in proper condition for a whole season's worth of events stands paramount. Much of the last several months was spent making repairs, and in some cases, entirely replacing significant parts of vehicles.
"We were pretty rough on them last year," said Tracy Konst of Sturgis. "We had a long winter of putting cars together."
Konst, last season's points runner-up, rolled his Monte Carlo three times in the final race of 2020 and needed a new body, motor and engine. He said with a chuckle that this year's theme is "Don't Wreck."
"Our theme is to try and keep the cars together and race clean," he said. "And hopefully we don't have to tear up too much equipment." 
Garrigan Jr. said he was forced to rebuild his car almost entirely after also crashing in the same race. He flipped upside down on the front straightaway and thought his vehicle was destroyed. But upon further inspection, he realized it just needed a little work.
"After looking at it closer we just put a new suspension on it, straightened a couple bars on it and a fresh coat of paint, and here we are again," he said.
Even with his titles, Garrigan Jr. added that in his years of racing he's learned to take proper care of his car on an annual basis.  
"I've won points championships in the past, and over the offseason I've felt like since I won, I don't need to do a lot to the car, and I've come out the next year and got shown that maybe I should have," he said. "What I've learned is that it doesn't matter where you finish at the end of the season, you should take the time and go through the car and make sure it's right."
Rapid City's Samantha Swett, the only female driver among last year's 18 total participants, came through the 2020 finale unscathed, finishing the race in first for her only victory of the year. She said maintenance on her car was minimal. 
"We actually didn't have to do too much to it because I left it in one piece at the end of the year," Swett said. "So we just put some new lettering on it and called it good."
Opening Night gives a chance for the drivers to see who's in this year's field and to catch a glimpse of what their competition will be, because as Swett put it, many potential drivers talk about racing, but far fewer actually do.
"It just gives you a jist," she said. "Sometimes you get new drivers in the class, so it lets you get a hang of how things are going to go and it lets you know who's actually going to be in your class and who's actually going to show up."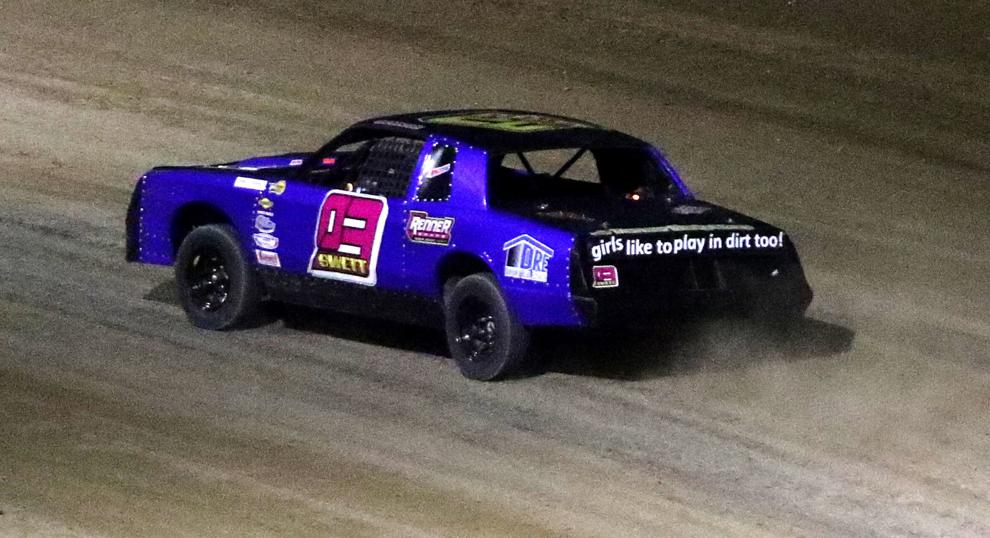 Swett said she hopes to grab more wins this season, and wants to continue "Showing the boys that I can do it."
"A lot of it is seat time," she said. "So the more you show up and the more you feel the difference in the track, the more that you can actually feel confident when you're out there driving."
Konst didn't earn a win in 2020 but picked up nine top-five finishes. Now in his fourth year, he's comfort level is beginning to settle in. 
"I'm starting to get a little more feel of the car, and I've got to run a lot smoother than I have been," he said. "I've got to start becoming a driver. I've got plenty of car, I've just got to learn how to drive it."
Garrigan Jr., who won seven events and placed in the top five 13 times last year, said no matter how the season opener ends up, if everything runs smoothly, he's happy. 
"It's a good feeling at the beginning of the year to know that you did your homework and when you put the car together, you didn't miss anything," he said.