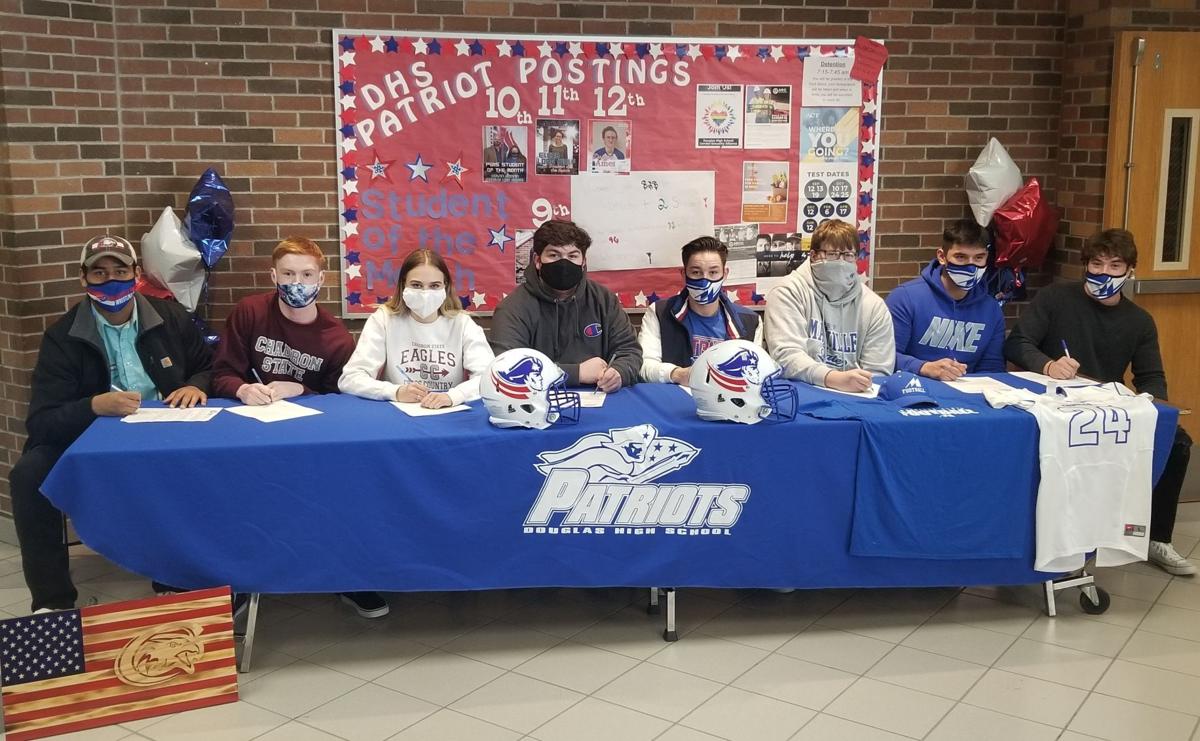 Eight Douglas High School athletes signed letters of intent Wednesday to compete on the college level.
Three are going to Chadron State College, four to Mayville State University (Mayville, N.D.) and one to Dakota State University.
Alissa Wieman signed to run track and cross country at Chadron State, while the rest played football for Dan Maciejczak.
They include David Severson and Malik Ahmed-Hosie, both at Chadron State, and four Mayville State players — Tyler Clark, Thomas Holy Rock, Garrett Jamison and John Updike, with Trevor Anderson at Dakota State.
Alissa Wieman, cross country and track, Chadron State College
Wieman said she has always wanted to run in college and now she'll get her chance as an Eagle. She said there is a great environment at Chadron State.
"When I went there the team was absolutely amazing," she said. "I'm really excited for that. I reached out to their coach (Riley Northrup), and I asked him if there was anything I should do to help me improve, so I am ready for college. He gave me some really good advice and told me what I needed to do to reach my goals."
Wieman, who placed xth at last fall's state cross country meet at Hart Ranch, credits Maciejczak for getting her to look at Chadron State.
"He actually believed in me and wanted me to reach my goals at college. So I visited Chadron and I immediately was, 'Wow, I love the environment, I love the team and the coach," she said. "This was like, 'Yep, this is where I want to go."
Wieman plans to study English education and minoring in coaching so she can be a cross country coach.
David Severson, football, Chadron State College
Severson, who will play in the defensive backfield, said he wanted to take football to the next level.
"My head coach really believed in me and I thought I could do more, so he persuaded me to go to Chadron," he said.
He felt it was the right fit when he visited the campus, as well as competing in the Eagles football camp.
"It will be different. It definitely will be a lot harder and more time consuming than high school, but I think it will be fun," he said.
Severson plans to study human biology with the goal of becoming an orthopedic surgeon.
Malik Ahmed-Hosie, football, Chadron State College
Ahmed-Hosie, a two-time all-state selection for the Patriots, looks to play on the defensive line with the Eagles. He said he chose Chadron State because of the program's commitment and how it felt as a team.
"I felt strong, I felt like I can really do stuff, and it made me want to go there," he said. "I feel like I can get some work done there."
Ahmed-Hosie said he knows it won't be easy playing on the college level, and it will take a lot of work.
"It is not going to be handed to me, so I know I have to bust and get going, hit that weight room, eat right and get my grades going," he said.
Ahmed-Hosie looks to major in fire science with the goal to be a firefighter.
John Updike, football, Mayville State University
Updike said when he was in North Dakota for the visit, it felt like home.
"I liked the fact that they are trying to rebuild the team and there are a lot of opportunities to come other and make a difference," he said.
Updike, who will play linebacker, said he will have to work hard to get bigger and stronger for the college level.
"I've played linebacker pretty much my whole life, so I am pretty comfortable in the position," he said. "This summer the goal is to get bigger."
Updike plans to major in exercise science.
Tyler Clark, football, Mayville State University
Clark said he got interested in Mayville State a couple of months ago after a coaching visit.
"My coach told me to talk to them to get a perspective on the school, and I went for a visit and fell in love with the campus and I enjoyed the guys I met and the coaches," he said. "A lot of the stuff they run scheme-wise, we do here, so I am pretty familiar with it, and it felt like home, where I want to be for the next four years."
Clark will play running back and wide receiver for the Comets.
"I'm excited for it. I have wanted this for a very long time," he said. "I take working out, football and studying very seriously. I'm ready for it, and I think I have what it takes to play college football."
Clark said he is going to major in psychology.
Garrett Jamison, football, Mayville State University
Jamison said he chose Mayville State because it felt like a community.
"It felt right, just right, out like here. All of the players are pretty nice, it just felt like home," he said.
Jamison, who will be on the offensive line, said he is excited to get up there and get ready to go to work.
"It's going to take me lifting every day as much as I can and start training again," he said. "I'll just take it from here."
Jamison said he is going to study exercise science.
Thomas Holy Rock, football Mayville State University
Holy Rock is thankful for the opportunity to play college football, and with some his teammates as well.
"Before this season I didn't think I was going to be playing college football. I love playing the sport, so to go somewhere with my brothers, it is really great," he said. "I'm the first in my family to go to college. I want to be an example for everyone else, where I came from. I just want to lead by example."
A defensive end, Holy Rock said it is going to take a lot of hard work in college.
"It's way different from high school," he said. "I'm a hard worker and I'll leave everything on the field for my brothers, I'll do whatever it takes. I know what I have."
Holy Rock plans to be a personal trainer and study business management.
Trevor Anderson, football, Dakota State University
Anderson said he enjoyed the Madison area, the campus, the coaches and players. He said it was a good fit.
"Everything seemed welcoming and I met a couple of players and they were nice," he said. "It was also closer to home."
Anderson, an offensive lineman (guard), said he is looking forward to playing on the next level.
"I just want to compete and get a starting spot," he said. "It will be a harder challenge. It will be harder to get away with the stuff you do in high school. I will have to work out, eat right and get in shape just to compete with everyone else to prove that I can play. I'm ready for it."
Anderson plans to study accounting.