U.S. Rep. Dusty Johnson and Sen. John Thune said Wednesday they will vote to accept state certifications during the Electoral College formal count that will make Joe Biden the 46th president of the United States.
"That's my constitutional duty — the Constitution matters," Johnson, a Republican, told the Journal on Wednesday morning. "A plain reading of the Constitution makes it clear that Congress's role is to be a witness and not a judge. I cannot seize powers not legally provided to me — that is tyranny."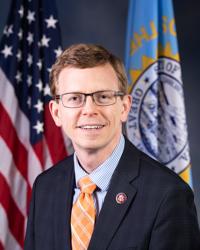 Sen. Thune said that he also will not object to the 2020 Electoral College results that awarded 306 votes to Biden and 232 to President Trump.
 "The oath I swear as the senator for South Dakota is not to any one person, but to the U.S. Constitution," he said in a statement.
Johnson cited the 10th and 12th amendments to the Constitution and said the only official duty performed today is by the president of the Senate, who counts electoral votes.
"Congress ... would clearly be overstepping its authority to decide without any constitutional basis that it was to be a super court able to overrule the decisions of the states and court," he said. "Our founders were rightfully concerned about the concentration of power in Washington, D.C., particularly the powers to elect the president. They clearly and explicitly provided that power to the states."
Johnson said the law states that state certification is conclusive, and South Dakotans would "rightfully raise hell" if Speaker of the House Nancy Pelosi attempted to overturn the state's votes for President Donald Trump.
He also said there has been no court-filed evidence of widespread voter fraud that has been accepted in any of the 60 state and federal courts that have heard cases.
"There is a remedy for the voting irregularities that have taken place, and that remedy is not found constitutionally with Congress," Johnson said.
Sen. Mike Rounds, meanwhile, said Tuesday in a statement that he had not determined if he would support all Electoral College votes.
 "If you've noticed, I have not joined the chorus of those for or against an objection. Today, those objections do not exist, they have not been shared, and there's literally nothing to consider until we have a chance to hear the arguments for and against. The bottom line is that I'm keeping an open mind, and I look forward to seeing the evidence to support the objections that are being proposed. Ultimately, the Constitution, not political expediency, will guide my decision making," he said.
Rep. Johnson will host a telephone town hall at 7 p.m. Central/6 p.m. Mountain Thursday. The dial-in number is 833-946-1543.