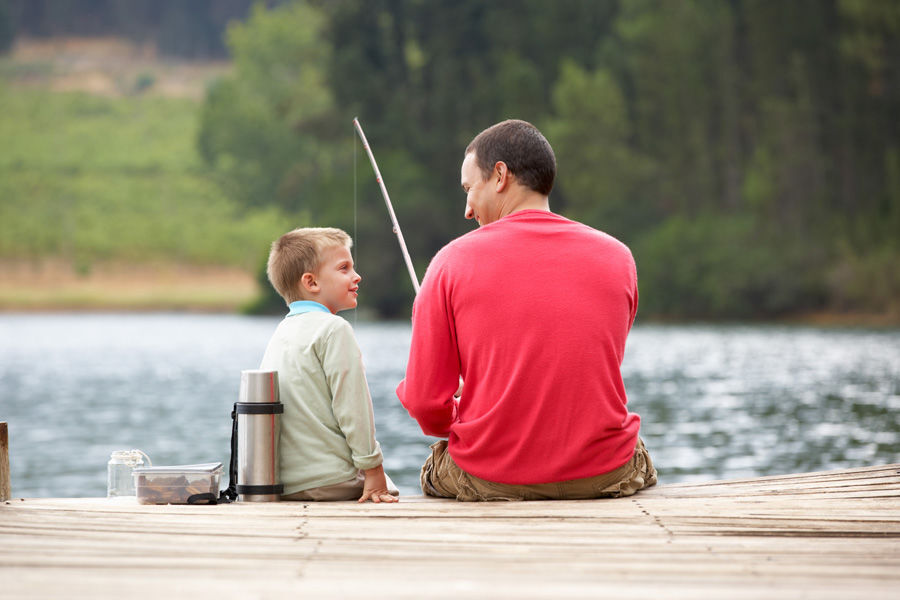 Fishing activity in the area is increasing as waters warm and the weather becomes more amenable. And though the forecast for the remainder of the week is iffy, this weekend might be an excellent time to test the waters as the upcoming weekend is the annual SDGF&P's Free Fishing Weekend with free entrance offered at all South Dakota State parks and recreation areas. No fishing licenses are required though camping fees still apply as do normal regulations and limits.
And, next weekend is Memorial Day weekend, a time typically seen as a kickoff to the summer camping season for many thereby contributing to crowded campgrounds, boat docks and shorelines.
Angostura Reservoir: The walleye bite continues to improve with limits taken most days including a 28-inch specimen caught on Sunday. Fish are located in 10-15 foot of water and responding to jigs and minnows. Electronics are often a must as fish are scattered lake wide. Catfish and smallmouth bass activity reported as well.
Bear Butte: A nice crappie bite in progress with 10–13-inch fish being caught. Perch have been active also, some bass, and the occasional two-to-three-pound northern pike. Jigs and minnows recommended.  
Belle Fourche Reservoir (Orman): Water temp has been slow to rise this year, and just hit 60 degrees earlier in the week. With that, walleye activity is increasing though fish are scattered and electronics strongly recommended as fish are feeding when located. Anglers are beginning to catch unders as well as overs and slots. Minnows are still recommended. Catfish bite in the channel has been steady as well with most of the action coming during evening hours.
Belle Fourche River: Catfish have been active on either worms or chicken livers.
Black Hills Fly Fishing: With flows on area streams dropping a bit, trout activity remains excellent throughout the Black Hills. Dry fly fishing should improve though at present nymphing remains the dependable choice.  
Canyon Lake: Rainbow trout are being picked up, including some 20–22-inch specimens. Rapid Creek inlet area has been the hotspot.
Center Lake: Trout bite continues with limits reported on spinners with either powerbait or nightcrawlers.
Curlew Lake: Catfish activity, including some larger specimens, reported on worms or stink bait.
Horsethief Lake: Trout activity reported on powerbait or crawlers.
Newell Lake: Walleye activity reported as well as catches of small northerns in the 14-20 inch range.
New Wall Dam: Bass activity in progress on small jigs and small minnows.
Pactola Reservoir: Trout activity slowed somewhat last week though rainbows are still there for the taking. Powerbait, trout spinners along with dry fly presentations have been working well. North and South marina areas have been excellent. Also, bluegill and crappie action reported in Jenney Gulch. And a few lakers as well.
Shadehill Reservoir: Some walleye activity though very much a hit and miss proposition with limits taken one day and a zilch the day following.
Sheridan Lake: Perch bite reported on small jigs with nightcrawlers or minnows. Fish are suspended two or three feet off the bottom in 20-25 foot of water. And northern pike showing up on occasion-chubs and shiners—near the Spring Creek inlet.
Tisdale Lake: Catches of northern pike reported though fish are on the small side.
Lake Oahe: Walleye activity continues to improve on the big lake as waters warm, a situation that should spur an ever-increasing bite for all species. Currently walleye are located in shallow water and responding to crawler/spinner rigs. Northern pike and catfish are hitting as well. Lake is lower than normal at present and boat ramps can be problematic. And Bush's Landing is closed until end of May.
Lake Sharpe: As waters warm, the bite continues to improve on Sharpe and limits taken have become a daily occurrence most people on the lake. Walleye have been responding to jigs and minnows as well as plastics at times. Fish remain shallow for the most part—7-10 foot of water—and near current breaks. Good time to test the waters as boating activity will increase considerably soon.
Lake Francis Case: Walleye action is good with activity reported below Ft. Thompson and in the Chamberlain area—an excellent option for land bound angers as well.  
June 19: Father's Day Tournament at Angostura sponsored by Fall River Swim team, 3-person teams ($120). Contact Jeff Reetz at jeffreetz5@yahoo.com or call 605-890-1595.
Dakota Angler & Outfitter, 513 Seventh St., Rapid City; The Rooster, 1441 W. Main St., Rapid City; Wheel in Bait Shop, 18696 Fisherman's Road, Fruitdale, and West Prairie Resort, 28354 182nd, Pierre (605-264-5303) have contributed to this report.