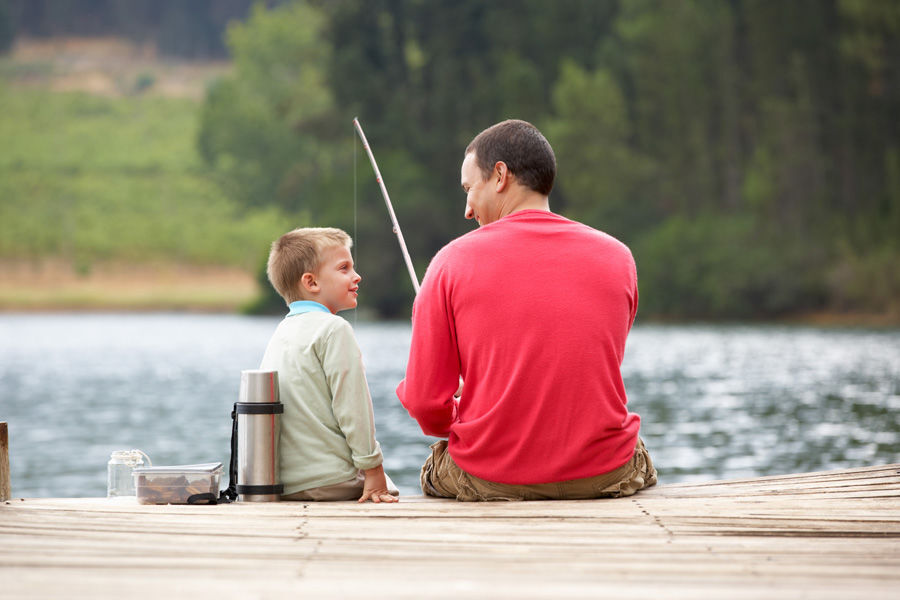 The arrival of the autumn season on Wednesday typically signals an improvement in area fishing prospects. Most years, perhaps, but not so much so in 2021 as Mother Nature continues to whip up periods of hot weather keeping water temps on the warm side and fishing activity on the slow, a pattern that will continue for the next week or so.
Coupled with the usual parade of high school sports activities, the number of anglers working lakes and streams has slowed considerably in the last couple of weeks.  
Fortunately for those still active, Black Hills higher elevation lakes and area streams are producing plenty of trout action to entertain the small number of anglers who currently baiting up. As for the more patient, the arrival of cooler weather most certainly in the offing should spark increased fishing activity.
In other words: all indicators are trending upward.
Angostura Reservoir: Some walleye activity reported though the bite remains a hit and miss proposition likely due to water temps hovering around 70 degrees. Jigs and minnows or crankbaits are working best while 15-20 feet of water seems the desirable depth. Crappie remain active on minnows and slip bobbers.
Bear Butte Lake: Crappie, perch and bullhead action reported.
Belle Fourche Reservoir (Orman):             Walleye activity seems to depend upon who, when and where. Some anglers are catching walleye while others are coming up empty. Early morning hours appear to be the best time to be out as walleye are running shad at night. Smallmouth bass activity continues at the north end of the dam. Despite the lake at 39 percent presently—and shore fishing a no-no, the boat docks are still in.
Black Hills Fly Fishing: Dry fly fishing remains excellent in area streams as cooler nighttime temperatures are greatly enhancing trout bite in area streams.
Custer State Park: Trout bite continues in park lakes while crappie and bass have been active in Stockade Lake.
Deerfield Reservoir: Lots of perch for the taking--small jigs and crawlers—worked at 25-to-30-foot depths. And trout remain active during early morning or late afternoon.
Pactola Reservoir: Bluegill and perch bites remain ongoing in bays with a piece of nightcrawler working best. Boaters are finding plenty of rainbow trout action trolling with cowbells. And shore fishermen are having similar success utilizing small jigs, spoons or powerbait.
Shadehill Reservoir: Walleye activity remains slow though a few limits--including some in the 15–18-inch range—have been caught on Lindy rigs with minnows.  
Sheridan Lake: Lake has been producing a nice mix. Perch bite continues--8-10 feet off the bottom on small jigs and crawlers—and bluegill have been feeding in shallower water of bays. Also, rainbow trout bite remains active.
Stockade Lake: Crappie action reported on small minnows or small plastic jigs.
Lake Oahe: Lower water levels in the big lake have led to decreased walleye action in the upper reaches as shad have moved south and walleye have followed. The walleye bite around Gettysburg has been okay with some limits taken on spinners and crawlers. Smallmouth bass and catfish activity continues.
Lake Sharpe: Walleye activity remains quite good from the bridges south to the West Bend and Antelope Creek. Bouncers with spinners and crawlers worked in 10-20 foot of water has been working best. Catfish have been feeding aggressively below the dam. Though number of fishermen on Sharpe has decreased somewhat, boat docks can be stacked up on weekends.
Lake Francis Case: Not much change. Walley bite is fair in around Chamberlain--jigs and crawlers or bouncers and crawlers working in 20-30 feet of water—reports point to more favorable results farther south in Platte area and beyond.
Dakota Angler & Outfitter, 513 Seventh St., Rapid City; The Rooster, 1441 W. Main St., Rapid City; Wheel in Bait Shop, 18696 Fisherman's Road, Fruitdale, and West Prairie Resort, 28354 182nd, Pierre (605-264-5303) have contributed to this report.