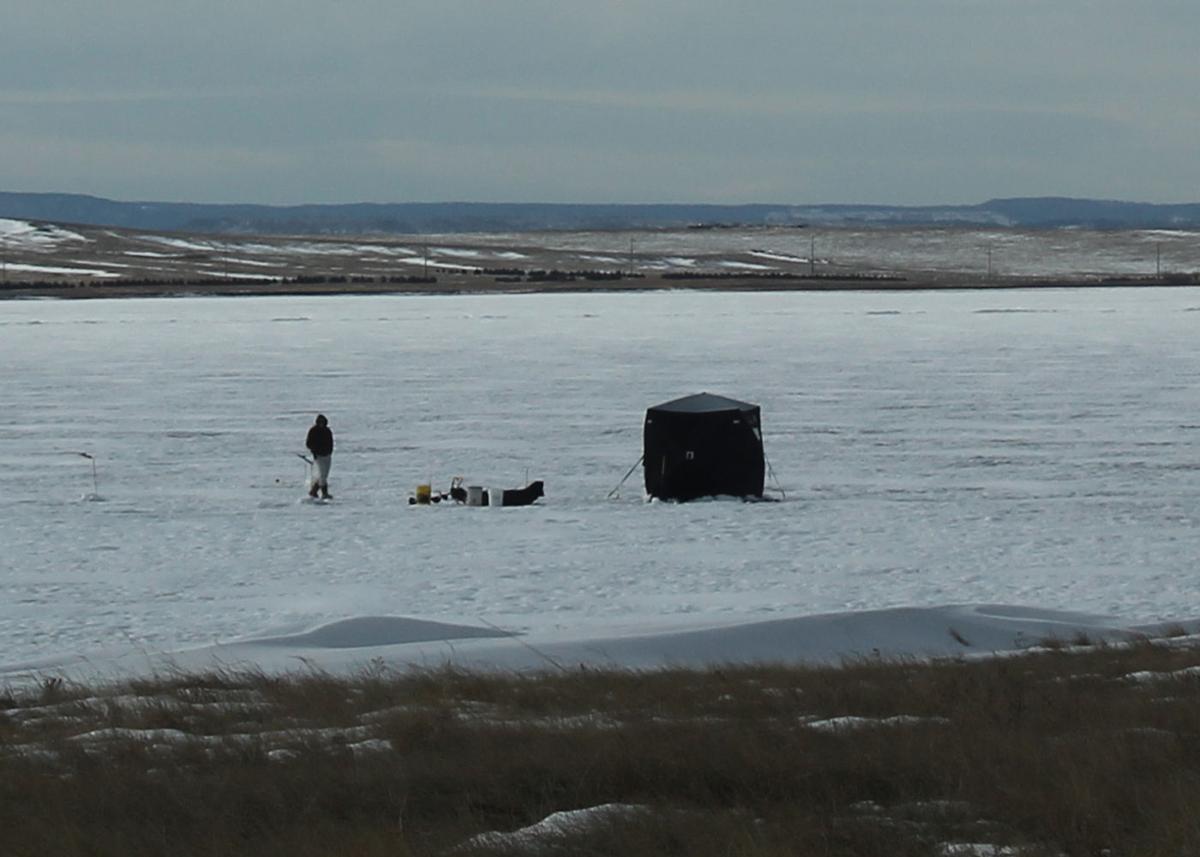 Due to the unseasonably warm winter weather, ice conditions in the Black Hills region have been iffy at times.
That concern will resolved rather quickly next week as a cold spell will move into the area on the weekend and drop temperatures into the teens for much of next week.
Fortunately, ice fishermen typically know the tricks of the trade to stay warm from ice shacks to tents to warm clothing properly worn. If not, winter season anglers quickly join the ranks of once-upon-a-time ice fishermen.
Fishing in the area has been good to excellent depending upon locale, a situation that should continue through the weekend as a low-pressure front moves through the area. Cold weather will likely send fish into deeper water though cloudy weather should keep fish actively feeding.
Here's a look at last week's fishing activity.
Angostura Reservoir: No activity reported.
Black Hills Reservoir (Orman): Six to eight inches of ice in most places reported and some limits of perch — nine to 10 inches — and walleye caught as well. Though anglers are still working Tequila Beach and Gadens areas, most of the activity has moved to the dam area. Jigs and minnows are the baits of choice.
Black Hills Fly Fishing: Area streams continue to produce an excellent trout bite in area streams. Rapid Creek though town has been excellent with plenty of action found in deeper holes and runs. Spearfish, Crow and Sand Creeks are also fishing well particularly during midday hours.
Center and Lakota Lakes: Trout activity is typical with minnows or small jigs and red spikes recommended.
Deerfield Lake: Perch bite continues. Gold Run, Dutchman and the dam area have been the most productive. Fish are suspended in 25-30 feet of water and responding to jigs tipped with waxworms or red spikes.
Pactola Reservoir: The lake has frozen over and anglers are getting out on both the south and north boat ramp areas. Ice is 6-8 inches in bays though 3-5 inches elsewhere, conditions suitable for walking though not for vehicle traffic. The northern pike bite has been picking up, particularly in Jenney Gulch area. a couple of 18-pound specimens were weighed in over the weekend. Also, a good bluegill bite reported in the south marina area on waxworms.
Roubaix Lake: Rainbow trout are being picked up on red spikes and waxworms.
Sheridan Lake: Northern pike bite has been picking up with fish located at depths of 6-10 feet of water and responding to chubs and shiners. Perch activity as well though the schools of perch are moving constantly and locating will likely require movement. Small jigs, waxworms and red spikes are working best.
Stockade Lake: Crappie bite picked up last week on jigs and minnows. And a few bass were caught on chubs.
Lake Oahe: Boat fishermen, accessing via the boat ramp at Little Bend, were picking up walleye at the mouth of the Cheyenne River last week, a situation that will likely end over the weekend as colder weather set in. Other activity on the river has been mostly confined to bays where catches of walleye, bass and perch have been reported.
Lake Sharpe: Boaters have been out day and night when conditions allow, and have been rewarded with catches of walleye in the 17-19-inch range. Shore fishermen have been enjoying success as well, particularly during periods of water release.
Lake Francis Case: The stilling basin below Ft. Thompson is producing a good walleye bite on jigs and minnows.
• Hooked on Hard Water tournament sponsored by the Boys Club is scheduled for Feb. 27 at Deerfield Lake. Pro & member HOH banquet is scheduled for Feb. 26 at the Central State Fairgrounds Fine Arts Building. Call The Club for Boys (605-343-3500 for details.
Dakota Angler & Outfitter, 513 Seventh St., Rapid City; The Rooster, 1441 W. Main St., Rapid City; Wheel in Bait Shop, 18696 Fisherman's Road, Fruitdale; West Prairie Resort, 28354 182nd, Pierre (605-264-5303), Horsecreek Inn and Campground, 23570, and Angostura State Resort have contributed to this report.