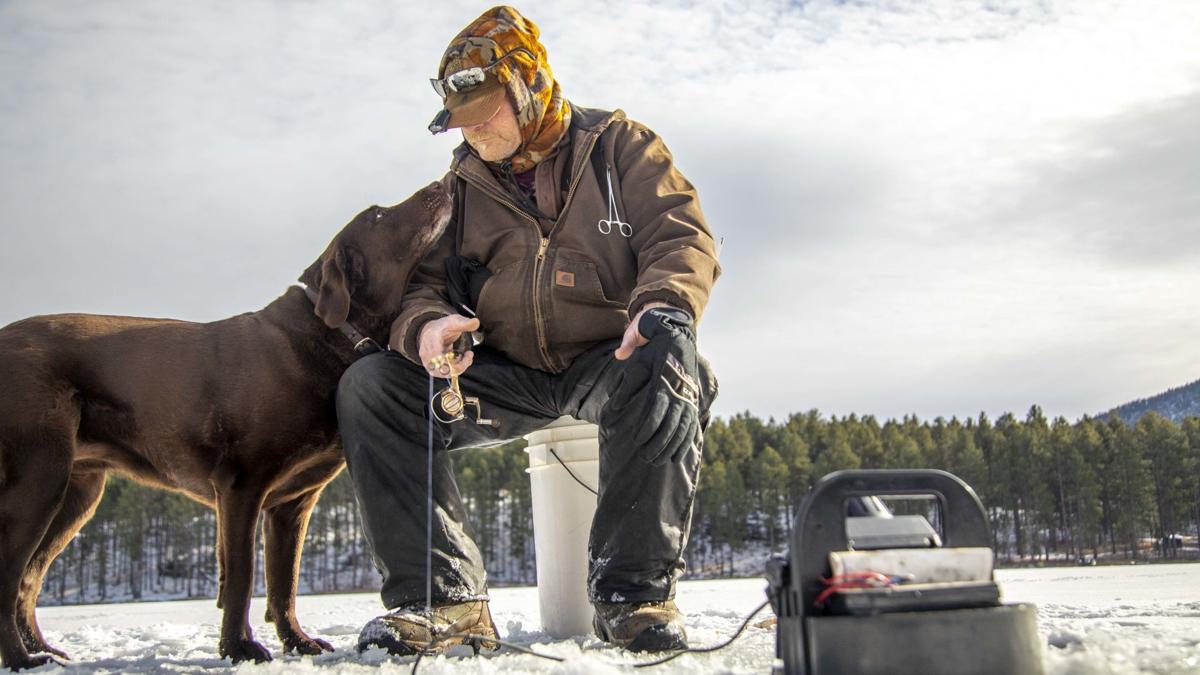 A rush on heaters for ice shacks and tents was the big news on the ice fishing front last week as arctic like weather descended upon the Black Hills area precipitating a lengthy period of single digit temps expected to stretch into the middle of next week.
For those who lean toward glass half-filled scenarios, fishing activity has remained fairly good despite the deep chill. And, as can be expected, ice conditions are excellent with the exception of mid-lake at Angostura, and ever-dangerous pressure ridges wherever.
Thus, while ice fishermen who were lamenting the loss of ice time in December appear to have been paid ahead as the hard water season should stretch into March.
Here's a brief look at last week's fishing activity.
Angostura Reservoir: Good ice reported along the shoreline and some walleye activity reported as well. Lake is ice-covered though mid-lake is probably not safe as yet.
Belle Fourche Reservoir (Orman): Excellent ice reported lake wide though ice fishing activity has slowed due to frigid temps. Despite that, the walleye— minnows and jigs in 15-18 feet of water — and perch bites continue though varies considerably day by day. Tequila Beach, Gadens and any shoreline adjacent to a heated pickup remain the popular spots and jigs and minnows the baits of choice.
Black Hills Fly Fishing: Best to stay indoors and tie flies at present.
Center and Lakota Lakes: Trout activity is typical with minnows or small jigs and red spikes recommended.
Deerfield Lake: Plenty of perch are being caught though most are on the small side. Gold Run, Dutchman and the dam area have been the most productive. Fish are suspended in 25-30 feet of water and responding to small tungsten jigs tipped with waxworms or red spikes.
Newell Lake: A report of walleye and crappie activity on jigs and minnows.
Pactola Reservoir: The lake is frozen over with 6-8 inches of ice reported, and ice shacks are becoming more numerous on the lake. The northern pike bite continues to pick up with most of the activity now centered around the north and south marina areas. A 20 and 22 pounder were weighed in last week and numerous 8-10 pounders were being caught as well. Also, bluegill have been active near the south marina area. Chubs and shiners are baits of choice for northerns and waxworms typically for perch. Also, with fishermen moving into deeper water lake trout activity should spark up a bit.
Roubaix Lake: Rainbow trout are being picked up on red spikes and waxworms.
Sheridan Lake: Northern pike bite has been picking up with fish located near north marina area at depths of 6-10 feet of water and responding to chubs and shiners. Perch action as well though fish are scattered. Small jigs, waxworms and red spikes are working best.
Stockade Lake: Crappie, and a few bass, are being picked up on jigs and minnows.
Lake Oahe: Main lake is now frozen and there is a buildup of 6 inches of ice in bays where northern pike activity is reported along with some catches of walleye, bass and perch.
Lake Sharpe: Over 300 teams participated in last weekend's Winter Fishing Weekend tournament. Winning teams weighed in as follows: walleye, 13.15 pounds; bass, 13.5 pounds; northern pike, 49 pounds.
Lake Francis Case: The stilling basin below Ft. Thompson has been producing a good walleye bite on jigs and minnows.
• Hooked on Hard Water tournament sponsored by the Boys Club is scheduled for Feb. 27 at Deerfield Lake. Pro & member HOH banquet is scheduled for Feb. 26 at the Central State Fairgrounds Fine Arts Building. Call The Club for Boys (605-343-3500 for details.
Dakota Angler & Outfitter, 513 Seventh St., Rapid City; The Rooster, 1441 W. Main St., Rapid City; Wheel in Bait Shop, 18696 Fisherman's Road, Fruitdale; West Prairie Resort, 28354 182nd, Pierre (605-264-5303), Horsecreek Inn and Campground, 23570, and Angostura State Rert have contributed to this report.