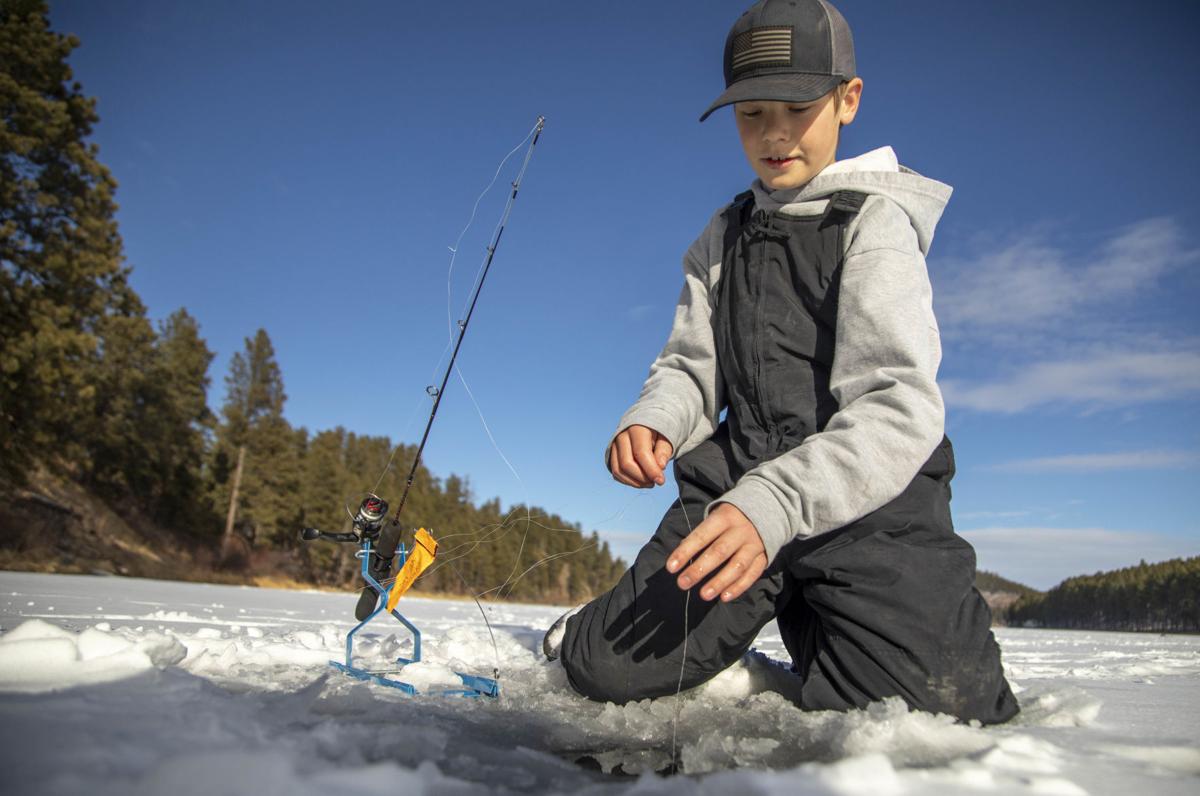 There is a point at which even diehard ice fishermen perhaps have to yield to the whims of Mother Nature. That make-or-break point may have been reached last week as some anglers reported difficulty in keeping holes open as surfaces quickly re-iced!
Fortunately, the frigid pocked of cold polar air is predicted to move out of the area early next week with temps possibly hitting the 50-degree mark on Monday. With that, the combination of excellent ice and pleasant ambient temps should spur a late February fishing bonanza for hard water anglers.
The early week high pressure front doesn't generally offer excellent fishing opportunities though fish, despite being lethargic, are hungry and testing the water during optimum hours could provide some action. Utilizing, of course, the old fishermen's folklore which says that ice fishing is best during those times when two fingers can be perfectly spaced between the sun and horizon.
Nonetheless, here's a quick look at what's been happening lately.
Angostura Reservoir: Ice conditions have greatly improved. Fishing activity has not as cold temperatures kept would-be anglers close to home and hearth last week.
Belle Fourche Reservoir (Orman): As to be expected given the cold weather coupled with breezes on the plains, ice fishermen were few and far between last week. However, those active did find some walleye action utilizing minnows and jigs in 15-18 feet of water. Gadens Point and Dam areas were providing most of the action.
Black Hills Fly Fishing: Too cold this week though warmer temps beginning early next week should reduce icy conditions and allow a return to lower elevation area streams.
Deerfield Lake: Lots of perch being caught recently though most are small. Gold Run, Dutchman and the dam area have been the most productive spots. Fish are suspended in 25-30 feet of water and responding to small tungsten jigs tipped with waxworms or red spikes.
Newell Lake: A recent report of walleye and crappie activity on jigs and minnows.
Pactola Reservoir: The few ice fishermen out last week reported an uptick in lake trout activity with some four and five pounders showing up on shiners or chubs in at depths of 40-50 feet of water. Some northern pike action continues in north and south marina areas. And occasional bluegill activity near the south marina area.
Roubaix Lake: Rainbow trout have been active on red spikes and waxworms.
Sheridan Lake: Northern pike bite continued last week with the most activity located near Dakota Point or the north marina area. Fish are typically caught in 6-10 feet of water on chubs or shiners. Perch remain active as well on small jigs, waxworms or red spikes.
Stockade Lake: As elsewhere, cold weather limited fishing activity last week. Previous to the frigid spell, crappie, and bass were showing up on jigs and minnows.
Lake Oahe: Main lake is now frozen and solid ice in bays is providing opportunities for ice fishermen undaunted by a bit of a chill. Walleye activity in those areas is reportedly good at times with most of the activity located near main lake break lines on jigging rods and dead stick lines worked with small jigs and minnows in 30-50- feet of water.
Lake Sharpe: Due to the cold temps, ice was occasionally forming near the bridges though the Corps is running more water now because of power shortages which does keep the river open. With much warmer weather predicted to move in over the weekend, a few diehards will put boat to water. Ice conditions likely allow ice fishing farther south in Joe Creek and West Bend areas though no reports received.
Lake Francis Case: Good ice most places though fishing activity has been sparse.
• Hooked on Hard Water tournament sponsored by the Boys Club is scheduled for Feb. 27 at Deerfield Lake. Pro & member HOH banquet is scheduled for Feb. 26 at the Central State Fairgrounds Fine Arts Building. Call The Club for Boys (605-343-3500) for details.
Dakota Angler & Outfitter, 513 Seventh St., Rapid City; The Rooster, 1441 W. Main St., Rapid City; Wheel in Bait Shop, 18696 Fisherman's Road, Fruitdale; West Prairie Resort, 28354 182nd, Pierre (605-264-5303), Horsecreek Inn and Campground, 23570, and Angostura State Rert have contributed to this report.