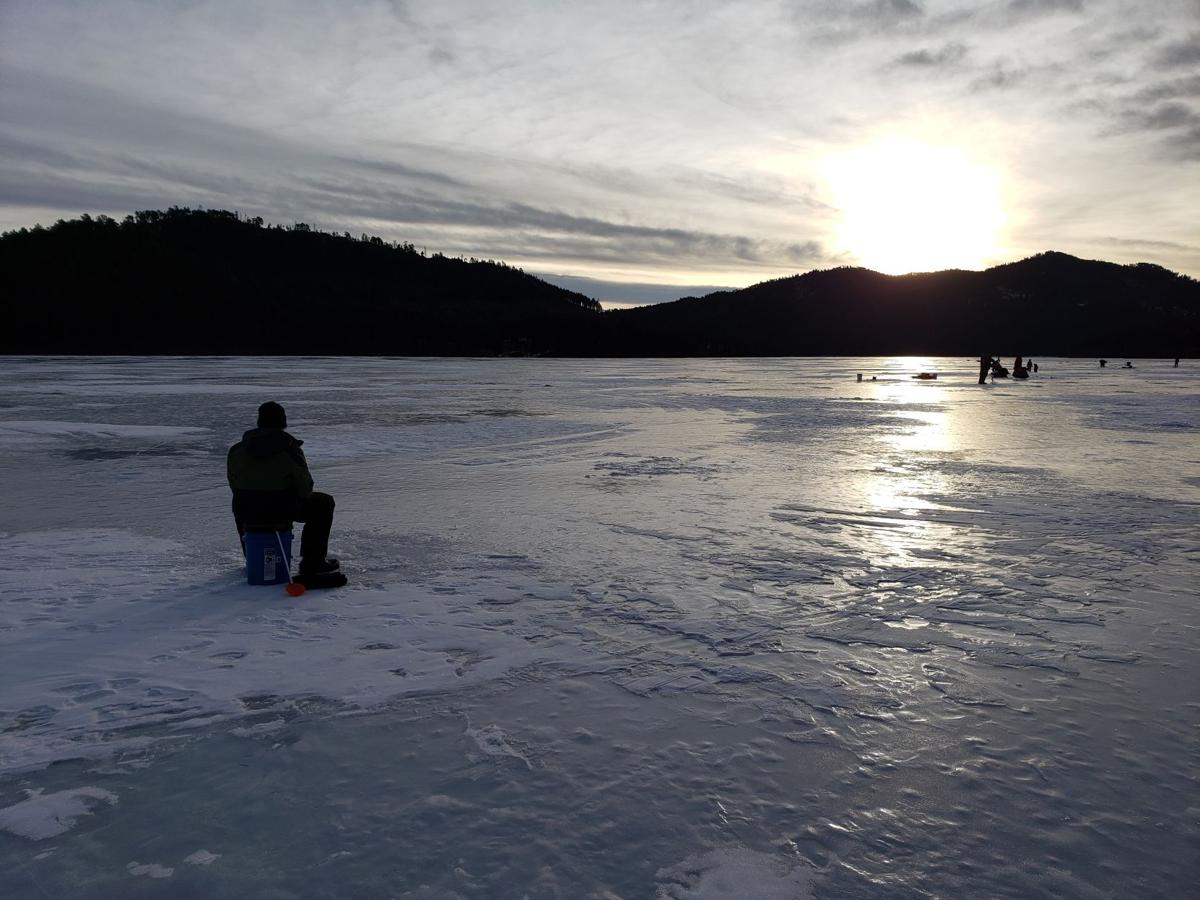 Though pleasant weather has slowed the buildup of ice on prairie lakes and stock dams, ice fishing aficionados are finding workable ice in many of the lakes in the Black Hills lakes. Pactola remains the only high elevation exception with an open water conditions continuing in the main lake and ice fishing largely confined to the Jenney Gulch.
Sheridan Lake remains the go-to spot for many anglers though ice is unsafe in certain areas and pressure ridges need to be carefully avoided. Fishing action in Sheridan remains quite good for the most part with limits of perch, crappie and trout reported as well as catches of a few nice sized northern pike.
Elsewhere in the Hills, most lakes are producing catches of trout and perch as well.
Here's a look at what's been happening in the area recently. And, most importantly, a word of caution: a vehicle breaking through ice near Hosmer South Dakota resulted in a fatality. Please be caution, well-equipped and attentive for dangerous pressure while venturing out onto the ice anywhere, anytime.
Angostura Reservoir: No action reported last week as lake remains open other than thin ice buildups near shorelines in back bays.
Belle Fourche Reservoir (Orman): The lake is frozen and there is some workable ice other than near the canal and on the south end. Solid ice reported on the north end and by the dam. The north side of Chicken Island is good as well, with the weakest areas to be found near Fruitdale and Golf Course Point. Also, the few anglers who were out on Wednesday were finding walleye action.
Black Hills Fly Fishing: Trout fishing remains steady in area streams. Mostly nymph fishing, flied with an element of orange or pink have been working well. Dry fly fishing should pick up in early January as midge hatches begin.
Center Lake: Five inches of ice reported though ice along shoreline on north side can be questionable. Tiger and rainbow trout bite have been showing up on red spikes and waxworms.
Deerfield Lake: Solid ice in the Gold Run and Dutchman areas, and shacks are setup in main lake. A very active perch bite reported in Gold Run and Dutchman as well as along the dam. Waxworms and red spikes with small ice jigs are recommended.
Lakota Lake: Six inches of ice on the lake and limits of trout reported on spinners and powerbait.
Pactola Reservoir: With the main lake open fishing activity has been mostly confined to ice fishing in Jenney Gulch. Four to eight inches of ice in Jenney with reports of lake trout activity though fish caught are typically small (20-25-inch range). Chubs, shiners or frozen smelt in 30 feet of water is recommended. And perch are being caught in that area as well on small jigs and waxworms.
Prairie Lakes: Ice fishing not advised as ice is thin and unsafe.
Shadehill Reservoir: Good ice reported and good crappie and walleye bites reported with minnows the bait of choice.
Sheridan Lake: Five-to-six-inch ice in places with open water remaining in middle of the lake. Limits of perch, bluegill (1/2 to 3/4 pounds), trout and crappie reported on waxworms and red spikes on small jigs. A few walleye have been showing up off Dakota Point as well. Also, off Hwy., 385, seven-to-10-pound northerns have been caught on chubs and shiners.
Stockade Lake: six to eight inches of ice reported. Perch and largemouth bass are showing up on jigs and minnows while some northern pike activity have been picked up on south side of lake.
Lake Oahe: Most of the fishing activity is confined to the upper reaches of the Missouri River in South Dakota. South of Mobridge and in Pollock area — ice six inches reported in spots away from current. And weather permitting — winds have been calm in recent days — boaters are getting out near Spring and Cow Creeks where access is possible and catching walleye.
Lake Sharpe: Boat fishermen continue to work below the dam and near the bridges and are finding occasional walleye activity including fat walleye in the 17-19-inch range. Some ice fishing activity reported near Farm Island though extreme caution advised elsewhere.
Lake Francis Case: River is iced on west side and some ice fishing activity reported between the I-90 and railroad bridges in the Chamberlain area though no reports as to success.
Upcoming Ice Fishing Tournaments
• 4th Annual Whitney Dock Club Fishing Tournament: originally scheduled for January 9th has been postponed to Jan. 23. Call Scott Gooder (308-430-4896) for more info.
• Chamberlain Oacoma Ice Fishing Tournament, Jan. 30. Contact Raymond Pickner (605.730.0216 for more information.
• Walleyes Unlimited Sheridan Lake Ice Fishing Derby, Jan. 31, Pre-registration only, call (605) 381-5300 or (605) 390-0567 for more info.
Dakota Angler & Outfitter, 513 Seventh St., Rapid City; The Rooster, 1441 W. Main St., Rapid City; Wheel in Bait Shop, 18696 Fisherman's Road, Fruitdale; West Prairie Resort, 28354 182nd, Pierre (605-264-5303), Horsecreek Inn and Campground, 23570, and Angostura State Resort have contributed to this report.