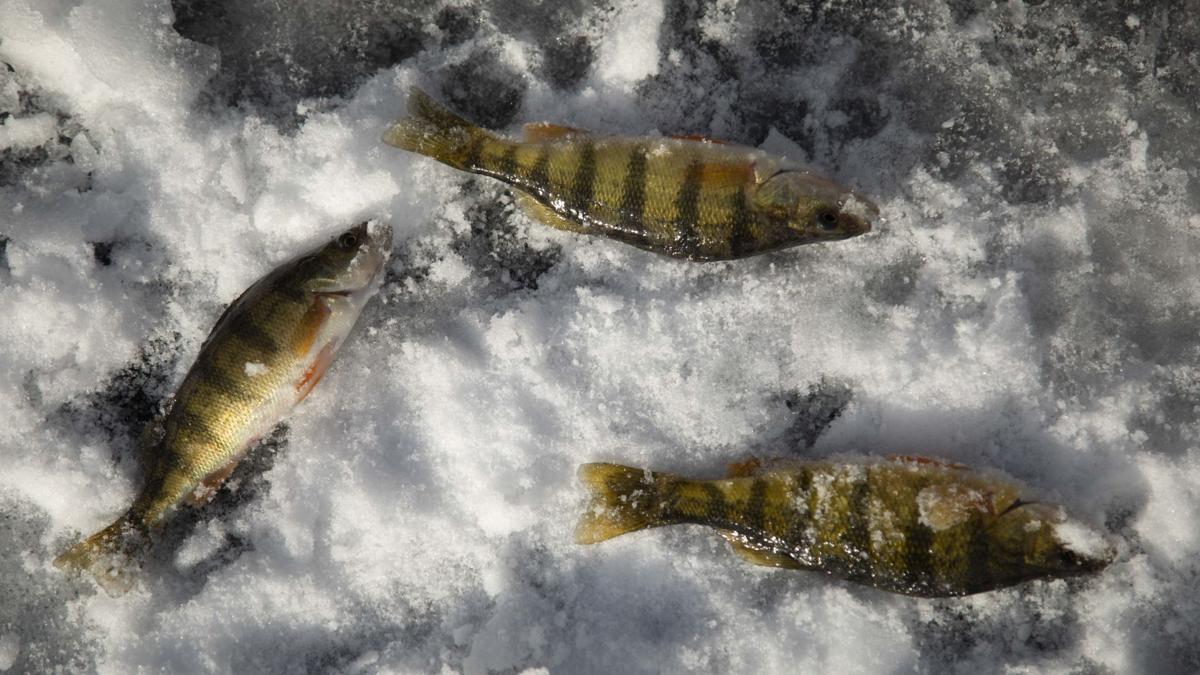 Warmer weather and high winds on the plains caused some concerns with melting ice and watery surfaces though high elevation Black Hills lakes continue to provide excellent ice. Angler numbers increased last week with the warming weather though results were mixed.
Pactola, Sheridan and Deerfield continued to draw most of the action though smaller mountain lakes are attracting trout fishing enthusiasts. The higher elevation lakes will likely continue as area hotspots as warming temps next week will play havoc with prairie lake ice.
Here's a brief look at what's been happening in the area.
Angostura Reservoir: Good ice reported at Horsehead Campground and Long Beach areas though no reports of fishing success.
Belle Fourche Reservoir (Orman): A recent mix of wind, rain and snow have led to treacherous ice conditions in some areas and open water in others, particularly near Gadens Point where a pressure ridge has remained open for most of the winter. Best ice is most likely below the dam that area has had a thicker buildup. A few anglers were out, and reported some walleye activity during early morning or late afternoon hours. Some crappie action reported on jigs and minnows as well.
Black Hills Fly Fishing: Too cold this week though warmer temps beginning early next week should reduce icy conditions and allow a return to lower elevation area streams.
Center Lake: Trout bite in progress on powerbait and red spikes.
Deerfield Lake: Lots of perch being caught recently though most are small--tungsten jigs tipped with waxworms or red spikes worked in 25-30 feet of water. Gold Run, Dutchman and the dam area have been the hotspots. Also, some lake trout were caught last week including a 34 incher.
Newell Lake: A recent report of walleye and crappie activity on jigs and minnows.
Pactola Reservoir: Improved ice conditions allowing ice fishermen to access deeper water has led to an uptick in lake trout action including catches of 33- and 35-inch specimens. Lakers are scattered and are being located at depths varying from 20 to 60 feet of water. Northern pike bite improved last week as well with 19 and 21 pound specimens weighed in. Pike were most active in 8-15 feet of water near the south marina. Chubs and golden shiners are the bait of choice for both species.
Roubaix Lake: Rainbow trout have been active on red spikes and waxworms.
Sheridan Lake: Perch activity continues though schools are scattered and searching likely required. Waxworms and red spikes are the baits of choice. Also, some nice rainbow trout are showing up on red spikes as well. Some pike action reported on chubs and shiners near Dakota Point.
Tisdale Lake: Limits of pike reportedly caught last week.
Lake Oahe: Walleye and northern pike bites have been steady particularly farther north where ice fishermen have been finding walleye activity with jigs and minnows in 30-40 feet of water. Also, pike are being taken both by hook and line and spearing.
Lake Sharpe: Warmer temps in the area will entice boaters to work the waters below the dam in Chamberlain as the Corps has been running high volumes of water recently. Walleye activity should pick up as well.
Lake Francis Case: Some walleye and perch action reported in the Chamberlain area though ice is definitely sketchy along shorelines, a situation that will further deteriorate with the arrival of warning temps. Solid ice exists but extreme caution is advised in seeking out.
• Hooked on Hard Water tournament sponsored by the Boys Club is scheduled for Saturday at Deerfield Lake. Pro & member HOH banquet is scheduled for Friday at the Central State Fairgrounds Fine Arts Building. Call The Club for Boys (605-343-3500 for details.
Dakota Angler & Outfitter, 513 Seventh St., Rapid City; The Rooster, 1441 W. Main St., Rapid City; Wheel in Bait Shop, 18696 Fisherman's Road, Fruitdale; West Prairie Resort, 28354 182nd, Pierre (605-264-5303), Horsecreek Inn and Campground, 23570, and Angostura State Rert have contributed to this report.