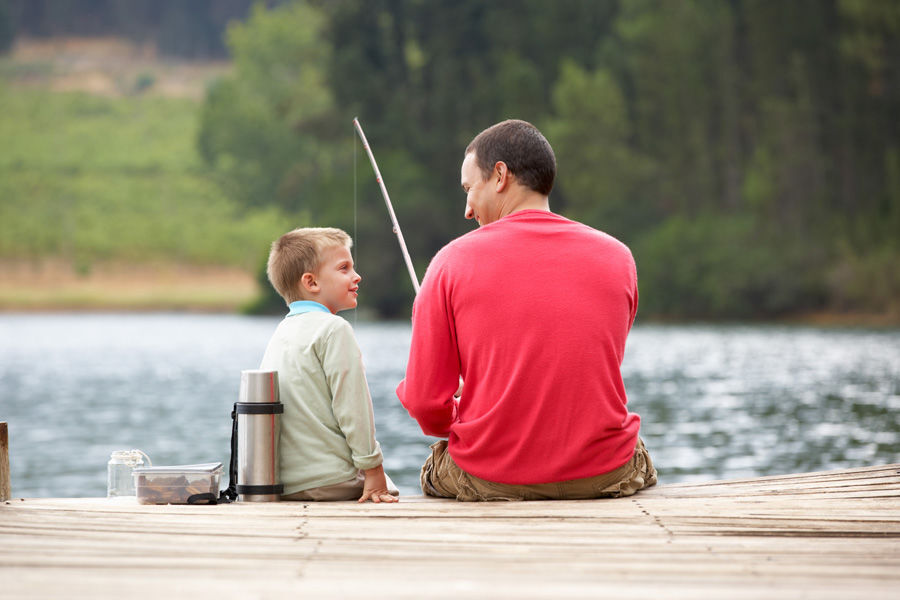 Despite the warm temperatures experienced this week, the cooling breezes signaling a pivot to autumn-like weather will enter the area over the weekend. And with the change, and in advance of it, a situation resulting as water temps drop due to cooler nights, fishing activity in the area was trending upward last week.
Even Angostura, a dead sea for much of the year on the walleye front, has begun to produce walleye activity on a limited basis while Black Hills lakes continue to produce trout, crappie, perch, bass and emerging northern pike activity.
For anglers who consider a babbling brook an integral part of a fishing experience, area streams continue a summer long pattern with plenty of trout activity.
Here's a peek at what's been happening. And, hopefully, a precursor of what is on tap as summer morphs into fall.
Angostura Reservoir: After a long period of inactivity, the walleye bite has picked up somewhat. With the water level remaining low, walleye are moving out of the trees and into more fisher friendly waters. Nightcrawlers and minnows, take your choice. Some crappie and bass activity reported. And a few catfish are showing up as well.
Bear Butte Lake: Some nice crappie — 11-13-inch — have been caught by anglers working minnows or spoons along weed lines. Also, northern pike (28-32-inch range) have been showing up on chubs.
Belle Fourche Reservoir (Orman): Bites are improving with catches of smallmouth bass, crappies, perch and catfish reported as well as some walleye reported. Activity is largely limited to boaters as the low water level (57% capacity with irrigation requirements expected to run through October 2nd) makes for muddy shorelines. Minnows and worms are working well.
Black Hills Fly Fishing: Dry fly fishing has picked up with grasshoppers, craneflies, mayflies and caddis activity as fish are responding to surface activity. Cooler weather in store for the weekend should present ideal conditions.
Curlew Lake: A few walleye in the 20-25 inch range are being caught on Lindy rigs and minnows. Crappie activity continues as well with small minnows and jigs worked in 8-10 foot of water working best.
Deerfield Lake: Excellent perch bite with fish in progress with fish suspended at depth of 25 feet in 35-40 feet of water. Small jigs with a piece of crawler working best.
Pactola Reservoir: Trout and bluegill continue to be active and northern pike action is picking up as northerns have moved into shallower water. Anglers working the flats and the bays on the south end of the lake are doing fairly well on spoons and Mepps spinners.
New Underwood Dam: Bluegill activity continues on nightcrawlers.
Sheridan Lake: Excellent fishing reported as cooling waters have spurred activity. Trout are active lake-wide, and in addition to crappie and perch activity, northerns are showing up along the weed banks across from the marina.
Stockade Lake: A bass bite at times with minnows and plastics working best. Fish are scattered and some looking generally required.
Sylvan Lake: Limits of trout reported on powerbait and trout spinners.
Lake Oahe: Plenty of smallmouth bass activity as the annual fall bite is crazy good at present with limits of fish (with specimens in the 3-5-pound range included) easily available on live baits. Walleye activity has slowed though the mouth of the Cheyenne is still producing limits. Bottom bouncers/crawler rigs or jigging raps are working best.
Lake Sharpe: Walleye bite is steady though not spectacular. Fish are located in 10-15 feet of water and responding to bouncers with crawlers worked in current breaks. Solid bite reported downstream at Ft. George as well.
Lake Francis Case: Fishing activity remains slow in the Chamberlain area. Most anglers are working farther south in the Platte area. Bouncer/crawler rigs at depths of 15-25 feet of water would seem to be a good starting point.
Dakota Angler & Outfitter, 513 Seventh St., Rapid City; The Rooster, 1441 W. Main St., Rapid City; Wheel in Bait Shop, 18696 Fisherman's Road, Fruitdale; West Prairie Resort, 28354 182nd, Pierre (605-264-5303), Horsecreek Inn and Campground, 23570, and Angostura State Resort have contributed to this report.
Be the first to know
Get local news delivered to your inbox!