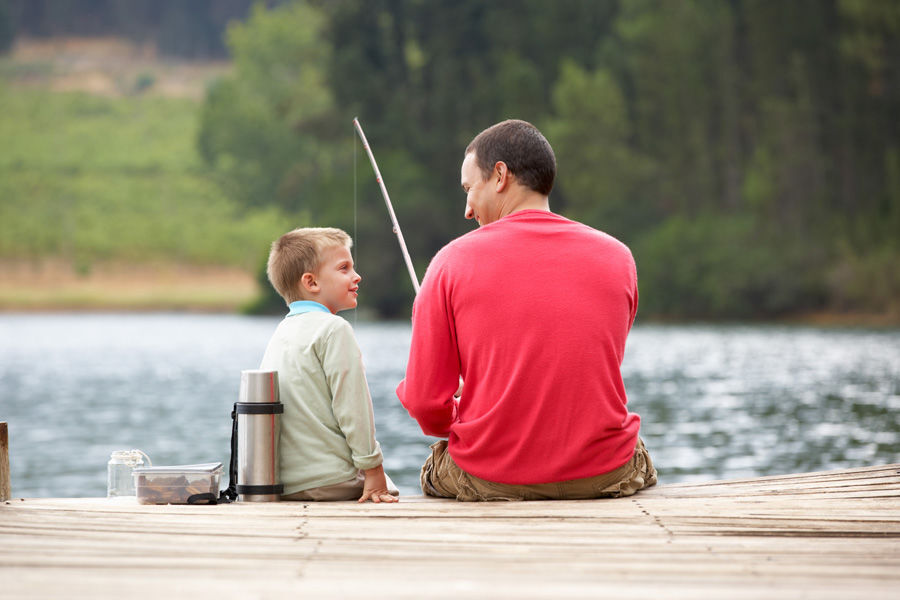 The sound of reels casting mixed with motorcycle wheels spinning this week while August heat and warming waters slowed down fishing activity in the area, a not unusual occurrence in mid-summer months.
Nonetheless, numbers of fish are being caught with a slight nod given to experienced anglers who know their quarry best and have the knowhow to locate and the patience to wait until the strikes come.
Here's a peek at what a trip along bike-filled highways might bring.
Angostura Reservoir: At last report, crappie action near the south marina and among the trees in Horsehead about summed it up. Crappie were located at depths of five or six feet and responding to small jigs and minnows.
Bear Butte Lake: Good crappie action reported with fish in the 11-13-inch range being taken on minnows worked along weed spots
Belle Fourche Reservoir (Orman): The walleye bite had slowed considerably, a result largely due to the usual mid-summer spike in water temps. Despite that, walleye are being caught during early morning or evening hours. Fish are in 12-15 feet of water in cooler morning hours and moving out to depths of 20-25 feet later in the day. Nightcrawler/ spinner rigs seem to be the bait of choice.
Black Hills Fly Fishing: Trout remain active in Rapid, Castle and Spearfish Creeks with the best action taking place in early morning or late afternoon hours.
Deerfield Lake: Trout activity continues with boat fishermen limiting out on spinners and lures.
Horsethief Lake: Good trout action reported in late afternoon hours and trout spinners, powerbait or nightcrawlers the baits of choice.
Pactola Reservoir: Rainbow trout bite continues with shore and boat fishermen picking up 18-20-inch specimens. Northern pike activity continues as well back in bays. Majority of pike taken are small though some larger fish are being caught. And for the kids, young or old, bluegill are being caught along shorelines on bobber and crawler setups.
Prairie Dams: For those looking for a little flatland action, prairie dams are fishing well for bass, bluegill and perch.
Sheridan Lake: Limits of perch and bluegill reported with the best action centered near buoys with the fish located a few feet off the bottom. Also, a few northern pike have been caught near Spring Creek inlet on chubs.
Lake Oahe: Walleye activity has slowed somewhat as hot weather has sent fish into deeper water (35-40 feet) necessitating patience and electronics effectively used. Nonetheless, limits are being taken with fish averaging in the 16-20-inch range. Bouncer with spinners and crawlers are working best. Also, the salmon activity is starting up along the face of the dam. Fish are deep (75 foot) and the bite can be slow. Spoons and squid advised.
Lake Sharpe: With the slowdown on Oahe resulting from walleye seeking cooler waters at depths, fishermen including guide services are working the lake more where fish are shallower (15-25-foot depths) easier to catch. Also, the 15-inch limit is now off allowing for easier limiting possibilities. Water releases have been on the high side recently and working the current breaks is advised.
Lake Francis Case: Walleye bite remains slow near Chamberlain with better luck reported farther south in Platte area. Bouncer/crawler rigs at depths of 15-25 feet of water are working best.
Dakota Angler & Outfitter, 513 Seventh St., Rapid City; The Rooster, 1441 W. Main St., Rapid City; Wheel in Bait Shop, 18696 Fisherman's Road, Fruitdale; West Prairie Resort, 28354 182nd, Pierre (605-264-5303), Horsecreek Inn and Campground, 23570, and Angostura State Resort have contributed to this report.
Be the first to know
Get local news delivered to your inbox!