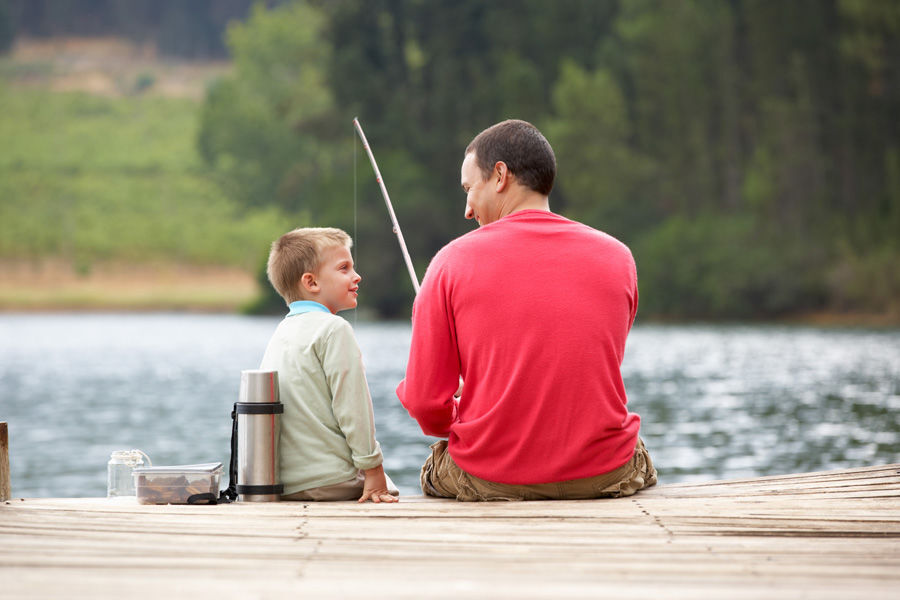 A low-pressure system moving into the area this weekend may produce an uptick in fishing success in Black Hills area lakes. Or, at least for those anglers willing to endure a touch of inconvenience as cool temperatures and off-and-on showers will be about as well.
Nothing suitable rain gear and a tolerance for damp conditions won't overcome however. Particularly with an improving walleye bite in the prairie lakes and the trout chasing flies and feeding voraciously in area streams.
Or so say the fishermen who were testing the waters last week.
Here's a bit of scuttlebutt from those sources as to fishing activity in the Black Hills region and Missouri River last week.
Angostura Reservoir: Walleye activity has been improving with specimens in the 16–19-inch range showing up. Fish are typically in shallow water and being caught on presentations jigged from shore.
Bear Butte: A mix of catches reported with some crappie (jigs and minnows) along with a few walleyes on jigs and minnows and northerns (typically small) on chubs and shiners.
Belle Fourche Reservoir (Orman): Most teams in last weekend's High Plains Anglers fishing tournament were able to find walleyes with the majority of fish caught either overs and slots with very few unders taken. Walleye were located mostly in the shallows — 8-14 feet of water — and responding to jigs and minnows or crankbaits. Also, a few catfish continue to show up in the channel and a few white bass elsewhere.
Black Hills Fly Fishing: Water levels remain somewhat high in area streams though trout bite is excellent with limits being taken on either dry flies or nymph presentations. Rapid and Spearfish Creeks, particularly, have been on fire.
Center Lake: Trout continue to be very active with limits being taken on spinners and powerbait as even fly fishermen of the novice variety have been enjoying success.
Deerfield Lake: The lake is open though fishing activity remains slow.
Keyhole Reservoir: Reports indicate water is warming with temps near 50 degrees though fishing activity remains slow at present.
New Wall Dam: Ten-to-12-inch crappie are being caught on small jigs and small minnows.
Pactola Reservoir: Rainbow trout bite remains excellent with limits of 14–18-inch specimens being caught on powerbait and trout spinners near north and south marina areas. Some bluegill activity reported in bays. And a few lake trout bite in deeper waters.
Sheridan Lake: Some perch activity reported—schools suspended a few feet off the bottom in 24-30 feet of water — on small jigs and nightcrawlers. And some northern pike are being caught on a shiner slip bobber presentations near Hwy. 385.
Tisdale Lake: Pike activity reported though fish are typically small.
Lake Oahe: Walleye bite has been good to excellent in upper stretches of the lake and is slowly moving south as water temperatures improve. Mouth of Cheyenne has been the busiest spot. Northern pike and bass activity reported in bays as well.
Lake Sharpe: Walleye activity, along with plenty of boaters chasing, has been fairly steady in Pierre area as well as farther south in the West Bend and Joe Creek areas. Small jigs and minnows worked slowly near current breaks is working best.
Lake Francis Case: Walleye bite remains strong in the Chamberlain area for both boaters and shore fishermen.
• June 19: Father's Day Tournament at Angostura sponsored by Fall River Swim team, 3-person teams ($120). Contact Jeff Reetz (jeffreetz5@yahoo.com or call 605-890-1595.
Dakota Angler & Outfitter, 513 Seventh St., Rapid City; The Rooster, 1441 W. Main St., Rapid City; Wheel in Bait Shop, 18696 Fisherman's Road, Fruitdale; West Prairie Resort, 28354 182nd, Pierre (605-264-5303), Horsecreek Inn and Campground, 23570, and Angostura State Rert have contributed to this report.