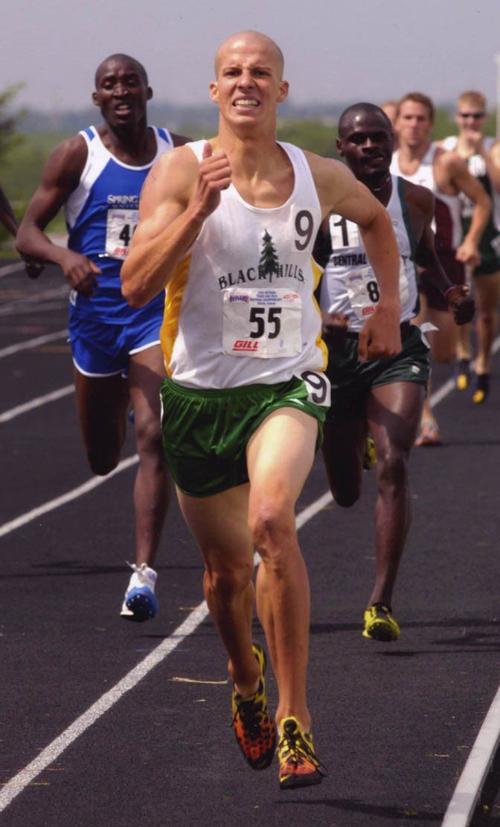 The National Association of Intercollegiate Athletics announced Tuesday that Tim Bishop, former Black Hills State University student-athlete, was selected to the 2020 NAIA Hall of Fame class.
The induction ceremony will take place at the 2020-21 NAIA Cross Country National Championship in Cedar Rapids, Iowa, April 8-9.
Bishop ran for the Yellow Jackets on the cross country and track and field teams from 2000-2003 during the program's NAIA era, and was a four-time national champion and a nine-time All-American.
"I'm just humbled, it's a huge honor," said Bishop. "It's kind of surreal, it was a wonderful experience getting to run there for Scott (Walkinshaw). It's high on my teammates as well, I ran with some great guys. In my mind, those guys are hall-of-famers as well. Running and training with them every day — without those guys, none of the accomplishments or accolades would have come."
In the Dakota Athletic Conference (DAC), Bishop won six conference titles, winning the 800 meters four times as well as the mile and 1,500 meters. He was named the DAC-10 Most Valuable Senior in cross country in 2002, and in track and field in 2003 at the outdoor championships where he also earned Most Valuable Performer of the championships.
"Tim is very deserving of the NAIA Hall of Fame honor based on his accomplishments athletically and academically here at Black Hills State University," said Walkinshaw, now the retired former head coach and 2019 NAIA Hall of Fame inductee. "Tim meant so much to both the cross country and track and field programs. His competitiveness on the cross country course and track, and his willingness to work was contagious with the rest of the team."
In 2012, Bishop was inducted into the BHSU Athletic Hall of Fame as a member of the 2000 national runner-up cross country team, and then was inducted again as an individual in 2014.
While at BHSU, Bishop appeared in the NAIA National Championships all three years in cross country and made two National Championship Meet appearances in indoor and outdoor track.
Bishop made his first national meet appearance at the 2000 cross country championship, placing 53rd. Later that season at the 2001 Indoor Track and Field National Championships, he was a member of the distance medley relay. This relay historically garnered the first national championship for the BHSU track and field program. At the 2001 Outdoor National Championships, Bishop placed eighth in the 800 meters.
The next year, an injury kept Bishop from finishing at the cross country nationals in 2001, but later that year, was able to win both the 1,000 meters and mile at the 2002 Indoor National Championship and again was a member of the distance medley relay which placed fourth.
In his final season as a Yellow Jacket, Bishop finished 15th overall at the 2002 Cross Country National Championship and then won the 1,500 meters and anchored the 4 x 800 meter relay to a third place showing at the 2003 Outdoor National Championships.
Bishop earned nine NAIA All-American honors in his time at BHSU, eight in track and field and one in cross country. He was also named NAIA Scholar Athlete five times.
At the time of his graduation in 2003, Bishop held 11 school records in track and field, seven indoor records and four outdoor.
In 2012 he moved back to his home state of Kansas where he now teaches PE/health at Salina South Middle School in Salina, Kan., and is also an assistant cross country and track coach at Salina South High School.
Be the first to know
Get local news delivered to your inbox!