Hunter Garlent might owe Cedric Montminy a favor or two after Friday night's performance.
In the final minute of the Rapid City Rush's battle with the Allen Americans at Rushmore Plaza Civic Center, Montminy stole a puck in his own zone and was clear on through for an easy empty-netter to solidify his team's fourth straight win.
But instead, the Canadian let Garlent have it, letting his teammate tally his third goal to earn the first Rush hat trick of the season as Rapid City topped Allen 4-2 to grab the first two games of the series and creep further up the ECHL Western Conference standings.
Garlent dedicated the achievement to his grandparents. 
"One thing they asked for is if I could possibly get a hat trick," he said. "So that puck will be going to them and it makes it a little extra special."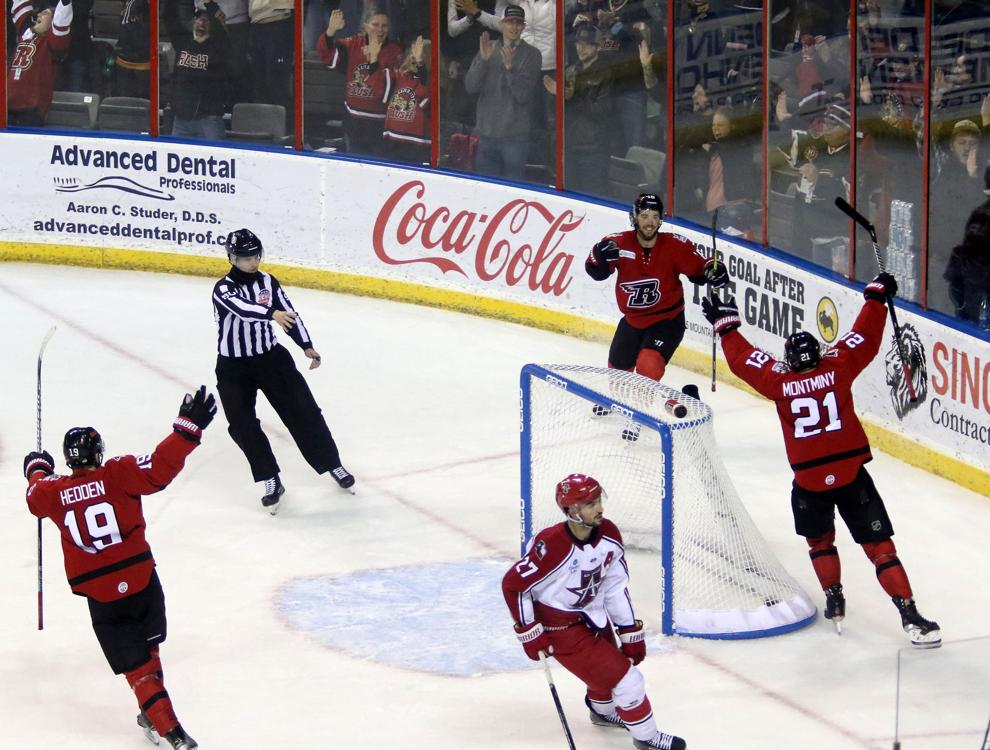 The Rush (24-21-4) and Utah Grizzlies (20-17-11) are now tied via points percentage for the fourth and final playoff spot. The Grizzlies, however, own the tiebreaker based on regulation wins, edging the Rush 16-14.
"We've been playing great hockey. We've been playing great hockey for the last two months to be honest, but tonight was a playoff-like atmosphere again," Rapid City head coach Daniel Tetrault said. "We know what's at stake, and guys are just working hard for each other."
Garlent wasn't the only one who had himself a game, as Montminy also picked up three assists and the second line of Garlent, Montminy and Hedden accounted for seven of the Rush's 13 individual points. Peter Quenneville also extended his points streak to five straight games, and Brad Barone made 24 saves to improve to 8-2-3 on the year.
Quick-strike ability was again in Rapid City's arsenal. Following a scoreless first period, Allen's Colby McAuley got his squad on the board when he batted in a rebound out of the air on a power-play opportunity at 7:57 of the middle frame. But less than two minutes later, Avery Peterson corralled the puck and drifted patiently to the left before putting away a wide open equalizer at 9:21.
Garlent then gave his squad the lead at 16:07 of the second period with a Goal Of The Year candidate, skating into the offensive zone from the left side, deking a defender while sliding right into the slot and switching hands on the stick before snapping a wrister off the crossbar with his body still facing the bench.
"That's why you practice every day. You work on little things that might become available to you in ways to beat a goalie and beat a defender, so it's something I do in practice quite often," Garlent said. "When I saw it go in and the bench (celebrated), it was cool to cool to get one like that."
Tetrault, among others, called for the play to be featured on ESPN's SportsCenter.
"It was unbelievable. It was kind of a lacrosse (move)," he said. "He's done that quite a few times this year, and he connected right under the bar. It's a highlight goal."
Garlent needed only 2:26 to pot his second goal, as he flew into the slot to take a pass from Hedden off a 2-on-1 and sniped the top-right of the net to make it 3-1 heading into the second intermission.
The middle frame also had the only fight of the evening. For what had been brewing for more than 30 minutes, Tyson Empey and Zane Franklin decided to square off. Both gentlemen got their punches in before Franklin was taken down to the ice.
Penalties started flooding in to begin the final frame. A Rush power play lasted all of 17 seconds as an interference call on Montminy made it 4-on-4 hockey, but Charlie Curti's boarding infraction just over a minute later gave the Americans (28-15-3) a 4-on-3. After that expired, Spencer Asuchak came out of the box for the 5-on-3 and quickly notched a goal at 10:41 to cut Allen's deficit in half.
For the second night in a row, the Rapid City defense was unyielding in the waning moments. Once Paterson was pulled with 1:53 remaining in regulation, Allen's offense fastened itself in the offensive zone. It wasn't until Montminy's interception and dish to Garlent for the empty-net goal, scored at 19:10, that the tension let up.
"We've got a great team, and when we work and when we skate like that, we're tough to beat," Tetrault said. "We never get too high, never get too low. We've got to stay even-keeled and take it one game at a time, but it's fun right now."
Rapid City faces Allen again Saturday for the third and final meeting of the series. Puckdrop is scheduled for 7:05 p.m. at Rushmore Plaza Civic Center.