The Rapid City Rush are on a four-game winning streak for the first time this season.
With Adam Carlson pulled and less than 15 seconds to play in Saturday's clash with the Kansas City Mavericks, the Rush won an offensive zone faceoff and Peter Quenneville fired in a one-timer off a tic-tac-toe play from Tyler Coulter and Butrus Ghafari that clipped the pants of Mike Hedden and went in with 12.6 seconds left to level the game and send things to overtime.
"Yeah, it was exciting. That was our third try so far," Quenneville said of the faceoff. "Last time we were pretty close, and this time it just came together perfectly and the timing worked out perfectly and it was great to see it go in the back of the net."
Hunter Garlent was there again in the extra period, breaking away with the puck and needing  two shots on net before potting the third at 3:16 to give Rapid City its fourth straight victory with a 3-2 win at Rushmore Plaza Civic Center.
Garlent has now tallied three overtime game-winners this season and has two over the last three contests.
"I'm not surprised. He's that talented and he's playing with a lot of confidence," Rush head coach Daniel Tetrault said of Garlent. "He's a great 3-on-3 player, he reads the ice well. He found a way to put it in and he's a gamer, and he loves that moment in the game."
The game-tying goal, credited to Hedden but rifled in by Quenneville, came after the Mavericks pulled ahead at 10:48 when they grabbed hold of a neutral zone turnover and Marcus Crawford scored. 
Carlson left the net at 18:57 and Rapid City (16-18-2) was able to fend off a shorthanded goal and forced an icing call on Kansas City (13-13-5), setting up a final that saw Darren Brady win the faceoff and move the puck to Ghafari at the blue line, who then found Coulter in the right faceoff circle, who then hit Quenneville at the top of the slot.  
"Jeremy Gates, our assistant, he takes care of our faceoff plays and we've been working on it all season, and it worked to a T," Tetrault said. "I give a lot of credit to Jeremy, and the guys executed and pulled it off, and it just makes it more exciting and rewarding, knowing that we worked on it and it worked."
The Rush's first goal came at 11:13 of the first period when Avery Peterson buried a wrister from the slot. Rapid City held its 1-0 lead heading into the first intermission, improving its record to 9-1-1 when leading after the opening frame, 3-5-0 when tied after two and 5-2 in overtime.
"We've been really successful this year in overtime and in shootouts, so I think we're pretty confident, we've got a lot of skill players who can make plays and Garlent made a heck of a move there, and it was a big win for us."
Brady nearly gave Rapid City a two-score lead when a puck off his stick rolled into the net following a collision in the crease at 13:17 of the second period. Initially ruled a goal, officials reviewed the play and overturned the call.
Just 27 seconds later, Rob Bordson stuffed in a 2-on-1 chance for the Mavericks to pull even at 1-apiece.
"They said the puck hadn't crossed and then (Cedric Montminy) interfered with the goalie, but I thought their defenseman pushed Montminy in," Tetrault said. "It's a discretion call and they didn't call it a goal, and we did lose momentum off that because they came right back and scored to tie it 1-1.
It was a great time for us to regroup after the second period in the locker room. It's one of those (calls) where it's 50-50, and I thought it was a goal, but the refs thought differently."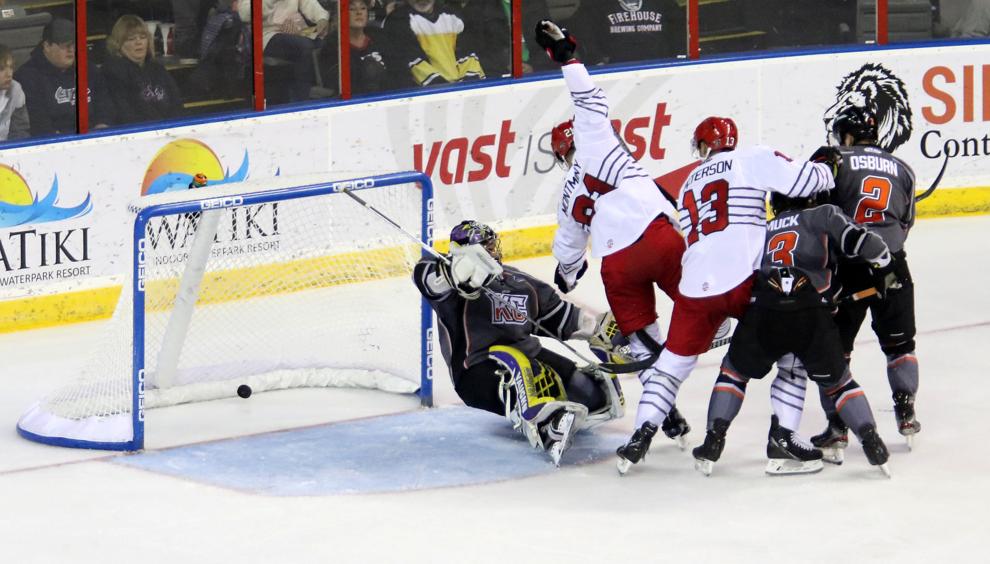 The Rush penalty kill managed to stop all three man-advantage they faced, extending a streak to 13 straight, which have all come during their winning streak. Rapid City was dead last in the ECHL in that category less than two weeks ago.
Tetrault credited the efficiency to Carlson, who earned 38 saves in his sixth consecutive start. The fifth-year pro is now 7-1-1 in his last nine games.  
"We made some adjustments, and obviously your No. 1 penalty killer is your goalie, and Adam Carlson's been lights-out these last couple games," Tetrault said. "We've just stayed tighter, and we made a commitment to blocking a lot of shots and guys are sacrificing their bodies to block shots on the penalty kill, and that's made a huge difference."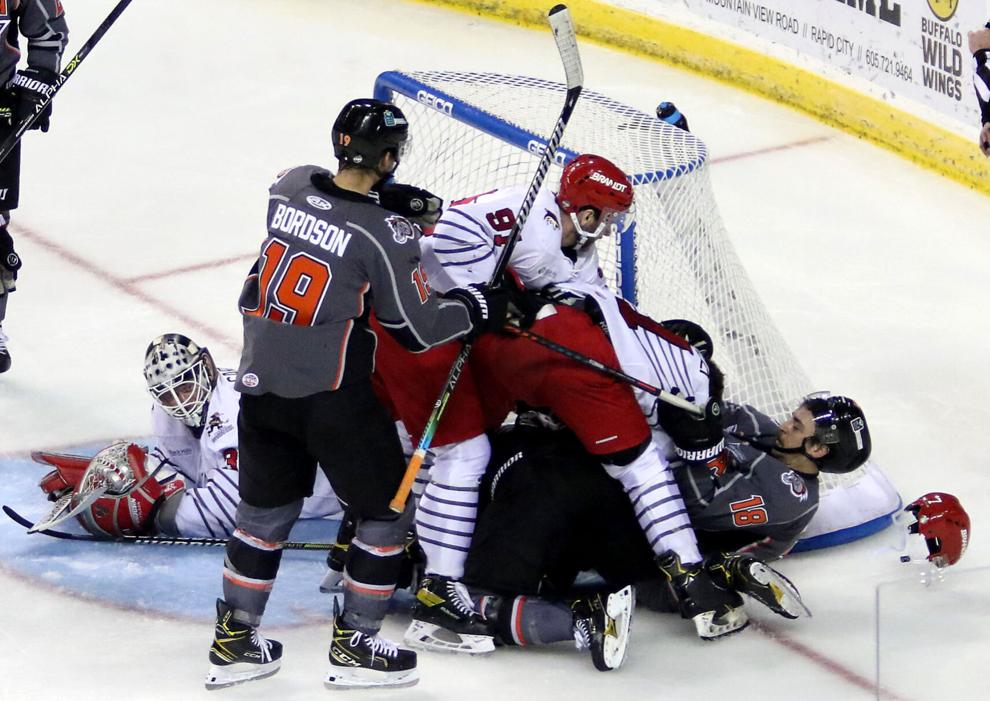 The Rush will have a chance to pick up their first three-game series sweep when they host the Mavericks at 4:05 p.m. Sunday. They beat their Western Conference foe 3-1 in their first matchup Friday.
"I think we have a lot of belief in this group that we'll continue upon it and win games," Quenneville said. "So we've just got to stick to our game and get it done."