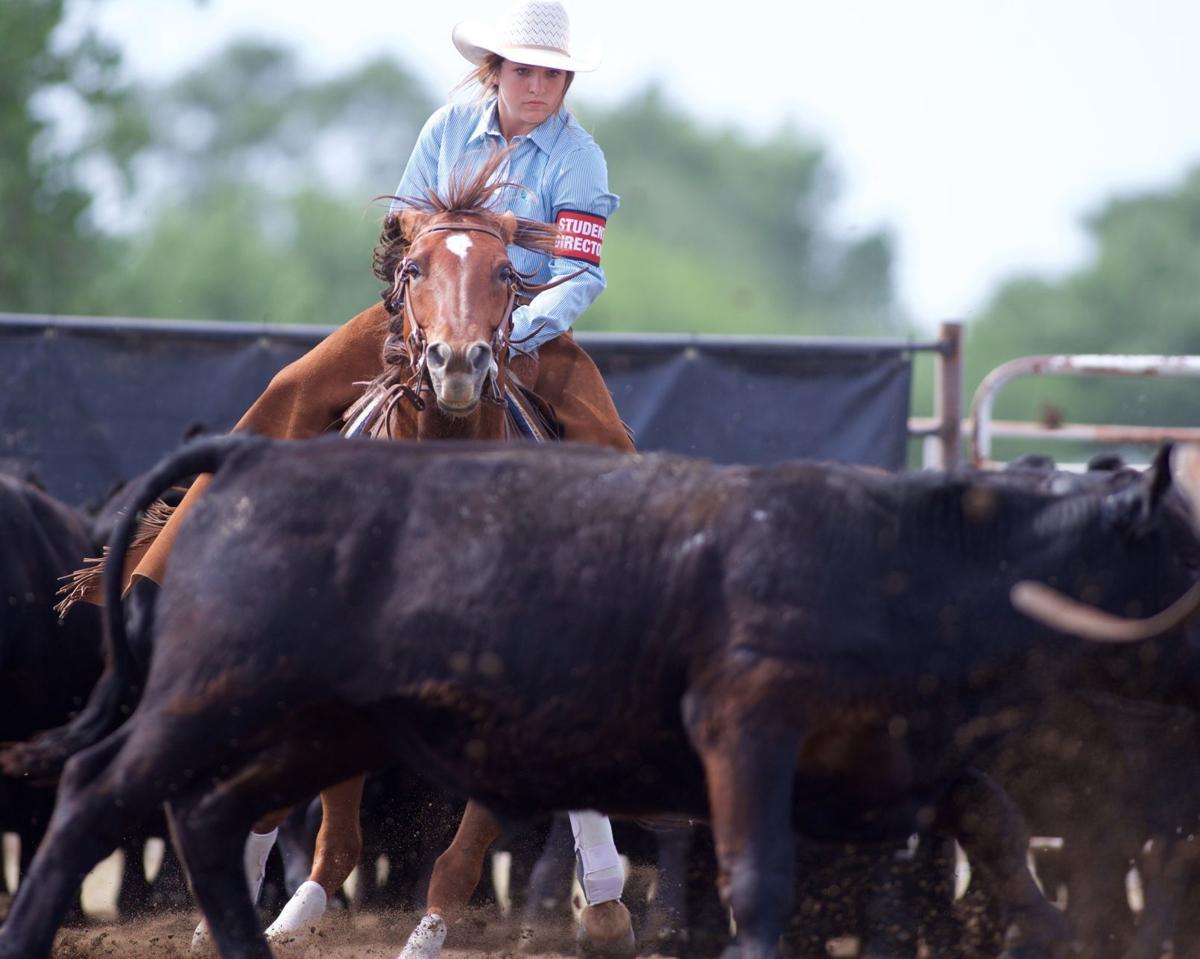 Sawyer Gilbert has earned her spurs in breakaway roping. The Buffalo cowgirl has won gold buckles at virtually every level including the National Junior High Finals Rodeo (2016), back-to-back South Dakota High School Finals titles (2017-18), and in December, the prestigious "Rope for the Crown" event conducted at the National Finals Rodeo in Las Vegas.
On Friday, Gilbert put herself in position to possible add a third South Dakota Finals breakaway roping title following up a second-place effort on Thursday with another solid performance, and holds a commanding lead heading into Saturday's final day.
Though a National qualifier in goat tying last year, Gilbert makes no secret of the fact that breakaway roping sits atop her list of favorite events.
"Breakaway roping as in event itself, is really taking off," said Gilbert, who also posted the fastest goat tying run of the day (6.77-seconds). "Pro rodeos like the event in Vegas sponsored by the PRCA and WPRA are really taking off. And there are so many more events now that I as a competitor am trying to focus on the event more and step my game up."
Gilbert has done just that blending passion and practice into a winning combination.
"I've had more time off than I've ever had with the Covid and being in quarantine. That allowed me to work on some things and revamp my roping and I think that has made me a stronger roper," said Gilbert, who failed to qualify for High School Nationals in her specialty in 2019. "Last year I beat myself. I thought I needed to do something different and I was wrong so to come back this year and show that I learned from that mistake and got better is a nice accomplishment."
Bull rider Dylan Bradford took lessons learned and a hard-knocks path to success as well. A National non-qualifier last year June, Bradford expanded his know-how by climbing on bucking bulls at every opportunity and prepping for the high school season by attending and winning the top-hand award at the Bothwell-Weischedel Bull Riding school in early May.
The investment has paid dividends as the Herreid High School junior won the first round on Thursday with a 74-point effort and followed up on Friday morning with a 75-point trip to move to the top of the overall leaderboard heading into Saturday's championship short-go.
"I think I'm a better bull rider now than I was last year because I've gotten on bulls whenever I can and have learned from my mistakes and become more consistent," Bradford said. "I'm really pleased with the two rides. I didn't know anything about the bulls, try not to actually, but instead just put my trust in my faith and ability and do the best I can."
Bridget Romey of Hot Springs had an outstanding day as well. A second-place run in barrel racing couple with the quickest pole bending run propelled Romey to the unique distinction of sitting atop the overall leaderboard in both events.
In other action on Friday, Rapid City Central's Cooper Filipek followed up a winning bareback ride on Thursday (71 points) with another on Friday (74) to put himself atop the cumulative leaderboard in the event. Unfortunately, defending state champion Jhett Knight failed to cover on Friday morning jeopardizing his chances for a return trip to Nationals.
 Romey vaulted to the top of the overall leaderboard in pole bending by virtue of a couple of impressive performances. After finishing second in the first round, Romey rebounded with a winner effort (20.810-seconds) in Friday's second performance thereby earning the honor to be the last out in the championship round.
In saddle bronc, Teigan Clark (Meadow) vaulted into contention for one of the four spots assured a trip to Nationals with a 71-point ride on Friday night. The ride, the best of the rodeo in the long rounds, followed a 63-point effort on Thursday earning a share of second in the first round. Sturgis Scooper Clint Donaldson remained atop the overall leaderboard with a fifth-place finish (59-points).
Other second go winners on Friday included Wyatt Tibbitts (Hot Springs) in steer wrestling (4.44-seconds).
The 2020 SDHSRA State Finals Rodeo concludes on Saturday with the championship short-go slated to begin at 4 p.m. (CDT).
Overall point leaders heading into Saturday's Championship short-go: Breakaway roping – Sawyer Gilbert (Buffalo), 57.00 points; Pole bending – Bridget Romey (Hot Springs), 55.00 points; Goat tying – Shantell Brewer (Dupree), 51.00 points; Bareback - Cooper Filipek (Rapid City), 58.50 points; Barrel racing – Bridget Romey, 53.00 points; Steer wrestling – Logan Lemmel (Whitewood), 50.00 points; Saddle bronc – Clint Donaldson (Sturgis), 54.50 points; Tiedown roping – Linkyn Petersek (Colome) & Ty Moser (Wolsey), 54.00 points; Bull riding – Dylan Bradford (Selby), 58.00 points; Team roping – Tegan Fite (Hermosa) & Chance Derner (New Underwood), 45.00 points.
Be the first to know
Get local news delivered to your inbox!