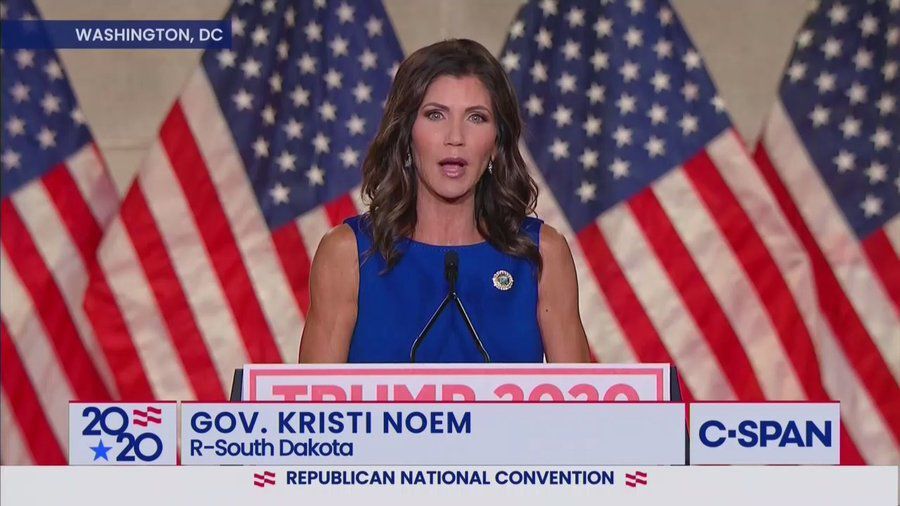 Speaking from Washington D.C. Wednesday evening, South Dakota Governor Kristi Noem wholeheartedly endorsed President Donald Trump in front of a Republican National Convention audience.
Gov. Noem's entire speech that ran just over five minutes was focused on America's founding and her endorsement of President Trump. Gov. Noem was composed and direct in her praise of Trump and criticism of Democrats.
She opened by citing American exceptionalism and named President Trump as a protector and defender of that principle.
"I'm here tonight because I believe America is an exceptional nation founded on three principles — equality, freedom and opportunity," Gov. Noem said.
The governor immediately turned her speech to point to the differences between President Donald Trump and Democrat challenger Joe Biden.
She said that today America's founding principles are under attack.
"This year, the choice for Americans is between a man who values these ideals and all that can be built because of them and a man who isn't guided by these ideals and coincidentally, has built nothing," Noem said.
Noem continued by citing the rights the Constitution gives American citizens and the restrictions it places on the national government.
"Our Constitution gave only a few, narrowly defined powers to the federal government," she said. "Most powers were left to the states, so that those closest to the people could decide the laws that would govern their activities."
"It took 244 years to build this great nation — flaws and all — but we stand to lose it in a tiny fraction of that time if we continue down the path taken by the Democrats and their radical supporters," she said. "From Seattle and Portland to Washington and New York, Democrat-run cities across this country are being overrun by violent mobs. The violence is rampant. There's looting, chaos, destruction, and murder. People that can afford to flee have fled. But the people that can't — good, hard-working Americans — are left to fend for themselves."
Pushing past the economic downturn caused by the pandemic, Noem listed what she believes are President Trump's accomplishments in office.
"In just four years, President Trump has lifted people of all races and backgrounds out of poverty. He shrunk government and put money back into the pockets of hardworking, ordinary Americans," she said. "He has advanced religious liberty and protected the Second Amendment. You can look back 50 years, and you won't find anyone that has surpassed President Trump's success on these four issues alone."
In conclusion, Noem cited James Madison and Abraham Lincoln as some American heroes from history. She wrapped up by calling all Americans heroes.
"But, there is another American hero to be recognized. That is the common American," Noem said. "This is who President Trump is fighting for. He's fighting for you."
Concerned about COVID-19?
Sign up now to get the most recent coronavirus headlines and other important local and national news sent to your email inbox daily.