Among Winner's 2021 regular season away games, St. Thomas More is easily the farthest.
On Saturday afternoon, the Warriors put their top-ranked squad to the test following a three-hour trek to Rapid City, and seemed unbothered by the journey, cruising past the Cavaliers 54-7 in a Class 11B matchup to remain unbeaten.
"It's a long road trip, but we're used to it," Warriors head coach Trent Olson said. "We're Winner. You've got to travel a long way to get anywhere, so we take pride in how we play on the road and how we keep it together."
Winner (4-0) totaled 319 rushing yards, led by Riley Orel, who earned 122 yards on 11 carries and caught a touchdown pass. Riley Shippy picked up 66 yards on four attempts and a touchdown in one half of work, while quarterback Joey Cole completed all three of his pass attempts for touchdowns, ending 3 of 5 and hitting Ethan Bartels in the end zone twice.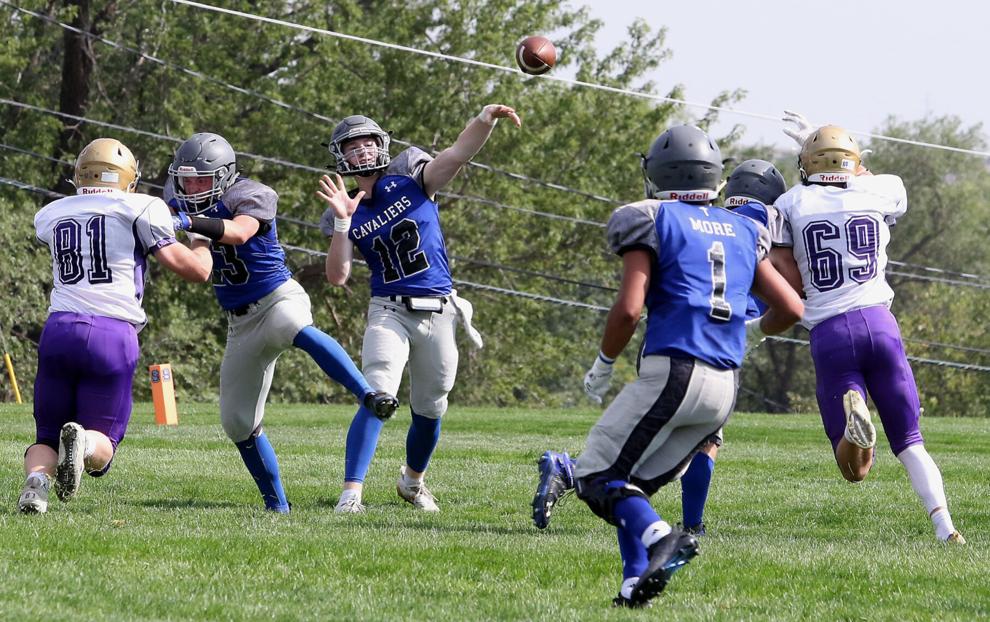 Lee Neugebauer completed 11 of 23 attempts for STM (2-2), finishing with 130 yards and two interceptions. Peyton Young caught four passes for 54 yards and Tyson Durham tallied three receptions for 45 yards. The Cavaliers collected just 22 yards on the ground.
"Winner's the No. 1 team in the state for a reason. They will run the table and they'll be in the state championship game. I'll tell you that right now," St. Thomas More head coach Wayne Sullivan said. "I hope we get to see them in the playoffs, just to see how much we've improved."
Facing a Cavaliers team that hadn't allowed points in back-to-back games, the Warriors needed just three plays to get on the board when Cole hit Bartels wide open on a 66-yard touchdown pass. On their next drive, Cole found Orel for a 12-yard score to make it 14-0 less than seven minutes into the contest.
STM's lone touchdown of the day came at the end of the first quarter when it executed a 12-play, 70-yard drive where Neugebauer went 3-for-3 for 44 yards, including a 24-yard completion to Durham on third-and-nine from the opposing 33-yard line. Matthew Larson punched in the score from 2 yards out on third-and-goal off the right tackle.
"He was in a good rhythm," Sullivan said of Neugebauer. "Our guys were catching the ball, our guys we're moving."
Three plays into the second quarter, Winner struck again, this time on a 30-yard touchdown run by Shippy. A 60-yard scamper by Orel set up first-and-goal later in the frame before Kaleb Osborn scored on a 1-yard QB sneak.
The Warriors tacked on another touchdown before halftime on an 11-play, 84-yard drive that ended when Andrew Henderson crossed the goal line on a 6-yard run to give his squad a 38-7 lead at intermission.
"They changed some things up from what we thought we'd see," Olson said. "The kids did a good job adjusting and figuring out what they were doing, and we were able to exploit it from there."
An Orel interception in the third quarter moved the ball from Winner's own 20 to the opposing 28. The turnover led to Cole rolling out and finding Bartels open in the end zone for a 6-yard touchdown pass to induce a running clock.
The Warriors added one more in the fourth after Henderson intercepted Neugebauer and carried the ball into enemy territory. Osborn then ran it in from 6 yards out three plays later.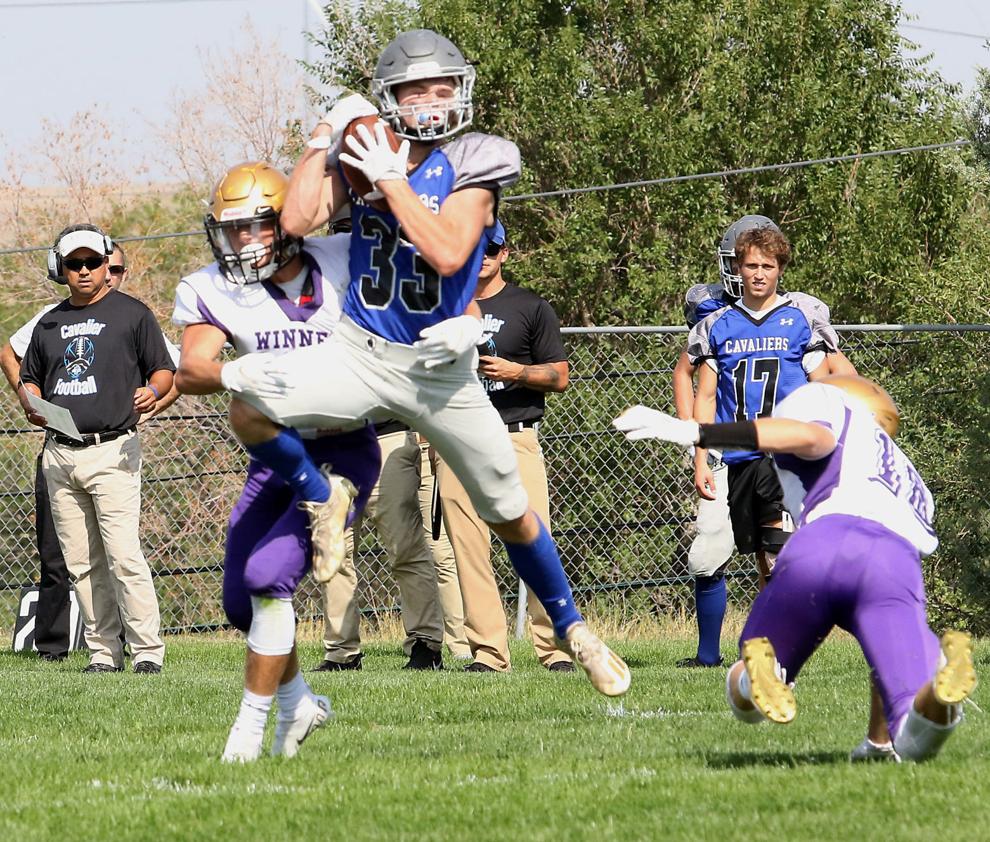 "We were pretty solid after (STM scored)," Olson said. "They've got a good quarterback and some receivers, and can throw it around a bit. Of course Sullivan is a good offensive mind and keeps you guessing, but I was really proud with how they held themselves throughout the game."  
Winner travels to Jim River (2-1) on Friday, while St. Thomas More is off next week and will host Douglas (0-3) on Sept. 24.