The South Dakota School of Mines athletics department kicked off its first of two virtual luncheons Tuesday and gave a little update on the fall programs.
Mines athletics director Joel Lueken, head football coach Charlie Flohr and head men's soccer coach Ryan Thompson spoke from the Christensen Center on campus to a virtual audience on Facebook.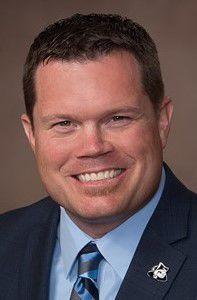 On Wednesday, scheduled to speak will be head volleyball coach Lauren Torvi Prochazka, head track cross country coach Steve Johnson and director of golf Luke Wheeler.
Lueken opened the virtual luncheon by thanking all for their support in a unique situation, especially the student athletes.
"They have been working exceptionally hard," he said of the athletes. "We we all know this isn't normal. They are meeting all of the guidelines set up by the NCAA, by campus and through the athletic department. They are taking classes online, they are taking classes in a hybrid manner and they are taking them in person. Their grit and their effort is really going to pay off for them down the road. We're all going to get better."
The Mines athletics department is currently in a COVID modified M Week. Among the activities are the annual Hardrocker Golf Classic at Arrowhead Country Club Friday at 10 a.m., followed by a volleyball scrimmage at 7 p.m. There is a capacity of 256 people for the volleyball scrimmage.
On Saturday the Hardrockers' football practice is open to the public at 3 p.m., with gates opening for the ramp at 2 p.m. The running of the M will be held at various times and the annual king and queen coronation will be held as well.
On Sunday, there will be a soccer scrimmage at O'Harra Stadium at 1 p.m.
All three events will be live streamed.
Lueken said that COVID 19 has obviously put them all in unique situations, and the NCAA has come up with some mandates with their resocialization of college athletics. They have categorized sports into high, medium and low risk.
The high risk sports are football, volleyball, basketball and soccer. Once teams are in the championship season, playing RMAC games, they are required by the NCAA to test weekly. Currently the football program is being tested, the coaches and players and people around them, on a weekly basis.
Medium risk is cross country and they are required to test 25 percent of the roster on a bi-weekly basis. Lueken said they are working the testing around the competition, which begins Friday in Spearfish.
Low risk sports include golf and track and field. Lueken said the golf program has been operating as normal and just finished up its first competition with two tournaments in Colorado.
Football will play a five-game fall schedule, while volleyball and soccer will play a Rocky Mountain Athletic Conference schedule this spring.
Capacity this year for football is2,409 fans, which includes 1,550 on the ramps, which is six people per ramp spot. There will be 861 in the grandstands and additional bleachers. Fans will need to follow social distancing guidelines and Lueken said it is highly suggestive that everyone wear a mask.
There will also be no re-entry to Mines football games and no access for fans on the field or sidelines.
Basketball will start in November and play a RMAC schedule of 22 games.
There will be a fall football season
Flohr said since Lueken informed the Hardrocker football team that they would be playing this fall, they have been progressing forward in practice.

A week ago Monday was their first official practice and through this Monday they finished their seventh practice.
"The team is really excited," Flohr said. "Every since the school broke the news to them, it really got them re-focused and is getting them ready for the season. Obviously the season will look a little different with only five games. But just to go back, I cannot thank our school, our president, Dr. (James) Rankin and his staff, our administrative team, Joel Lueken and his staff, and everybody involved. They put put in countless hours to make this a possibility."
The Hardrockers will open Oct. 10 at home against rival Black Hills State University. Mines will play BHSU twice and Chadron State College twice, as well as Colorado Mesa once.
Like all of the college football programs, the Hardrockers did not get the opportunity to have a fall camp before school started. That has them adjusting practice times with classes.
"It's still been great. Our kids have been energetic and have gone through some adversity with how we have had to practice," Flohr said. "But I can't tell you how resilient they have been with the excitement out on the field."
Soccer team working towards spring
Like the Mines volleyball team, the men's soccer program is working hard, Thompson said, for spring.
The Hardrockers have six or seven games scheduled for the spring, and the top six teams in the RMAC will advance to the conference tournament in May.
Despite all of the virus mess, Thompson has some excectations for his program going into the spring season.
"Practicing in the fall and playing in the spring has actually been beneficial for us when it comes to growing the program," said Thompson, in his second year at the helm after spending one year as an assistant. "Coach (Jacob) Jahner and I are working on growing this program from the freshmen all of the way up, and we are trying to find that identity that fits the school and fits our guys."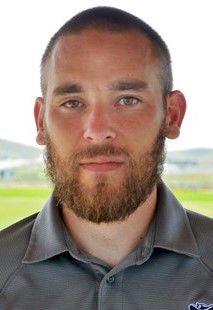 Thompson said that in these fall practices, they are trying to get their messages across to what they want the team to look like.
"Obviously we are limited with social distancing and having to split the field," he said. "It has been pretty wild and chaotic. We train early in the morning (on the field by 6 a.m.). We try to stay on course with what we want to do. The guys are upbeat and they obviously want to make a change with this program."
Be the first to know
Get local news delivered to your inbox!