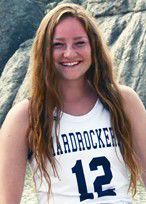 The South Dakota Mines women's basketball team got four free throws from Naomi Hidalgo and Ryan Weiss in the final 23 seconds to edge Black Hills State 61-60 Thursday night at the Donald E. Young Center in Spearfish.
With the win, the Hardrockers completed the season sweep of the Yellow Jackets and moved to 10-6 in Rocky Mountain Athletic Conference play and 10-7 overall. Black Hills State fell to 12-6 in league play and 12-6 overall.
The two long-time rivals battled to the final seconds with three lead changes on the final three possessions. Hidalgo hit two free throws to put Mines up 59-58 with 23 seconds remaining, but the Yellow Jackets came back and got a layup by Racquel Wientjes with 13 seconds for a 60-59 lead.
Weiss, who went over the 1,000-point mark in her career earlier in the game, was fouled late and hit two free throws with eight seconds remaining. BHSU couldn't get the game-winner to go in the end and the Hardrockers escaped with the win.
Both teams started the game trading baskets and wound up tied 14-14 at the end of one quarter of play. In the second quarter, the Yellow Jackets took a two-point lead three minutes into the quarter and increased the lead by eight 28-20 with a minute to go. BHSU eventually took a 30-24 lead into the locker room at halftime. Hidalgo paced the Hardrockers with nine points in the half.
At the start of the third quarter, Weiss, a redshirt junior, made a breakaway layup to surpass 1,000 career points. She became the 30th Hardrocker to achieve the feat. The 'Rockers climbed their way back eventually tying the game 38-38 with 2:40 left in the quarter. But BHSU got 3-pointers from Ashlee Beacom and Wientjes for a six-point lead before Hidalgo drained a 3-pointer at the end quarter to bring the Hardrockers to within three 47-44.
The Yellow Jackets held the lead until Michaela Shaklee hit two straight 3-pointers to tie the game at 52-52 with five minutes left in the game. Both teams went back and until the end.
Weiss led the Hardrockers with 18 points and seven rebounds. Hidalgo added 16 points with seven rebounds. Mines shot 42.6% (23-of-54) from the floor, 9-of-24 3-pointers (37.5%) and were 6-of-7 from the free-throw line.
Wientjes paced the Yellow Jackets with 20 points in the loss and Morgan Ham added 11 points. As a team the Jackets shot 40.7% (22-of-54) from the field and 36.4% (8-of-22) from beyond the arc. The Yellow Jackets made 8 of their 14 free throws making them 57.1% from the charity stripe.
Mines returns to action Saturday at Chadron State College, while Black Hills State is at Colorado Christian Feb. 26.