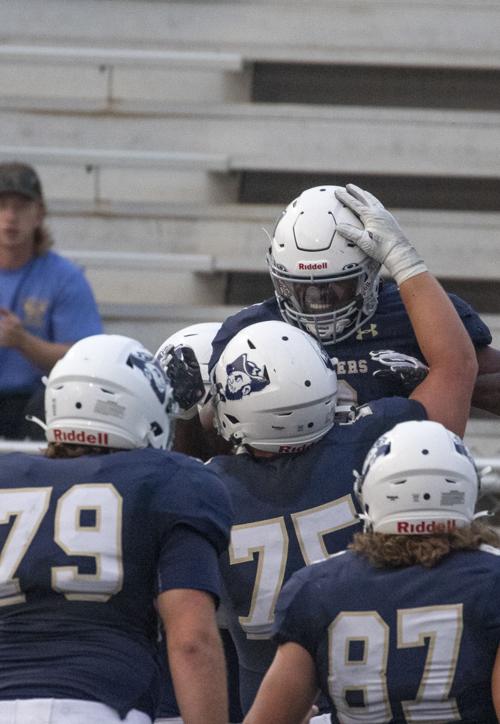 The South Dakota Mines football team looks to keep its foot on the gas pedal as it hosts NAIA Mayville State Saturday with kickoff at 5 p.m. on Dunham Field at O'Harra Stadium.
The Hardrockers opened the season with a 34-31 win over a good Missouri S&T team in a game Mines led 34-10 late in the third quarter.
They'll look to keep up the momentum for a full four quarters against a program that was a former regular foe when they were both part of the DAC-10. They haven't faced each other since the 2010 season.
"We want to come out and start fast, like we did last week, but keep the momentum through the course of the game," Mines head coach Charlie Flohr said. "In these types of games, if we can put a little doubt in their heads, we feel that it will help us out. We have to make sure we are applying pressure through the course of the game, and make sure we are finishing strong."
The Comets, 0-2,  have fallen to Roosevelt University 37-32 and the University of Wisconsin-Stevens Point 31-14.
Javeion Davison is their leader on offense. In two games he has 325 yards receiving on 10 receptions.
Gavin Goulette will be the starter at quarterback for Mayville State. He came off the bench during the Stevens-Point game and completed 10-of-16 passes.
The Comets haven't had much of a running game up to this point, averaging, just 86 yards per game on the ground.
Josiah Walker is the defensive leader for Mayville State and has recorded 13 total tackles, four tackles for loss, and 1.5 sacks.
"Mayville State is coming in here as an 0-2 football team, but they have been in both games and have been competitive," said Flohr. "They have a good quarterback who has put up a lot of yards. Defensively, they are very optimistic defense, they play a lot of man coverage and they try to create matchups that way."
Regardless of their opponent, Flohr said the Hardrockers just need to focus on themselves and fix the mistakes that they made last week, and try to build on the success that they had.
Flohr said he liked the way they competed, as he added they played hard and played with a lot of energy. He said they made some mistakes schematically, but those things are going to happen in week one.
"Always as a football team we want to make gains from week one to week two, no matter who the opponent is," he said. "It's another game here at home in front of a great crowd."
The South Dakota Mines defense forced four turnovers, including two defensive touchdowns on a 71-yard fumble return by Adrian Eastman, as well as a 34-yard pick-six by Kendahl Johnson.
South Dakota Mines special forces unit played well, gathering three blocked kicks, had two field goals from Conner Taylor and received some strong punting by Casey Knutsen.
Quarterback Jayden Johannsen played well in the first half, completing 11-of-17 passes along with a 55-yard scamper early in the game. Johannsen led the team in rushing with 87 yards on eight carries.
Isaiah Eastman let the Hardrockers in receiving, with six catches for 110 yards.
"Offensively we have to continue to finish when we get down in the red zone," Flohr said. "I was proud of our kicker, Connor Taylor, who came in and kicked some clutch field goals, but we have to finish drives when we are down that close to the end zone."
The defensive leaders were Cole Peterson and Kyante Christian, who each had eight tackles.
Christian and Gavin Chaddock recorded the two sacks on the night for South Dakota Mines.
Christian Singleton was a force to be reckoned with on special teams, earning RMAC Special Teams Player of the Week for his performance, recording a blocked field goal and a blocked punt.
"Defensively we have to eliminate the explosive plays compared to what we did last week," Flohr said. "That is something our staff definitely looked at this week and what adjustments we can make.
"I know we were very productive in the special teams, but there are things we need to clean up, more from a communication standpoint than from schematics. Really, all three phases, we feel we can get better at from week one to week two."
Health-wise, Flohr said they are in good shape as they didn't lose any players in the Missouri S&T game with injuries.
Following the Mayville State contest, the Hardrockers open up Rocky Mountain Athletic Conference play Chadron State College Sept. 18.
Black Hills State at William Jewell
Black Hills State football hits the road this week as it takes on William Jewell Saturday at 12 p.m. in Liberty, Mo.
It will be the first-ever meeting between the two schools.
Black Hills State started its 2021 season off with a victory, defeating Dickinson State 30-24 last week. Josh Breske earned his first career victory as head coach of the Yellow Jackets.
Junior running back Matthew Collier scored two touchdowns, on a big 49-yard run, then later catching an 18-yard touchdown pass. Collier totaled 125 yards on nine rushing attempts and added three catches for 40 yards.
Quarterback Chance Eben completed 24-of-35 passes for 240 yards and a touchdown while adding 41 rushing yards. Jamin Wurtz grabbed a team-high seven receptions for 82 yards. Kielar Harpham and Hasaan Williams also found the end zone on Thursday.
The Cardinals come off of a 40-3 season opening loss at Colorado Mesa in the first-ever meeting between the two programs. Will Schneider rushed for four first downs on the opening drive putting the Cardinals in field goal range. Freshman Josh Click connected on the first attempt of his career, from 23 yards out, to put Jewell on top first, 3-0.
The Mavericks began the second quarter with back-to-back field goals on their way to 40 unanswered points as the Jewell offense could not find a rhythm.
Chadron State to host Angelo State
After sustaining a disappointing 23-10 setback at Western Colorado last Saturday, the Chadron State College football team will be at home on Saturday to meet what appears to be a tough customer, Angelo State of Texas. Kickoff is set for 1 p.m.
During their preseason vote, coaches in the Lone Star Conference projected that Angelo State would be the loop's second-best team this fall. The Rams opened the season last Thursday night by defeating Lindenwood, which was ranked No. 21 in the NCAA Division II poll, 40-20 while rolling up 460 total net yards in St. Charles, Mo.
Angelo state is led defensively by All-American lineman G'Karri McCoy is back along with three senior linebackers. Four of the five offensive linemen, including three-year starter Alfredo Fernandez at center, also have returned.
The quarterback is Zach Bronkhorst, who completed 19 passes for 274 yards against Lindenwood. Junior CJ Odom was the leading rusher with 127 yards.
The Rams were 8-3 overall and 5-3 in the Lone Star Conference in 2019. Like the Eagles, they went 2-2 while playing four games last fall during the COVID pandemic