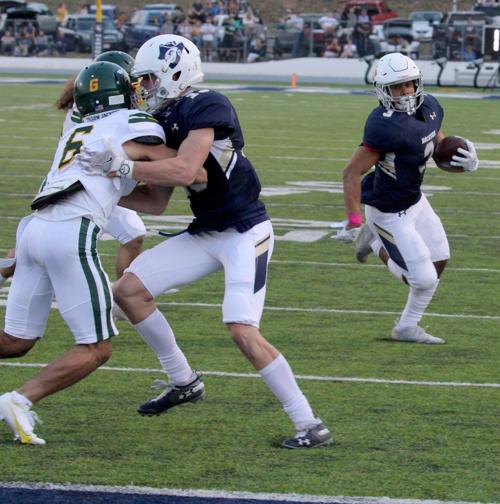 The South Dakota School of Mines football team will look to bounce back from its first loss of the season with a tough encounter against Colorado Mesa Saturday in Grand Junction, Colo.
Kickoff is slated for 12 p.m..
The Hardrockers, 1-1, dropped a tough 41-25 decision to Chadron State College in Chadron, Neb., while the Mavericks ran past Black Hills State University 56-7.
The Hardrockers feature one of the top backs in the Rocky Mountain Athletic Conference in Ahmad Lewis, as has rushed for 266 yards and three touchdowns in two games and claimed RMAC Offensive Player of the Week honors in Week 1. In last season's matchup against the Mavericks, he gained 108 yards on 27 carries.
Junior linebacker Will Carroll leads South Dakota Mines in tackles with 18, picking up nine tackles in each of the team's first two games. In the season opener, he had added a quarterback hurry and broke up a pass while last week he got to the quarterback and earned a half a sack in the loss to Chadron State.
For the second straight week, Colorado Mesa will be facing off against the RMAC Special Teams Player of the Week with Hardrocker freshman Isaiah Eastman earning the honor this week. Eastman averaged 25.4 yards per return with a long of 37 yards in last weekend's matchup with Chadron State.
Colorado Mesa moved to 2-0 on the year after an offensive explosion over Black Hills State in Spearfish. The offense churned up 392 yards rushing on 59 carries in the win, led by redshirt sophomore Jesse Rodriquez' 158 yards and one touchdown.
Colorado Mesa made a switch at quarterback prior to their week two game against Black Hills State. Freshman Gavin Herberg, who led Pine Creek High School to the Colorado 4A state title a year ago, was 10-for-20 passing for 143 yards and a touchdown and rushed for 87 yards and a score in his first start.
Colorado Mesa has won all four matchups with South Dakota Mines in the two program's history. The Mavericks have won twice in Grand Junction and twice in Rapid City. In the last two outings, it has come down to the last ticks on the clock. Last year an INT in the end zone on the last play of the game sealed a 37-33 victory at O'Harra Stadium.