Leading 35-7 with 5 minutes, 58 seconds remaining, South Dakota Mines head football coach Charlie Flohr and his staff could have been content and agreed to call it a game when lightning put the Hardrockers and the Fort Lewis College Skyhawks back in their respective locker rooms.
The first 30-minute delay turned into an hour and 12 minutes, but Flohr got his wish and the Hardrockers went back out on the field and finished things up, even getting one more touchdown in the 42-7 victory over the Skyhawks.
"I was very proud of our kids with how they came out after the rain. They were focused in the locker room. They knew they were going to go out there," he said. "We were going to give them every opportunity to finish out the last five minutes and 58 seconds.
Flohr sent his second team out, and after a stop defensively, the offense marched down the field and scored with 22 seconds remaining on a 3-yard touchdown run by freshman Brandon Barrios to cap a 13-play, 93-yard drive.
"Anytime you can get meaningful college snaps, whether you are ones or twos, they are important," Flohr said. "Live situation snaps are very important. We didn't want to shortchange our kids with that opportunity."
Freshman linebacker Jacob Schawb summed up the team's feeling of the delay in one word. Annoying.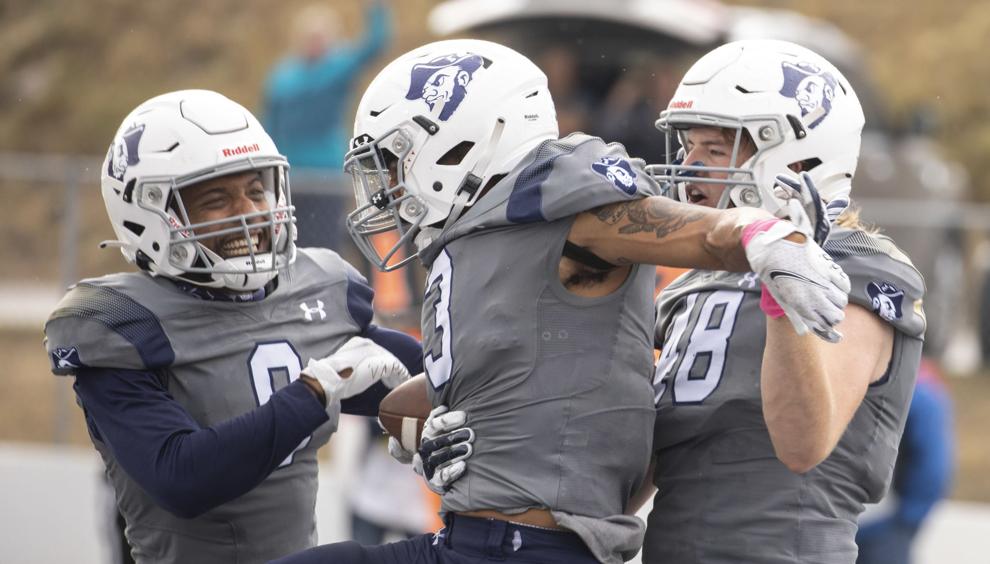 "We just wanted to play in the lightning," Schwab said. 'We got in the locker room annoyed. Then we heard it was 30 more minutes after the first 30 minutes. But we all made do with it."
With the win, the Hardrockers moved to 3-2 in Rocky Mountain Athletic Conference play and 4-2 overall, the program's best start since the 2016 season.
Mines turned the ball over on its first possession when Jayden Helms intercepted a Jayden Johannsen pass on the Hardrocker 27 yard-line. But the 'Rocker defense got its first of 7.5 sacks in the game and Fort Lewis was forced the punt.
Isaiah Eastman's 36-yard punt return put the Hardrockers in good field position, and he then got in the end zone on a 16-yard touchdown pass from Johannsen for a 7-0 lead with 9:10 remaining in the opening quarter.
A Cole Peterson sack of Fort Lewis quarterback Brayden Miller forced a three-and-out and Mines took advantage with a five-play, 44-yard drive, scoring on a 1-yard TD run by Johannsen.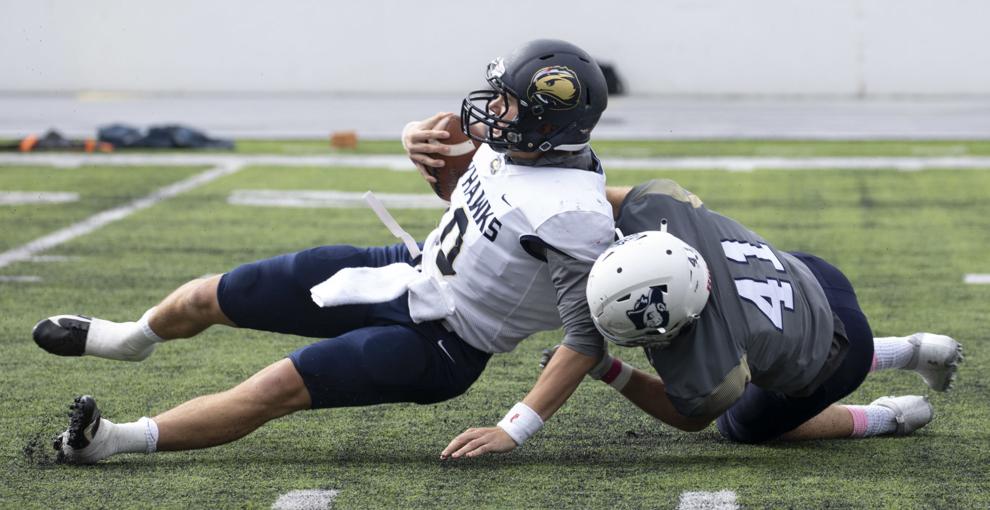 Things appeared t be rolling for Mines, but Fort Lewis picked off Johannsen again, this time in the end Zone to thwart another strong Mines drive.
The Skyhawks took advantage, moving down the field and getting on the board on consecutive 29-yard passes from Miller to Dylan Holt, the second for the score.
Mistakes and missed opportunities by the Hardrockers kept it at 14-7 by the halftime break.
Flohr said they have to continue to figure out that they have to play a full 60-minute game. He said they are close, which is a good thing, but they have to find a way offensively to take care of the football.
"I say it every week, but we have to find ways to do that, and create some turnovers on defense," he said. "We just can't have that lull of a quarter like we have had this year."
Mines overcame the tough second quarter and dominated the second half, getting back in the end zone in the third on a 52-yard touchdown pass from Johannsen to junior transfer Jeremiah Bridges, who caught the ball at the 40, forced a whiff by a Fort Lewis defender and raced to pay dirt.
Sophomore running back Kaleb Roth, filling in for injured running backs Ahmad Lewis and Orlando Westbrook-Sanchez III, made it a 28-7 game on a 9-yard touchdown run. The 70-yard drive came on the ground on all seven plays, with Roth getting 41 yards on five rushes and Johannsen a 29-yard scamper.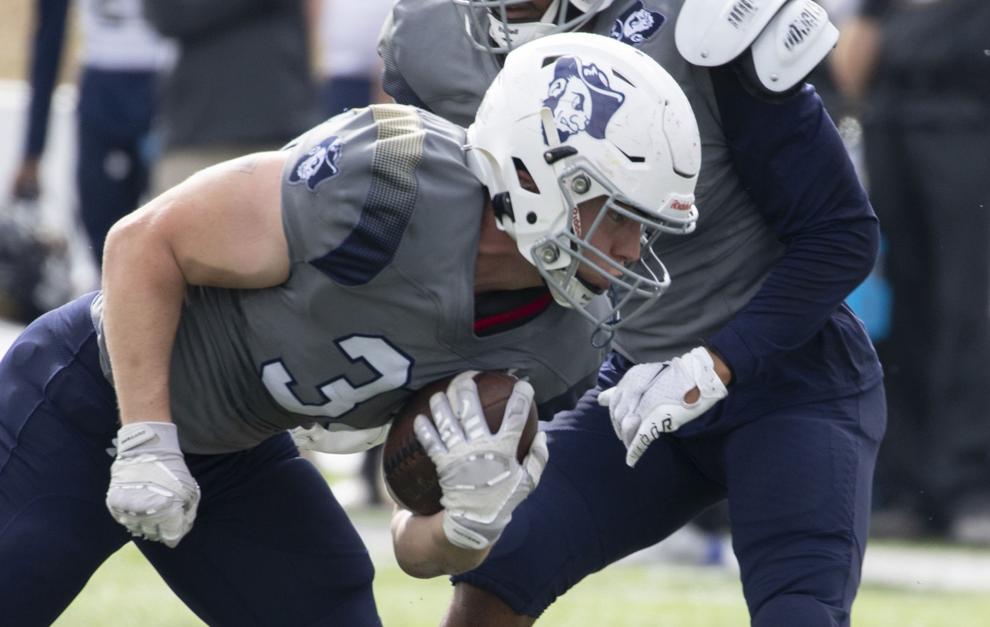 Johannsen scored his second touchdown on the game from 5 yards out early in the fourth before the lightning came.
Roth responded with his best game of his career, as he led all rushers with 128 yards on 21 carries, scoring the one touchdown. He went into the game with 31 carries for 176 yards.
"I'm definitely beat up, but not too bad, nothing that will stop any preparation," Roth said after the game with a smile. "I feel accomplished."
Saturday was likely a precursor of Roth's workload for the rest of the season.
"I hate the way I got here, but I am trying to make the most of the opportunity and play whatever I can play and whatever I am asked to play," he said of his increased workload.
Johannsen finished with 54 yards and Barrios added 22 yards as the Hardrockers had 219 yards on the ground, averaging 5.1 yards per carry.
Flohr said their running backs have done a good job of stepping up and making plays when they needed to.
"We're in a situation right now where they are going to have to do that," he said. "The quarterbacks have to take some pressure off of them by throwing the football and our offensive linemen have to continue to play hard up front. We have to continue to stay on the field and make plays. I'm proud of Kaleb and Brandon today with how they showed up and ran the ball for us."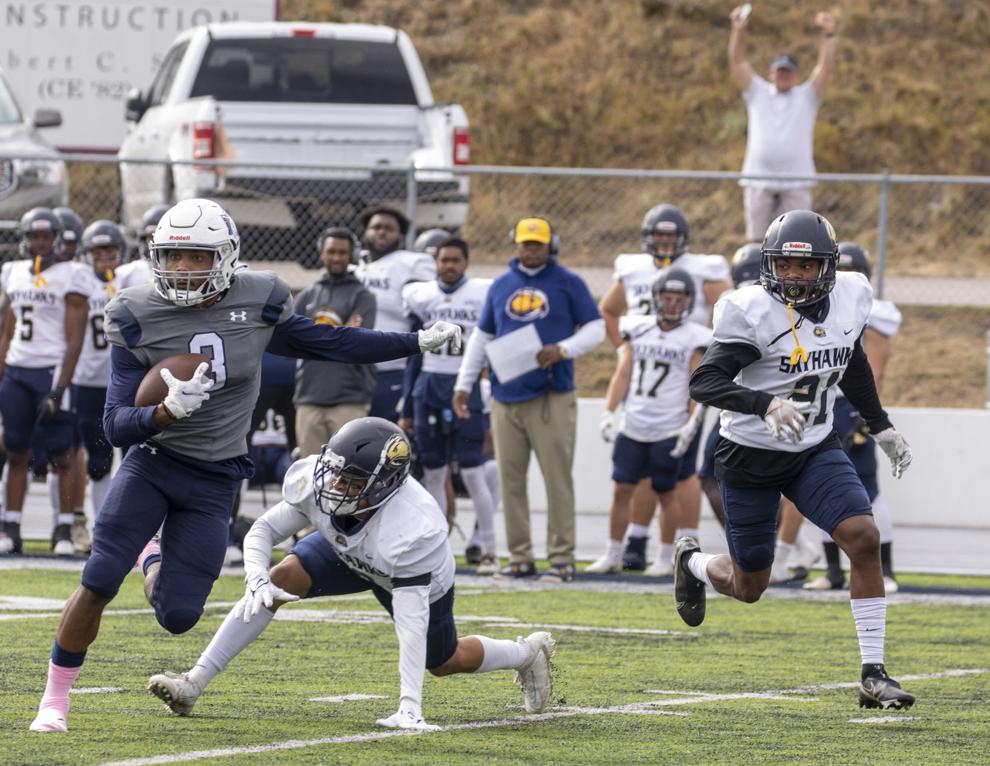 Take away his two first-half interceptions, and Johannsen, last week's RMAC Offensive Player of the Week, had another strong game, completing 19-of-24 passes for 282 yards and two scores.
Bridges (117 yards) and Eastman (86) both caught six passes and one score.
Defensively, the Hardrockers were all over Miller and the Skyhawks, finishing with 13 tackles for losses.
Schwab, a freshman from Sioux Falls O'Gorman, finished with nine tackles, including five solo stops, with one tackle for a loss and one quarterback sack.
"I was just doing my job," he said. "It just happened that I had to make those tackles and I did my job, and it was fun doing it"
Junior Kyante Christian also had 2.5 sacks and six total tackles, with Peterson adding 1.5 sacks and Gavin Chaddock and Amire Jones one sack each. Will Carroll also had nine tackles.
"We knew we needed to create our own energy, and that is that we did playing hard defense, getting those sacks, making those plays," Schawb said. "When one person makes a great a great play, it makes all of us want to make a better play after that."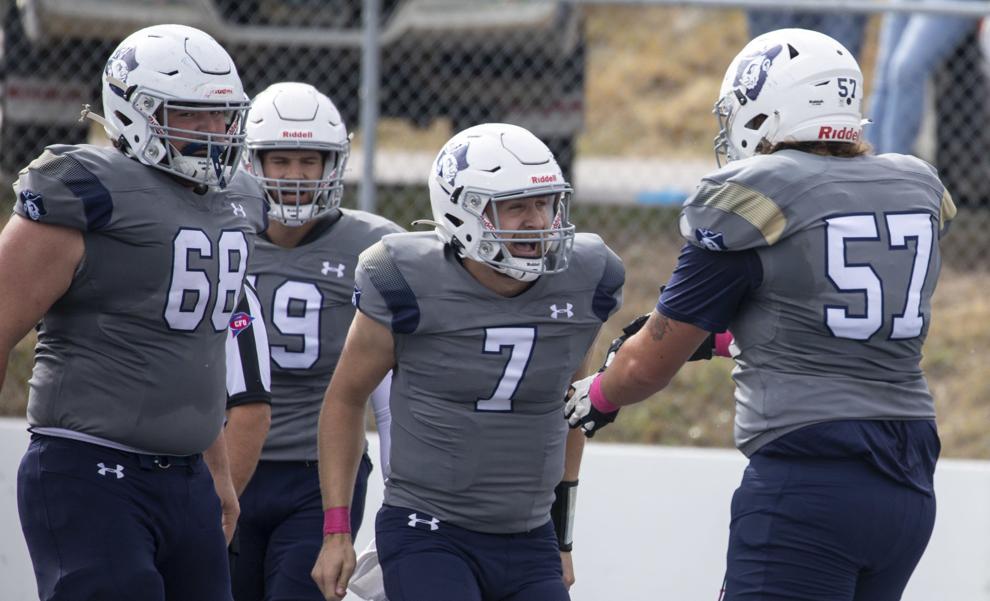 The Hardrockers return to the road and will have a battle on their hands when they face No. 5 Colorado Mines Saturday in Golden, Colo. Colorado Mines had a bit of a tough go against Black Hills State in Spearfish, but pulled away from the 41-20 win.