Jordon Heckert's first attempt at a school record Tuesday was unsuccessful, and her second also missed, but three turned out to be the magic number.
Three points away from scoring more in a game than any other Rapid City Central High School girls basketball player, Heckert pulled up from 3-point range for the third time in the possession, aided by two prior offensive rebounds, and drained the deep shot to reach 36 points on the evening and cap off a milestone performance in front of the home fans at Naasz Gym as the Cobblers ran past Douglas 82-29.
The senior guard gave credit to her fellow Cobblers afterward. 
"If anything, it says how great my teammates are," she said. "Everyone was excited, and I'm lucky to even have that many opportunities to shoot the ball that last time. It really just made me realize how amazing a team I have playing with me." 
Central head coach Allan Bertram said Heckert is more than deserving of the accomplishment.
"Records are meant to be broken No. 1, but you want records to be broken by kids who have dedicated their entire time and passion to getting better. Jordon's one of those girls who lives in this gym, and the number of hours she's put in this place is astronomical," he said. "She earned that right to do that. She's probably one of the most dedicated athletes this school's ever had."
Heckert single-handedly outscored Douglas, adding seven steals and eight rebounds. Josie Hill reached double-digit figures and nearly recorded a double-double as she finished with 13 points and nine boards, while Bretany White Hat came off the bench and tallied eight points. Lezlie Moore, a non-starter for Douglas, hit a trio of 3s and ended with a team-high nine points.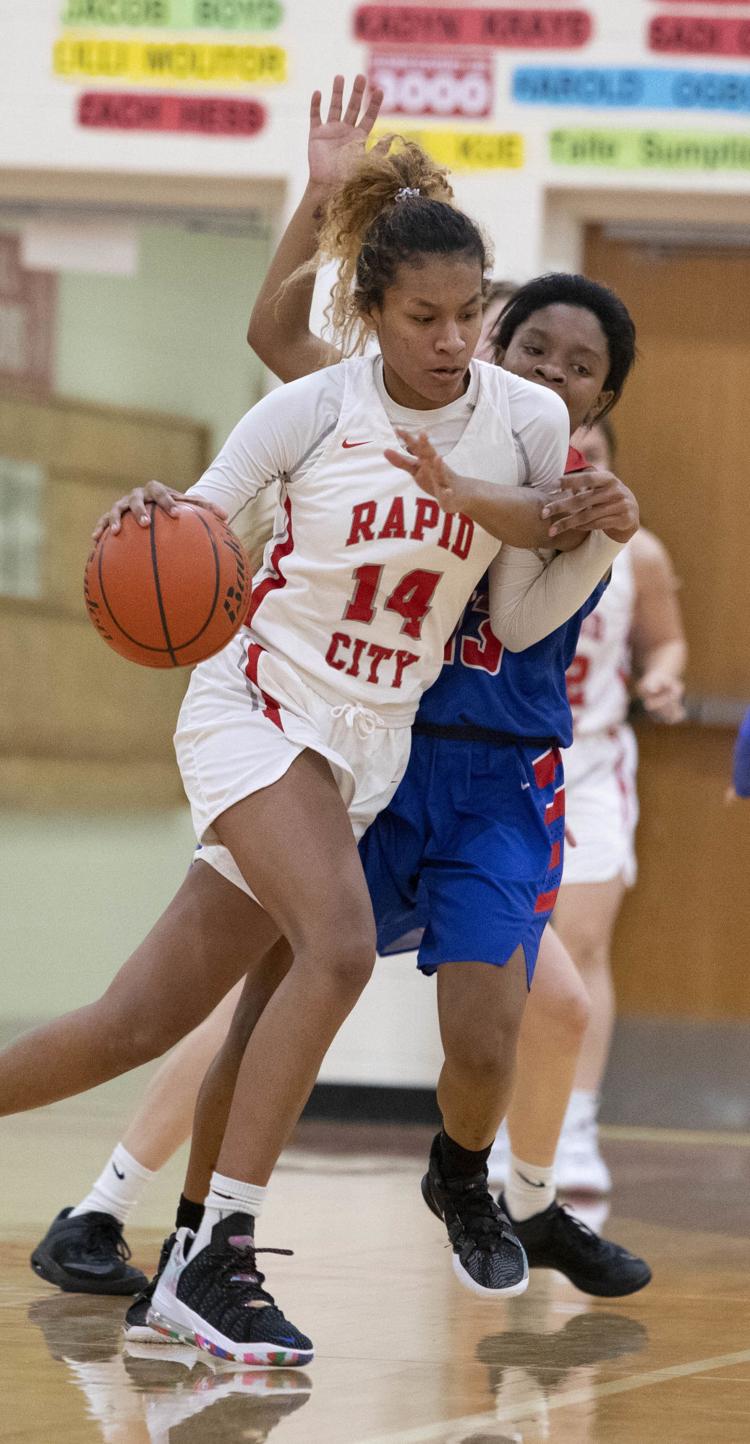 After battling stiff competition against Mitchell and Huron to start the season, and suffering a heartbreaking loss to rival Rapid City Stevens on a buzzer beater last Saturday, Bertram said a smooth victory was needed.
"We talked a lot about overcoming adversity, learning to win, becoming more confident in our ability," he said. "And the kids just bounced back and played a really nice basketball game."
Heckert scored six of her squad's first 11 points as Central (4-2) took a quick nine-point lead in the opening quarter before Lamara Castaneda drilled a 3-pointer for Douglas (1-5). Julie Valandra nailed a corner 3 and Hill tallied back-to-back layups to close the first and make it 22-9.
Hill's two buckets ignited a 28-0 run for the Cobblers courtesy of 15 points in the second quarter by Heckert, including 12 straight, and a 3-pointer from McKadyn Chasing Hawk to build their advantage to 46-9. The Patriots first points of the frame came with 1:13 to play when Moore drained her first perimeter jump shot to end the run. Tayliah Green also scored for Douglas before Central's Lindsey Nelson tossed in a buzzer-beating 3 to make it 49-14 at halftime.
Heckert had 23 points at the break.
"I knew we were going to have a big game," she said. "We wanted to come out and just let off some steam from this past weekend, and just really focus and get our game where it needs to be heading into this Friday and Saturday."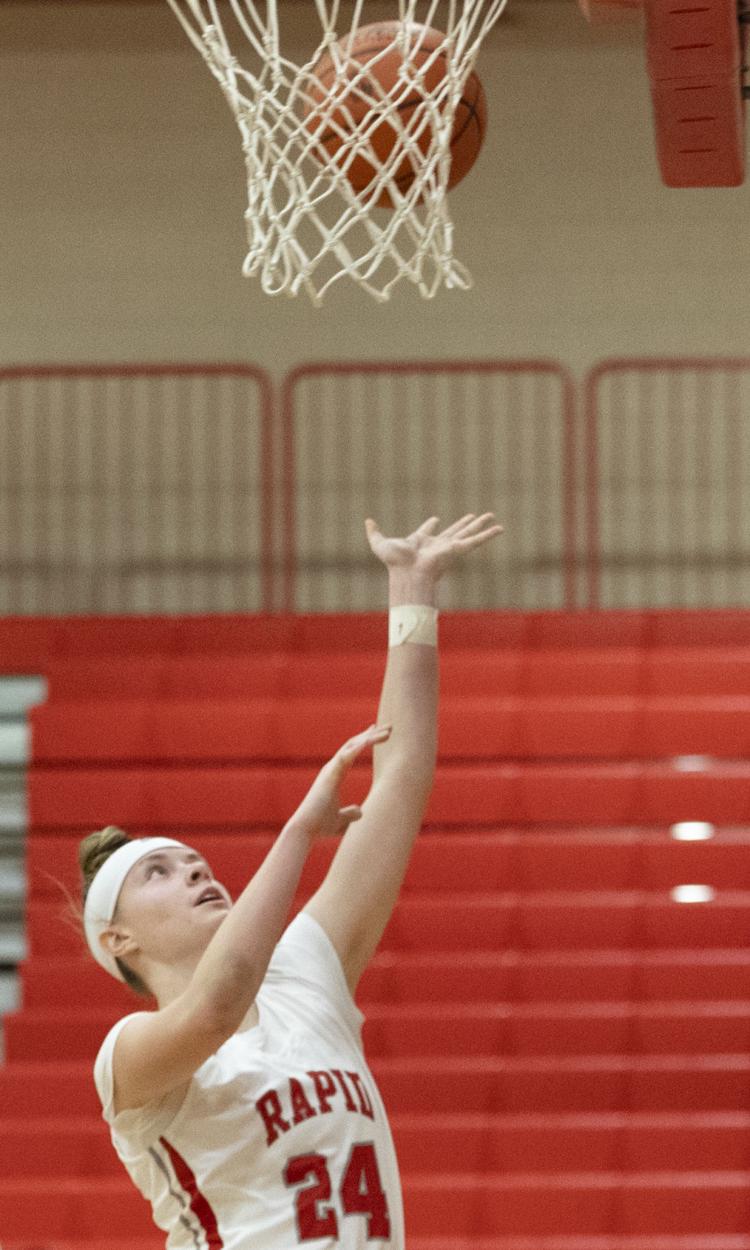 The Cobblers extended their lead to more than 40 points with just over five minutes left in the third quarter thanks to three more baskets from Heckert and a layup by Hill on an 8-0 run to begin the frame. Moore also hit her second and third 3-pointers in the third and Keana Walton drilled another as the Patriots went down 65-29 heading into the fourth.
Heckert was up to 29 points before the final eight minutes started, seven away from the single-game school record, which Bertram was well-aware of.
"We told her at the start of the fourth she needed just a few points," he said. "And I told her, if you get close I won't pull you and I'll give you one more possession to be able to do it, and luckily she ended up knocking it down."
The Metro State University signee converted two free-throw attempts and tallied a layup before attaining the mark with a shot from beyond the arc with 4:25 remaining in regulation.
PHOTOS: Central girls host Douglas Tuesday
Rapid City Central earns a 82-29 win over Douglas Tuesday. Rapid City Central Senior Jordon Heckert broke a school record with 36 points.
Central will travel to East River this weekend for a matchup with No. 5 Aberdeen Central on Friday and Pierre T.F. Riggs on Saturday.
"We really could be undefeated right now," Bertram said. "We feel good, 4-2, knowing that in all six games we controlled most of every single basketball game. Now it's just being mature enough to be able to finish games and complete what we set out to do."