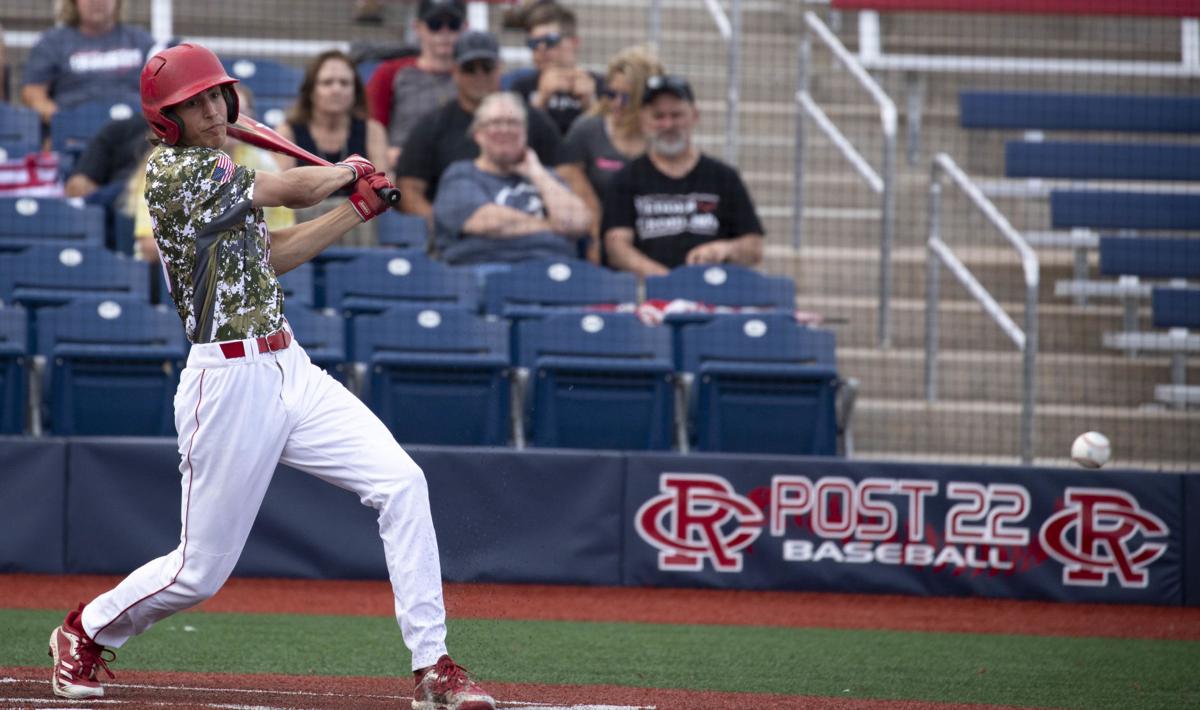 The Rapid City Post 22 Hardhats keep playing nail biters and that's fine with manager Kelvin Torve.
After all, they keep winning them.
The Hardhats got a walk-off RBI single by Ryker Henne with two outs and two strikes in the bottom of the seventh inning to edge Harrisburg 2-1 Saturday night to remain unbeaten in South Dakota American Legion State Class A Senior Baseball Tournament in Brandon.
Friday night Post 22 edged Sioux Falls West Post 15 4-3 and last weekend the Hardhats got past Renner Post 307 3-2 and 6-3 to qualify for the state tournament.
The defending state champions will face the other Renner Post 307 team — the Royals — Sunday night at 5 p.m. MDT.
Post 22 got its first run in the bottom of the first inning and led 1-0 until Harrisburg scored its lone run in the sixth. Starting pitcher Hunter Tillery was outstanding again for the Hardhats, going the 105-pitch limit, giving up just three hits and striking out eight.
Blake Weaver came on in relief with two outs and the bases loaded in the top of the seventh and got the out on just one pitch, setting up the drama in the bottom half of the inning.
Harrisburg's Will Simmons was sharp as well and got the first two outs in the bottom of the seventh, but had to leave via the pitch limit.
Against Tyson Kogel, Dylon Marsh gave the Hardhats hope when he reached on an infield error, with Harrison Good drawing a walk to put runners on first and second.
With two strikes, Henne, who had three of the team's six hits, lifted a single to short right field that was enough for the speedy Marsh to score and set off the Post 22 celebration.
"If you look at those at-bats individually, they were pretty ugly," Torve said. "Dylon battles and rolls one through the right side, Harrison walks and Ryker sticks his butt out and hits a flare to right field and we win the game. The bottom line was they were all competing out there. Ryker's hit was with two strikes and he drives in the winning run. It was just fantastic.
"This is what Post 22 plays for every year. We've played two games and we have played two really good games. (Sunday) is another day. We have to do it again Sunday and that is what we expect to do."
The win all started with Tillery on the mound, Torve said.
"He was an absolute dude. He competed, he threw strikes. He made one mistake, but goodness sakes, everyone is going to make a mistake. He kept us in the game," he said. "Will Simmons, he was every bit as good as Tillery. It was just a fantastic baseball game. It was a 1-1 game because both pitchers were dealing, and I am just grateful that we came out on top."
The Hardhats scored their other run on a RBI double by Drew Scherbenske, scoring Henne from first, and Harrisburg got its lone run with a solo home run by Tyman Long in the sixth.
Weaver earned the one-pitch win. Harrisburg failed to score in two bases-loaded situations.
"That is just pitching and Post 22 baseball — good pitching, tight defense and timely hitting," Torve said.
Scherbenske finished with two hits and Wyatt Anderson had the other Hardhat hit.
Post 22, 33-25, will look to stay in the winner's bracket against the Renner Royals, who are also unbeaten in the tournament after stopping Sioux Falls East 10-5 Saturday.
In the one game the two teams played this season, the Hardhats walked off the Royals on a two-out, two-strike grand slam home run by Jake Goble in Pierre.
"They used their two best pitchers, just like we used our two best pitchers," Torve said. "Everybody is getting deep into their staffs and deep into their bullpens this time in the state tournament. Wyatt Anderson is pitching and he has pitched well for us this year and we expect him to do so again. As far as what they have, I really don't know. I don't know they beat Sioux Falls East and swung the bats well tonight. It will be a tough game. It is a challenge we're looking forward to."
State Junior A Tournament
Expos roll to remain unbeaten
The Rapid City Post 22 Expos moved to 2-0 in the South Dakota American Legion State Class A Junior Baseball Tournament in Pierre, running past Pierre Post 8 13-4.
The Expos broke a 2-2 tie with three runs in the third and four runs in each of the fourth and six innings.
Kolby Denke and Mars Sailer both had two hits, with Sailer driving home two runs and Alex Dietrich and Phillip Bentz knocking home three runs each.
Jadon Moreno, the second of four Post 22 pitchers, got the win, scattering three this and two runs in 3 2/3 innings. Brian Atkinson got the start but threw just six pitches, while Palmer Jacobs pitched 1 2/3 innings and Trevor Wilcox one inning.
The Expos, 30-18, return to action Sunday against Sioux Falls East.
Post 320 shooters eliminated from Junior tourney
The Rapid City Post 320 Shooters saw their season come to an end at the State Junior A tournament with a tough 17-1 loss to Aberdeen Post 24.
Aberdeen scored six runs in the second inning and led 10-1 before closing with seven runs in the top of the seventh.
The Shooters finished the season at 22-20-2.