BOX ELDER — The Hill City volleyball team might be playing under the radar statewide, but its scores say otherwise.
The Rangers remained unbeaten — not only in matches but in sets as well, in easily stopping Douglas in straight sets Tuesday 25-10, 25-5 and 25-14.
Hill City, 8-0, is also 20-0 in sets and has outscored its opponents by an average of 25-11.
It's been a nice start, to say the least.
"We're happy with the way we have been playing, we're pleased, but our thing is 'don't be satisfied,'" Hill City head coach Lindsy Wathen said. "This team just has great chemistry. They work really well together and it shows in those wins."
Douglas, 2-6, hung around early in the first and third sets, but was never able to make much of a push to challenge. Leading just 8-7 in the first set, the Rangers used a 12-1 run and outscored the Patriots 17-3 the rest of the way.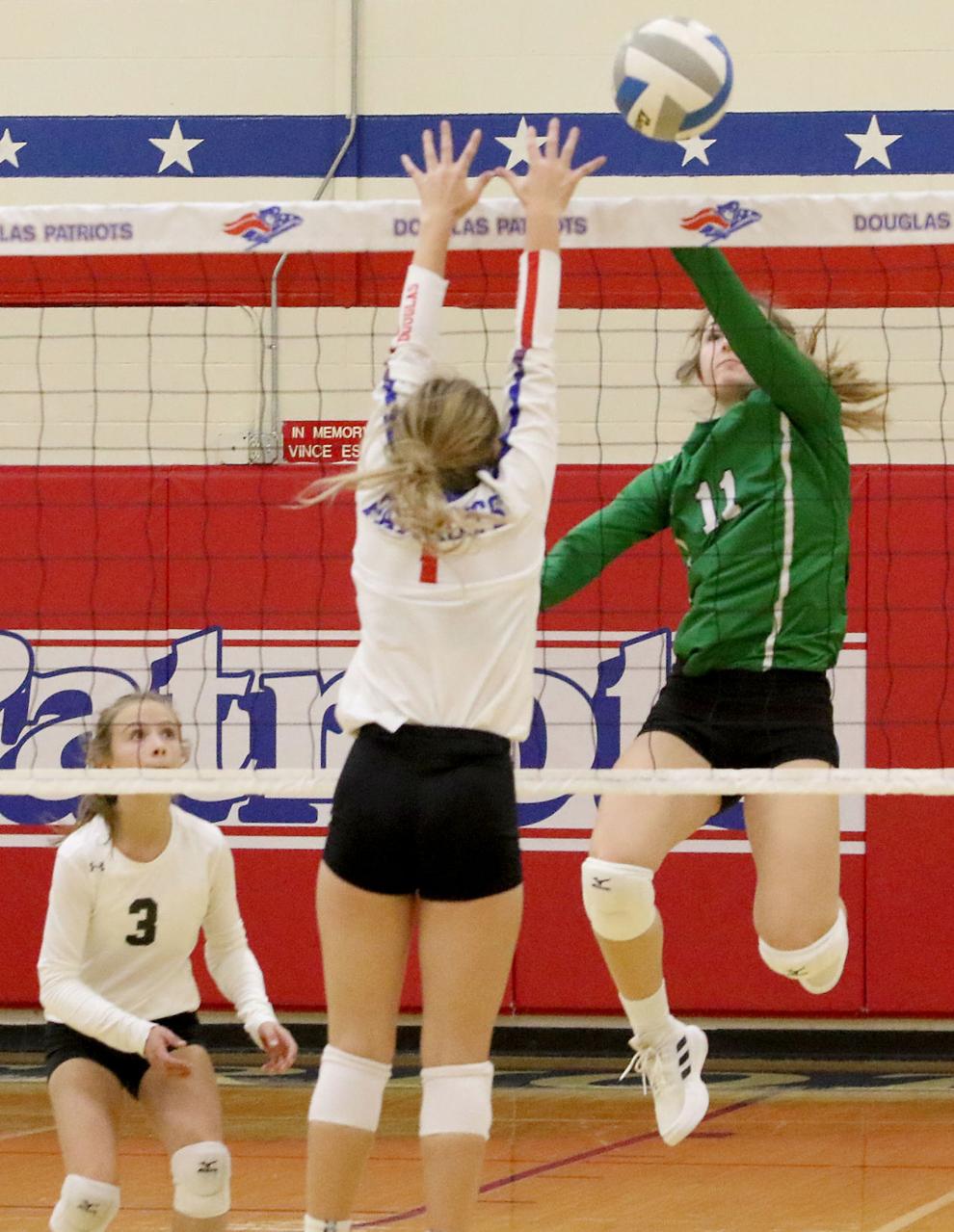 "Sometimes it takes a while to build up, but once we get going, we are really hard to stop, I think," Hill City senior outside hitter Marie Peckosh said. "We've all been playing together for a really long time and we have a lot of height on our team this year, which is really good for us. We've been working really hard in the back row, which has also been benefiting us."
Peckosh had a big match for the Rangers with eight kills, 12 digs and six serving aces.
"We spend a lot of time serving, we always have," she said. "We think that is the best way to score because it is the least amount of work — just get it over and ace it and you have a point. We spend a lot of time doing that."
Peckosh had two aces in the first set and three aces out of the first six points in the second.
Unofficially the Rangers had 17 aces in the match.
"When we can serve aggressively and keep the other team out system, it certainly helps our side," Wathen said.
Hill City jumped out to a 17-2 lead in the second set and never looked back, but Douglas hung tough early in the third set, tying it at 4-4 and 5-5, but never leading. It was still 12-8 before the Rangers used a 13-6 run to win the third set, with Peckosh scoring the last three Hill City points on kills.
"I think our team did not show up after we collected some points in the first set," Douglas head coach Angela Estes said. "We were playing well and hanging with them, but adversity beat us because we were not able to come back."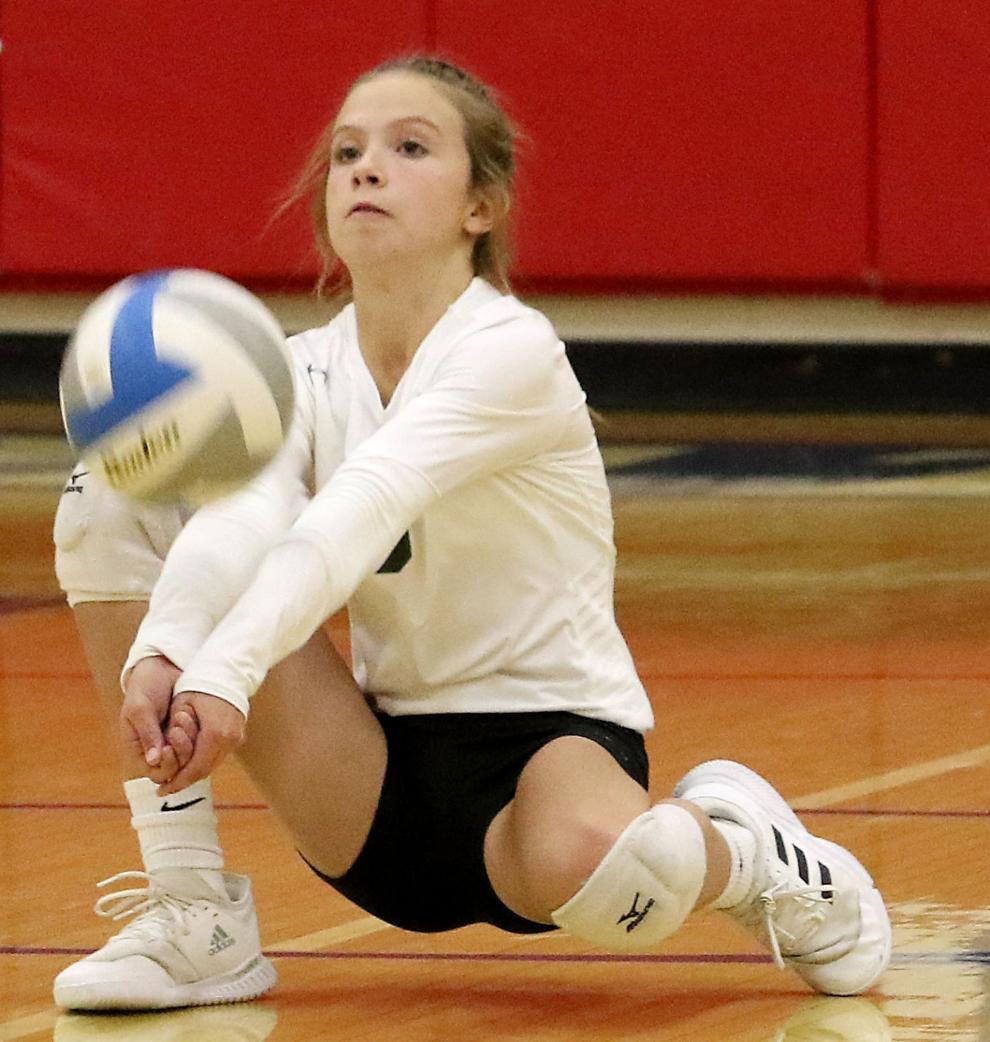 Hill City had a balanced attack with Macey Wathen leading the way with 10 kills and 11 digs and four aces, with Abby Siemonsma adding 10 digs and three kills and Karsen Kirsch with three aces.
Although it has been a good start for the Rangers, Lindsy Wathen said they have a long way to go, not only in the season but to improve their play.
"We're just going to keep taking every match one at a time," she said. "We have some harder competition coming up at the end of the month, so we're training for that."
Hill City returns to action next Thursday at Hot Springs and have that tough three-match slate at the end of September against Black Hills Conference rivals Rapid City Christian and St. Thomas More and defending state champion Northwestern.
The Rangers earned their first-ever state tournament berth last season and Peckosh said they want to do it again with state being in Rapid City.
 "We're hoping to do that again, and hopefully do a little better than last year," she said.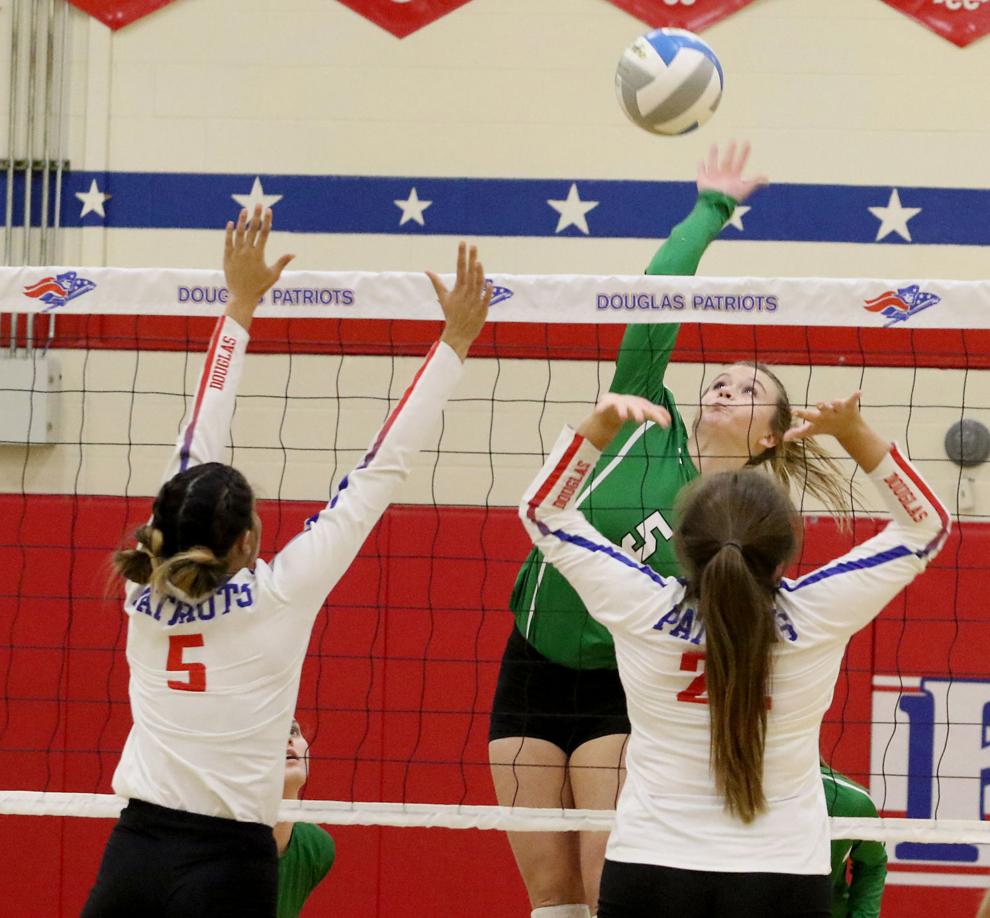 Kylee Smith led Douglas with eight digs and 13 assists, with Savannah Gray adding seven kills. The Patriots host Rapid City Central Sept. 14.
Estes said their struggles are not skill, they are mental, and that is something they have to work on.
"When you allow outside forces to get into you minds during the game, and you are not able to come back, it makes a difference, and it is visible," she said.