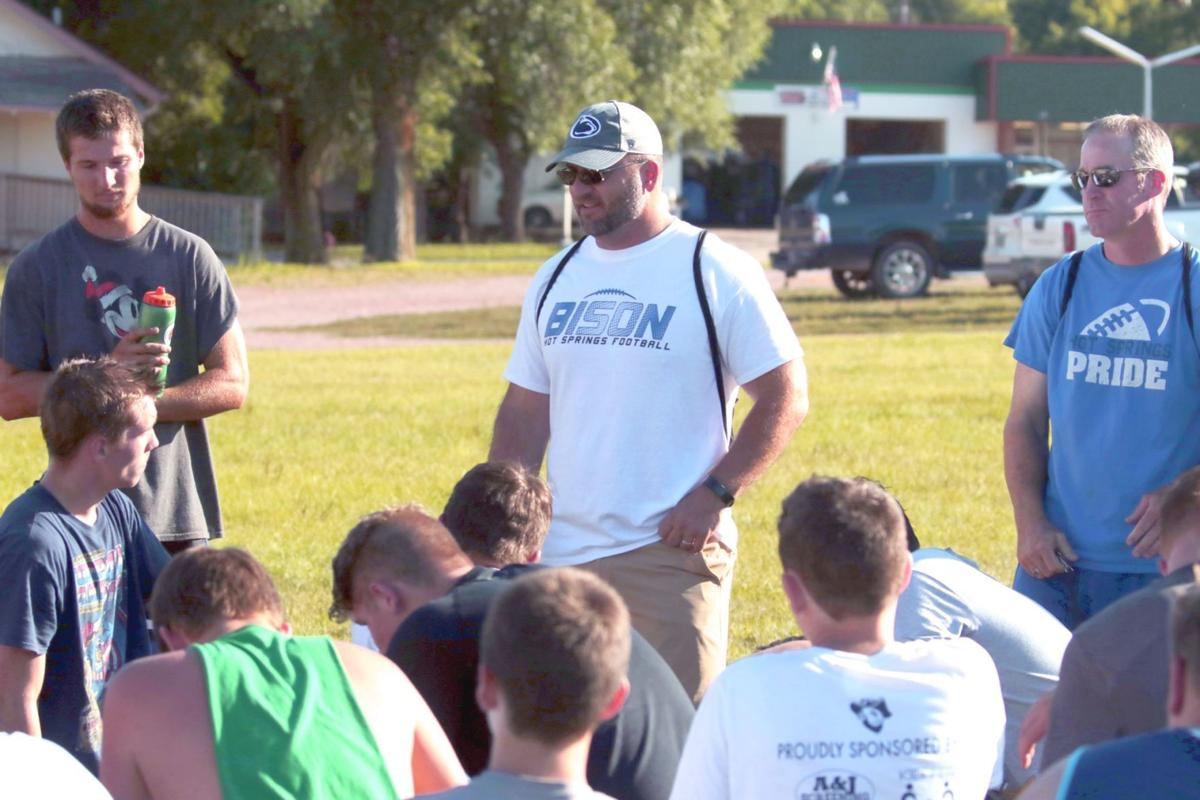 Hot Springs head football coach Ben Kramer and three other area coaches will lead the way in the Red versus Blue South Dakota High School All-Star Game Saturday in Vermillion.
The Vermillion Area Chamber & Development Company (VCDC) is hosting the event, presented by Sanford.
Athletes from 48 South Dakota communities will compete in the game. They arrived for practices on Wednesday, followed by a host of activities. The game is set to kick off at the DakotaDome Saturday at 12 p.m. (MT).
"We've got a fantastic week lined up for the extremely talented young athletes coming to Vermillion for the All-Star game," said Nate Welch, President and CEO of the VCDC. "An event like this creates the perfect opportunity to showcase the great town of Vermillion to families across the entire state of South Dakota. We can't wait to welcome them all to not only enjoy a great game of football, but to enjoy Vermillion's unique offerings while they are visiting us."
Friday night the athletes and their visiting family and friends will gather for an All-Star Recognition Banquet.
The All-Star Recognition Banquet will start at 7 p.m. (CT) at the Old Lumber Company. Bill Gassen, President and CEO of Sanford Health, will be the guest speaker. Gassen was a big contributor to Coyote sports as he was a talented two-sport athlete at USD. He left USD with numerous awards and accolades in both football and track and field.
Kramer will be joined by assistant coaches Brandon White (Harrisburg), Russ Bailey (Custer), Dan Maciecjzak (Douglas), and Lex Heathershaw (Wall) for the Red team.
"Being selected to coach with this group of coaches and this group of athletes is an honor," said Kramer in a statement. "Vermillion does a great job taking care of us all week long. I am really looking forward to it."
West River seniors scheduled to compete for the Red Team include: Brextin Garza of Belle Fourche; Carson Bailey, Cody Thompson and Isaiah Portwood, all of Lemmon/McIntosh; Charlie Larson and Jack Green, both of St. Thomas More; Daniel Sedlacek and Jace Kelley, both of Custer; David Severson, Malik Ahmed Hosie and Tyler Clark, all of Douglas; Talon Elshere and Wren Jacobs, both of Sturgis; Reed Ohrtman and TJ Hammar, both of Kadoka Area; Jackson Hansen and Bosten Morehart, both of Winner and Richard Long of Harding County.
Head coach of the Blue team, Rich Lundstrom of Canton. Lundstrom is the head football coach, assistant girls' basketball coach and head girls track coach for the CHawks. He will be joined by assistant coaches Steve Steele (Pierre), Shaun Wanner (Groton Area), Byron Pudwill (Bon Homme), and John King (Gregory).
"I am very excited for the opportunity to coach such an outstanding group of players," said Lundstrom. "I am equally excited to work with our coaching staff. Our offense is going to be wide open and our defense is going to attack from everywhere. The new 'Greatest Show on Turf'"
 Tom O'Boyle will host a Kids Camp on Friday from 1:30-3 p.m. The Kids Camp is open to 4th–6th graders and will cost $15 and located at the USD practice field. Kids in attendance can expect to learn basic football fundamentals of line play and skill position play.
The South Dakota High School All-Star game is open to the public. Adult tickets are $20, children aged 5-18 years are $15, and children 5 and under are free. For more ticket information visit LiveVermillion.com or call the VCDC at 605-624-5571.