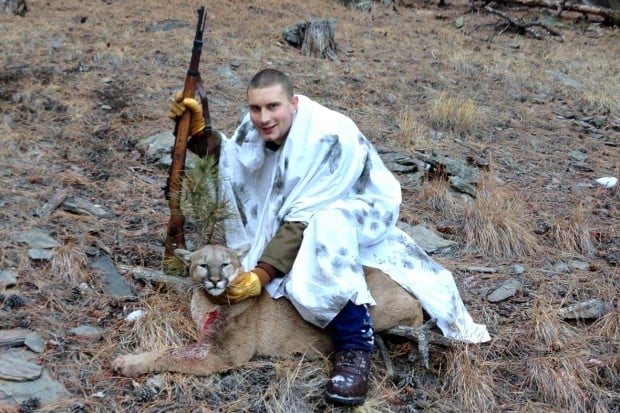 Jonathan Pondish saw the lion — staring at him from a rock about 60 feet away — just before sundown Thursday afternoon in the woods near Silver City.
And Pondish admits, the big cat had an impact.
"My heart skipped a beat and I had a hard time breathing," the 24-year-old Piedmont resident said Friday afternoon. "But I managed to find my remote and get the call going to distract the cat long enough for a shot."
The remote wasn't for a big-screen TV. It operated an electronic call located about 50 yards away, producing a sound that simulated the call of a deer fawn in distress.
It was located at a distance for a very good reason.
"It's so the lion will go toward the call and not toward you," Pondish said. "It gives you kind of a buffer."
A buffer is a good thing in lion hunting, especially when the hunter is making woods music that simulates the sounds of something the big cats really like to eat. In this case, a young deer.
The process worked exactly as Pondish had planned. He killed the 88-pound female lion with a shot from his 8 mm German Mauser rifle, a World War II vintage weapon with open iron sights instead of a scope.
"I'm a big history buff," he said. "It's one of my collection's pieces."
He used it to collect the 16th lion of a state season that opened Dec. 26. But it was the first lion ever for Pondish, who began hunting the large predators last year with little success.
"I went out 10 or 12 times last year and never saw a lion or a lion track," he said. "I really wasn't planning on going out this year. And then it snowed."
Snow might be a lion hunter's friend. The tracks lions leave, often when crossing a road or forest trail, make the animals easier to find and follow — and, when conditions are right, to call within sight and within rifle range.
That process took most of the day Thursday for Pondish and his friend, Robert Corrin. They went out about 9 a.m. and were driving on a U.S. Forest Service road when they spotted fresh lion tracks.
They were on foot and following the tracks when Pondish realized the batteries in his call were dead. That meant a trip to Johnson Siding west of Rapid City for new batteries and another trip back in the forest, to resume the hunt.
The hunters came across the tracks again and eventually settled in to sit separately on opposite ridges facing each other and call.
"We wanted to kind of keep an eye on each other's back," Pondish said. "From what I understand, mountain lions sneak up on their prey. And I didn't want one sneaking up on me."
Yet one did, sort of, although it was off to the side instead of behind him.
Pondish had just finished playing the electronic call and was scanning the landscape from right to left. When he got to the far left of his vision, he saw the cat, which apparently had been moving in toward the sound of the call.
"At that point, it looked like it was about five times the size it turned out to be," he said.
Still, it was a fairly typical size for a 2-year-old female, which generally run smaller than male lions.
Pondish took the shot, and a few minutes later he and Corrin found the lion dead not far from where it had stood. They made the search carefully, however.
"I was afraid we were going to have to track a wounded lion," Pondish said. "But it was right there. I saw my first mountain lion yesterday, and brought it home."
Pondish, a 2007 graduate of Rapid City Central High School, had the lion processed with a local taxidermist who saved the edible meat and will tan the hide. Pondish plans to hang the pelt on his living room wall and eat the lion cuts.
"I haven't eaten it before, but I've heard it tastes like pork," he said.