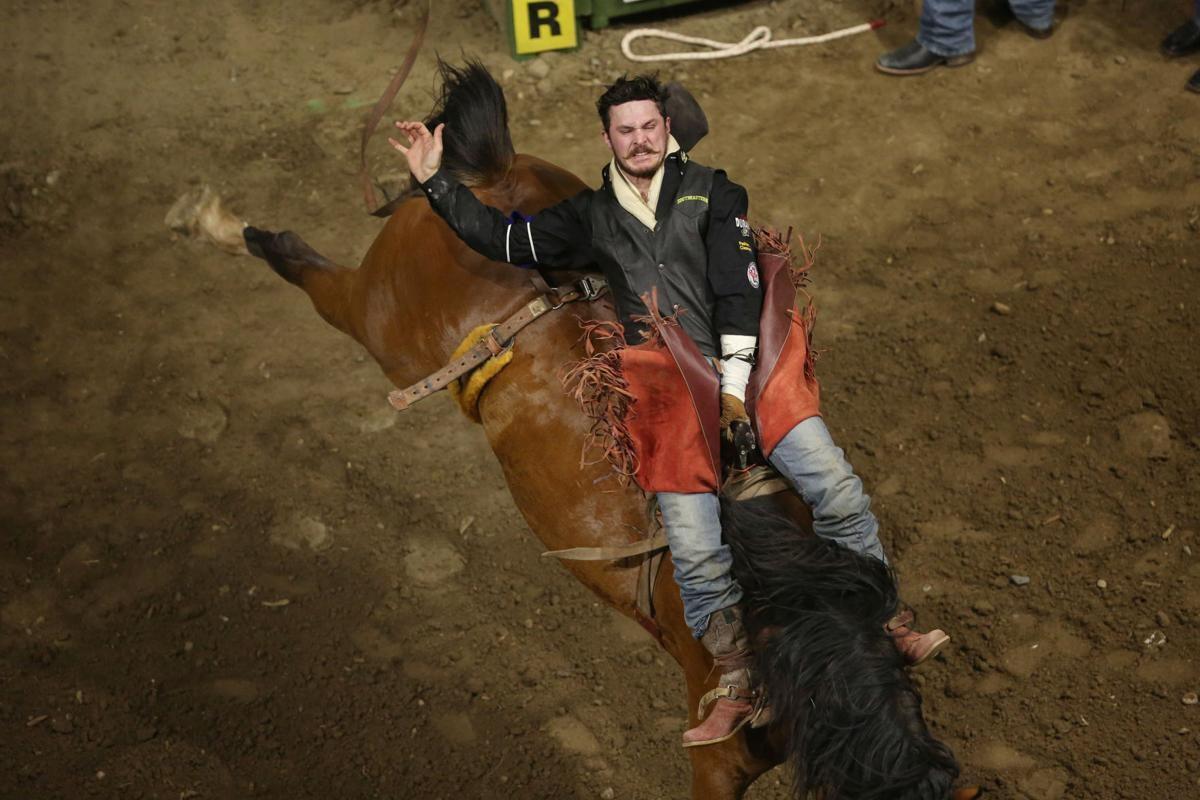 A Southeastern Oklahoma State rodeo competitor appears to have narrowly avoided a catastrophic outcome after being hospitalized by a freak accident at the second day of the College National Finals Rodeo in Casper.
Kadoka native Dylan Riggins was taken to Wyoming Medical Center for evaluation and treatment Monday morning after a horse rolled directly on top of him. During a bareback bronc ride, the horse ran head-on into a wall, reared backward and planted Riggins' neck and upper back straight into the dirt. The animal then rolled straight backward, putting its entire weight on the rider.
Riggins, whose hand was still in the horse's rigging, came back up with the horse when it got to its feet before getting himself loose and falling to the dirt.
A WMC spokesperson said Monday morning that Riggins was in stable condition. CNFR media coordinator Susan Kanode said before 2 p.m. that Riggins had broken a collarbone and ribs but is expected to make a full recovery.
Riggins was riding atop Frontier Rodeo's Crazy Lady in the second go-round of bareback bronc riding. The 24-year-old graduate student was competing in his fourth CNFR. He previously competed for Panhandle State and New Mexico State.
The Ford Wyoming Center crowd, already relatively quiet for the morning slack competition, got even quieter as medical personnel rushed out to attend to Riggins. He was stretchered off after a few minutes.
The crowd applauded and the rodeo continued shortly after with Dean Thompson, the last bareback competitor of the section.
"All I can do is try to hit a reset trigger because a lot of guys, it sets a negative trend if someone gets in an accident a lot of the times," the Western Texas College sophomore said. "And you have to be the breakup right there, so it's just a reset on my brain. I have to say, 'All right,' and kind of put myself in a state that it's time to ride."
Thompson recorded an 80.5, the best score of either section of bareback bronc riding Monday.
"I did notice after the 8 seconds I think subconsciously a little bit my brain was like, 'All right, time to just step off,'" he said. "Because I did get tossing in my hand a little bit and a lot of times you can end up getting bucked down after the whistle right there. But for the 8 seconds, it was just game time."
Added McBride, the Panola College rider: "Everybody is going to think about stuff like that, but you've got to think that all I can do is what I'm in control of. Things like that, I have no control over it."