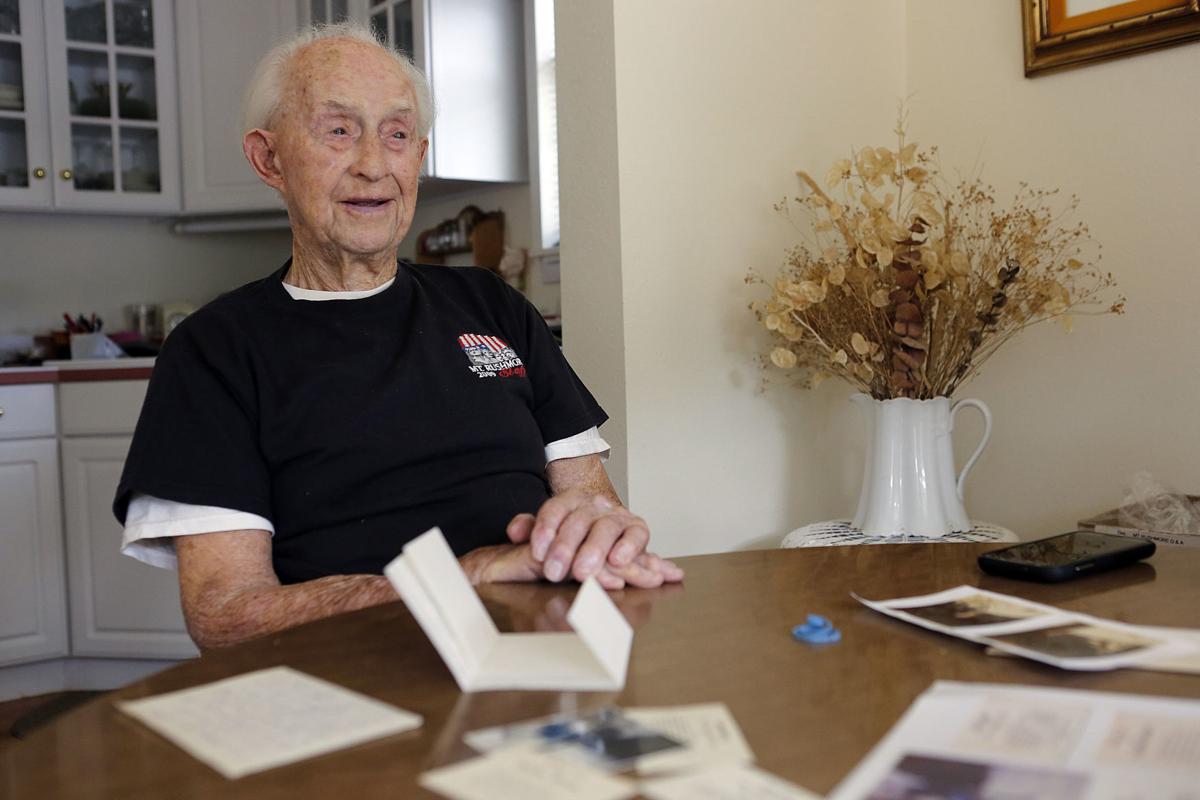 The last living person who worked on the carving of Mount Rushmore National Memorial, Donald Leo "Nick" Clifford, of Keystone, died Saturday at age 98.
Nearly 400 men and a few women helped carry out sculptor Gutzon Borglum's vision for the memorial between 1927 and 1941. 
Clifford was the youngest man ever hired to work at Mount Rushmore and not because he knew anything about carving a mountain.
At 17, Clifford was already a veteran baseball pitcher and right fielder. In 1938, Borglum and his son, Lincoln, decided they wanted to field a team. And as long as they were hiring men, they thought they might as well hire some good ballplayers.
As the greenhorn of the Rushmore crew, Clifford, who made 55 cents per hour, was often the subject of pranks from his older workmates. Clifford recalled getting off work one day and finding his first car — a 1926 Chevy — atop a massive sand pile.
"Nobody helped me," he told the Journal in 2016. "I had to shovel all the sand away to get my car off the pile."
Clifford was born in Pierre on July 5, 1921, to Francis and Margaret (Stangle) Clifford. When Nick was 2, his father got a job at a sawmill on Sheridan Lake Road and the family moved to Rapid City. In 1923, Nick's father uprooted the family again for the flurry of mining opportunities in Keystone.
"After two years, he left and I never saw him again until I was 21," Clifford told the Journal in 2016. "He left my mother with five kids, no money, no house."
You have free articles remaining.
Forced to overcome the challenge, Clifford's mother took in laundry, while his siblings pitched in to help. She washed two days a week and ironed three days a week.
After carving at Mount Rushmore ended, Clifford joined the 8th Air Force. He sailed to England with 5,000 servicemen, traveled through Belgium and France and eventually landed in Nuremberg, Germany, where he was stationed during the infamous trials of Nazi war criminals and when President Harry Truman ordered atomic bombs dropped on Nagasaki and Hiroshima, Japan, ending World War II.
While serving in the military, Clifford got married, a union that later dissolved but left him with two daughters and a son.
In later years, Clifford returned to the Black Hills, operated and sold laundry and dry-cleaning businesses in Provo, South Dakota, and in Custer for 11 years, and eventually won the concession contract to operate Sylvan Lake Lodge in Custer State Park, which he did for another 11 years.
In between hiring 75 seasonal workers, operating two restaurants, a gift shop, a gas station, and Jeep and horse rides up nearby Harney Peak, Clifford fell in love with a young waitress named Carolyn.
"She was so good, I had to marry her to keep her working there," Clifford told the Journal in 2016.
Following their nuptials, the two spent a few years in Texas while Carolyn completed her accounting degree, returning to Keystone each summer. After moving back to the Hills in 1975, they started a successful ice cream and sandwich shop in Custer, operated it for five years, then sold it.
Bored after running businesses for several decades, Clifford began cutting and selling firewood in 1980, eventually growing the business to 100 customers. He sold that in 1990 and started to slow down. In 2004, he and Carolyn wrote his story in a book, "Mount Rushmore Q&A," and he signed copies for many summers at the memorial's gift shop.
Clifford said in 2016 that he hoped he'd be remembered as a man who overcame challenges in his youth and worked hard to sustain himself and his family, all while maintaining a sense of integrity.
"I feel like Mount Rushmore was the greatest thing with which I was ever involved," he said. "It tells a story that will never go away — the story of how America was made and the men who helped make it what it is today."
Be the first to know
Get local news delivered to your inbox!