BOX ELDER — Jayna Prince drained the first of two free throws to put the Lead-Deadwood girls' basketball team up by three with 7.1 seconds to play in Tuesday's matchup with Douglas.
Then, during a timeout ahead of her second attempt, Golddiggers head coach Tim Hansen instructed his squad on what to do should Prince miss. 
He was also fine if she just made it.  
"At the last one there, we talked about all the scenarios and then I told Jayna Prince, I said, 'Just knock this one down and make all my talk worthless,'" Hansen said. "'We'll just go out and win it right here,' and that's what she did."
Prince converted at the line to make it a four-point contest, leaving the Patriots with few options in the waning seconds as Lead-Deadwood came away with a 45-41 victory for its first win of the season.
"I'm so happy for our girls, especially for our seniors," Hansen said. "We've battled some tough games, and of course with COVID it's been an interesting challenge for us, so for them to come from behind and then win, I'm so happy for them and I hope this is something we can build off of."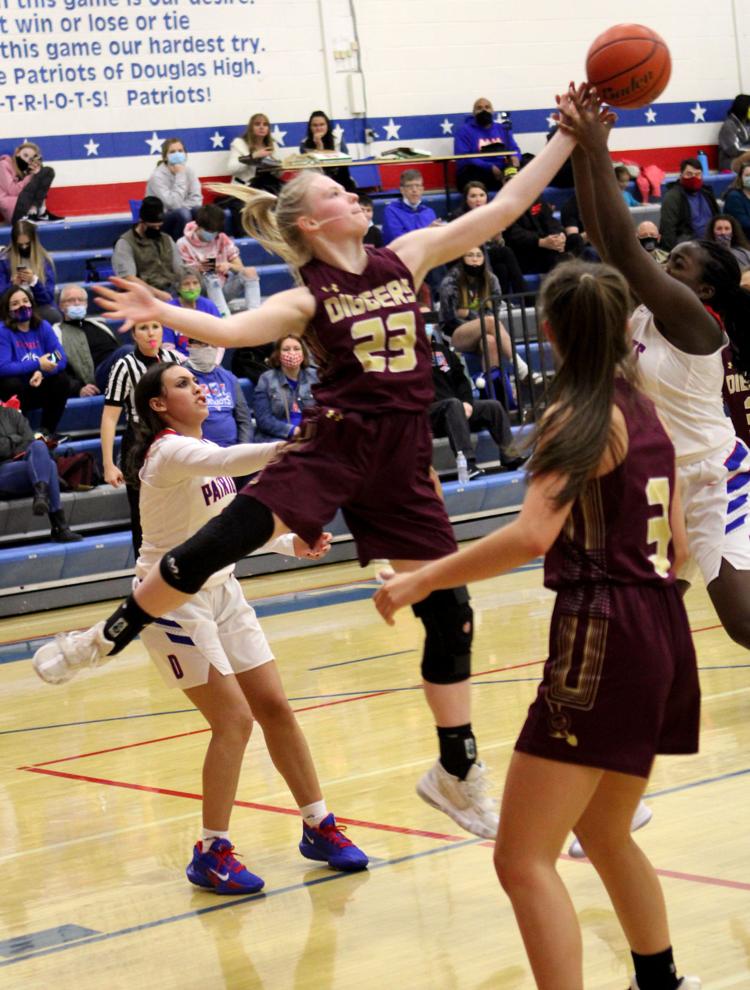 A 3-pointer from Bailey Clark put Douglas (1-7) up 19-10 in the second quarter, and another 3 by Lamara Castaneda early in the third gave the Patriots an eight-point advantage, but Lead-Deadwood (1-4) responded with six straight points from Prince, Allison Mollman and Kailee Bertrand to cut the Golddiggers' deficit to two before Madison Archer drilled a corner 3 for Douglas.
Lead-Deadwood then tied the contest at 25-apiece before Angell Arredondo hit a shot from beyond the arc to preserve a lead for the Patriots, who went ahead 28-26 heading into the final frame.
It was in the fourth that the Golddiggers pulled out in front when Prince fired a jump shot over two Patriots defenders and scored to level the game, and Mollman tallied the go-ahead bucket on a free throw. 
"I kept telling them we had to have patience. I thought we were just too eager on the first side of our offense, taking quick shots," Hansen said. "We kept emphasizing that if we got the ball on reversals, that we thought open gaps for shots on dribble drives would be there, and we finally started to get some and knocked some (shots) down."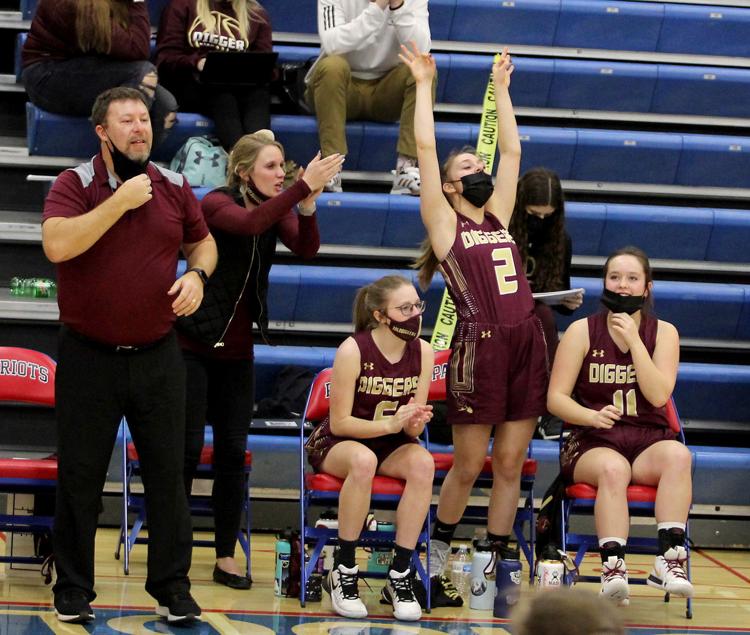 Douglas retook the lead and held a 34-30 advantage courtesy of a 3-pointer from Castaneda, which Lead-Deadwood answered with an 11-0 run thanks to a pair of 3s by Bertrand and Madelaine Rogers to grab a 41-34 lead with 3:25 remaining in regulation. 
The Patriots kept coming but couldn't get back within five points of their opponents, as the Golddiggers benefited from reaching the double bonus early in the last quarter. They went just 9 of 21 at the line, but the shots they did make helped salt away their inaugural victory.
"We tried, against their pressure, to be aggressive and attack them, and I thought we got them in foul trouble and we were able to get to the free-throw line early," Hansen said. "We've just got to work on making some more free throws."
Lead-Deadwood travels to Hill City on Thursday, while Douglas hosts Pierre T.F. Riggs on Jan. 19. 
DOUGLAS BOYS 92, LEAD-DEADWOOD 46
Nathan Divis earned 21 points, David Severson tallied 20 and 15 different players scored as the Douglas boys' basketball team rolled to a 92-46 home victory over Lead-Deadwood on Tuesday.
"It's nice to get an easy one every once in a while," Patriots head coach Travis Miller said. "I know (Lead-Deadwood) is a very young team, they work super hard and they're well-coached. We were in that same spot two years ago, so I understand how hard that can be to go through, but it was good for our boys to come in, and hopefully we get a little bit of confidence out of this."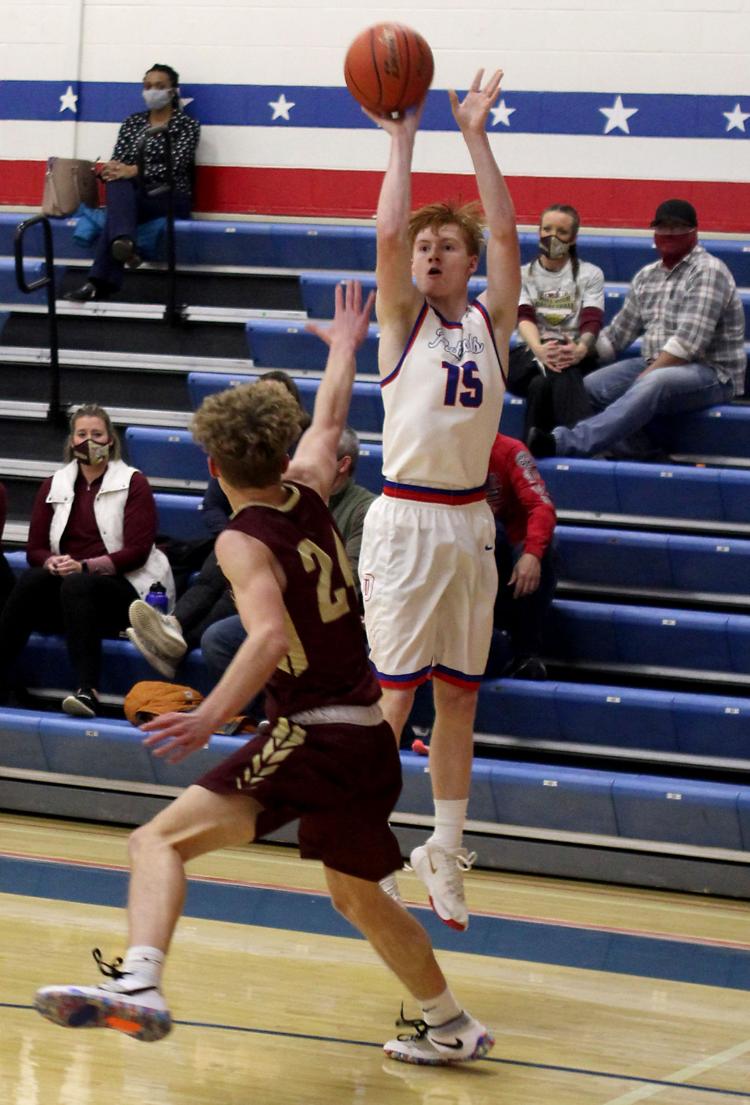 Divis recorded a double-double by hauling in 14 rebounds to go along with his 21-point performance, while Severson picked up 18 of his 20 points, all scored in the first half, off six 3-pointers. Kyle Shields added 10 points and three assists, as Douglas (3-4) ended with 11 made 3s.
"That's the style we want to play. We want to be able to move it around," Miller said. "We have a lot of guys who can hit 3s, and hopefully it carries over into our next game."
John Jones paced Lead-Deadwood (3-5) with 18 points and Mekieh Hon chipped in 12 points, three assists and three blocks.
The Golddiggers got out to an early 5-0 lead thanks to a 3-pointer from Jones, but the Patriots responded with 17 straight points by the midway point of the first quarter courtesy of a trio of 3s from Severson and six points by Shields. Kolin Ray also hit two from beyond the arc in the frame to give Douglas a 25-11 advantage after one.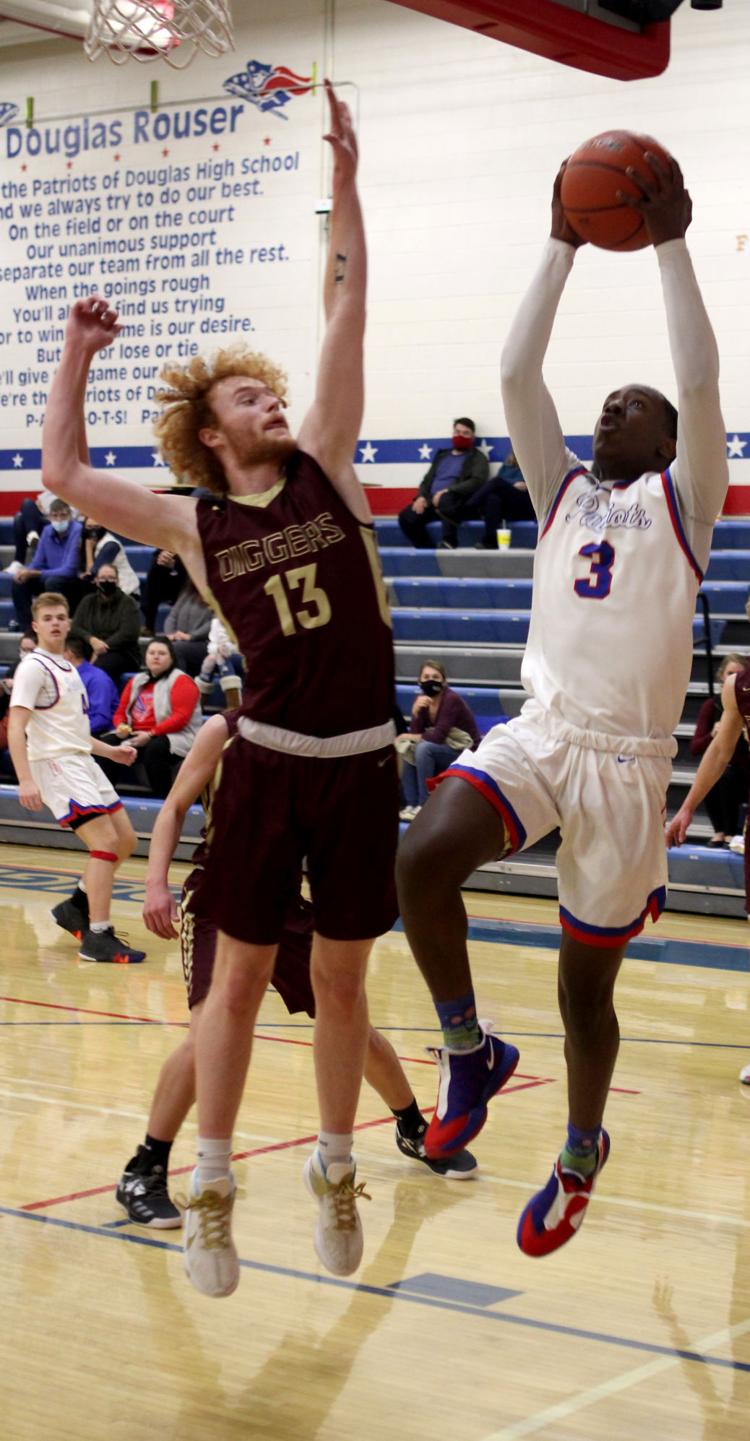 Severson drilled three more from deep as Douglas outscored Lead-Deadwood 29-3 in the second quarter to make it 54-17 at halftime. Divis, after tallying just four points in the first two frames, was given the ball plenty in the third and scored 11 of his squad's 13 points to begin the second half, and later notched four more on a 9-0 run as the Patriots built a 82-33 lead in the early stages of the final frame.
Shoki Ruebel, getting his first minutes of the contest, then drained a 3-pointer to give Douglas 10 on the night and make it a 50-point margin. 
Jones scored 12 of his points in the second half for the Golddiggers, who put up 29 total in the final two periods.
"They had fun tonight. They played together. A little bit of team-building I think," Miller said. "That's the biggest thing we can get out of it, is the confidence."
Douglas plays Rapid City Stevens on the road Jan. 19, while Lead-Deadwood travels to Hill City on Thursday