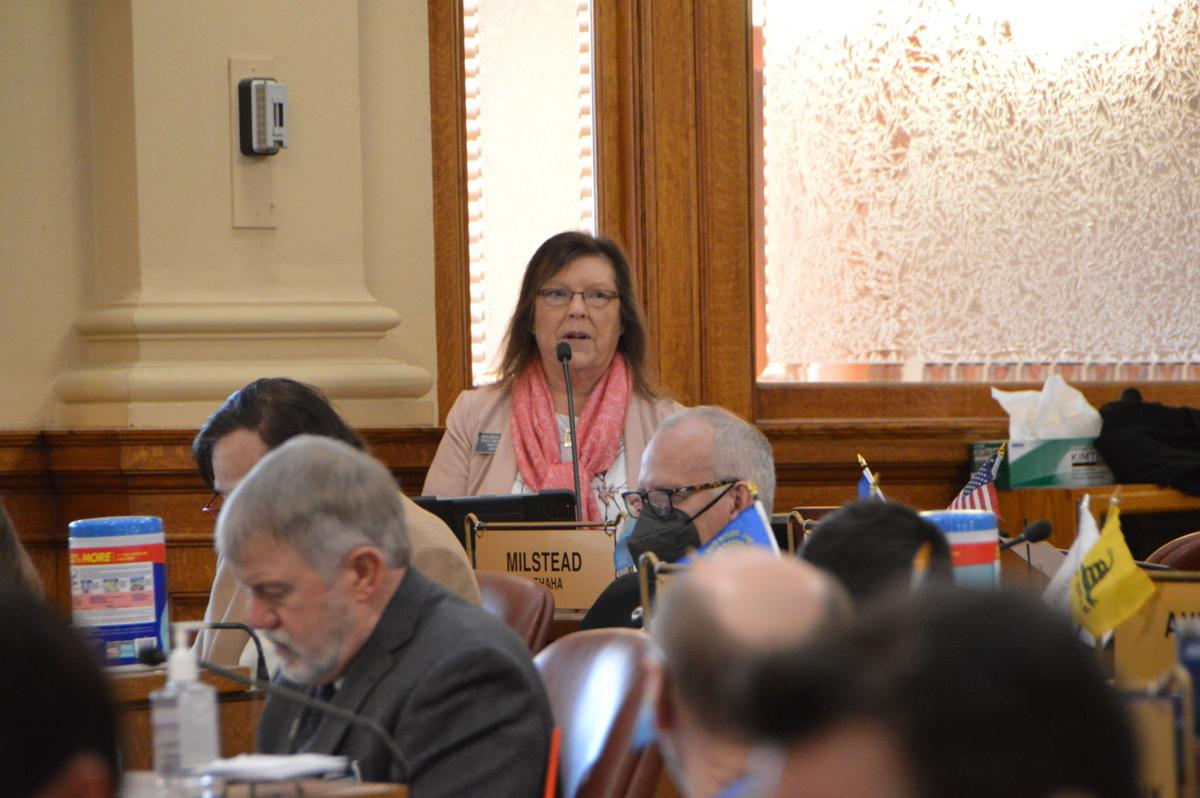 House Bill 1217, ostensibly introduced to promote continued fairness in women's sports but labeled by opponents as discriminatory against transgender people, passed Wednesday in the South Dakota House of Representatives by a 50-17 vote.
The bill, sponsored by Rep. Rhonda Milstead, R-Hartford, is the latest in South Dakota legislators' attempts to pass anti-transgender laws. Earlier this session, House Bill 1076, which would bar transgender people from changing their gender marker on their birth certificates, was shot down in the Senate Health and Human Services committee after being smoked out, or revived, on the House floor following its first death in the House Health and Human Services committee.
Since the "bathroom bill" — which would have prohibited transgender students from using bathrooms, locker rooms or changing rooms that match their gender identity — was introduced in 2016 and garnered national attention, the legislature has seen multiple bills that target transgender people. House Bill 1217 is the legislature's seventh attempt to pass legislation barring transgender people, specifically trans women and girls, from participating in women's sports.
Specifically, the bill would require all students signing up to play sports to disclose their age, biological sex and whether they are taking steroids, and remove them from the team if their biological sex does not match the gender identity of the team that student plays for.
Milstead maintained that the bill was not meant to be discriminatory, rather that it is inclusionary.
"This is not about excluding anyone from sports, this is not about protecting children from their classmates; that's not what this is. This is about including everyone, because for every girl that doesn't get to play basketball because some male took her place, you've displaced that girl," Milstead said.
"We can't reverse this. We can't make girls adjust just so a boy can play ball," she said.
Milstead emphasized that there are "significant differences" between girls' and boys' sports, as well as fundamental differences between the two sexes that give men an unfair physical advantage.
"By any category of measurement … whatever the sport, boys always — every single time throughout history — have bested girls," Rep. Fred Deutsch, R-Florence said.
Milstead said she believed sports should be segregated by biological characteristics, or else women will lose the strides they have made in equitable athletic participation.
"It's nice to have the females in the room acknowledge male superiority," Rep. Paul Miskimins, R-Mitchell, said, followed by laughter.
Proponents also argued that not passing the bill would stop women's progress in its tracks.
"The world has changed. Do we want the world to go back to the way it was, or do we want to continue to move forward with distinction between the sexes and acknowledging the difference?" Deutsch said.
Opponents argued that legislators should let individual school districts and athletic programs resolve these issues rather than legislating the solution to a problem that, if it exists, will impact a small number of people. But Rep. Erin Healy, D-Sioux Falls, said that regardless of if they play sports or not, the bill's existence hurts transgender kids as well as the rest of South Dakota.
"It's harmful, it's hurtful, and it's discriminatory. I have personally heard from transgender kids and their parents and they have told me how frightened they feel, how targeted they are, and how this bill makes them feel like they do not belong in the state of South Dakota. They do belong here," Healy said.
The real problem facing women's sports, Healy said, are stereotypes about women in sports and their ability to compete, lack of resources, pay inequality, and sexual harassment.
Proponents pushed back on the argument that if passed, the bill may cause unintended consequences like economic losses. Rep. Steven Haugaard used the North Carolina legislature's bathroom bill as an example, saying it did not affect the state economically. He warned representatives to stick to their principles and said passing the bill was "doing the right thing."
Rep. Linda Duba, D-Sioux Falls, said the House was losing sight of the big picture.
"Trans kids are children. They're human. To make that leap to determine that you are willing to be who you are and work through that process mentally and not just physically, is one of the most difficult things that a young child can go through," Duba said. "These children want to fit in, they want to be part of a group. Now if they wanted to be in the choir, would we be concerned about that?"
Duba said legislators are misrepresenting trans girls outperforming cisgender girls.
"We're making it sound as if every one of these [transgender] kids is a supernova," she said.
Rep. Ryan Cwach, D-Yankton, said he had concerns about manipulating the law to give cisgender student athletes advantages.
"High school drama can get pretty dramatic," Cwach said. An attorney when the Legislature is not in session, Cwach described a lawsuit he recently worked on that involved "the fact that the new girl in town was better at basketball than the old girl in town."
"You don't think people aren't going to manipulate this to try to help their kids? I just saw it happen, and that would be really unfortunate," Cwach said.
Before the House voted, Milstead said that legislators who voted no on the bill were "excluding a girl" from participating in sports.
The House then overwhelmingly passed the bill, with 50 yays, 17 nays and three excused.