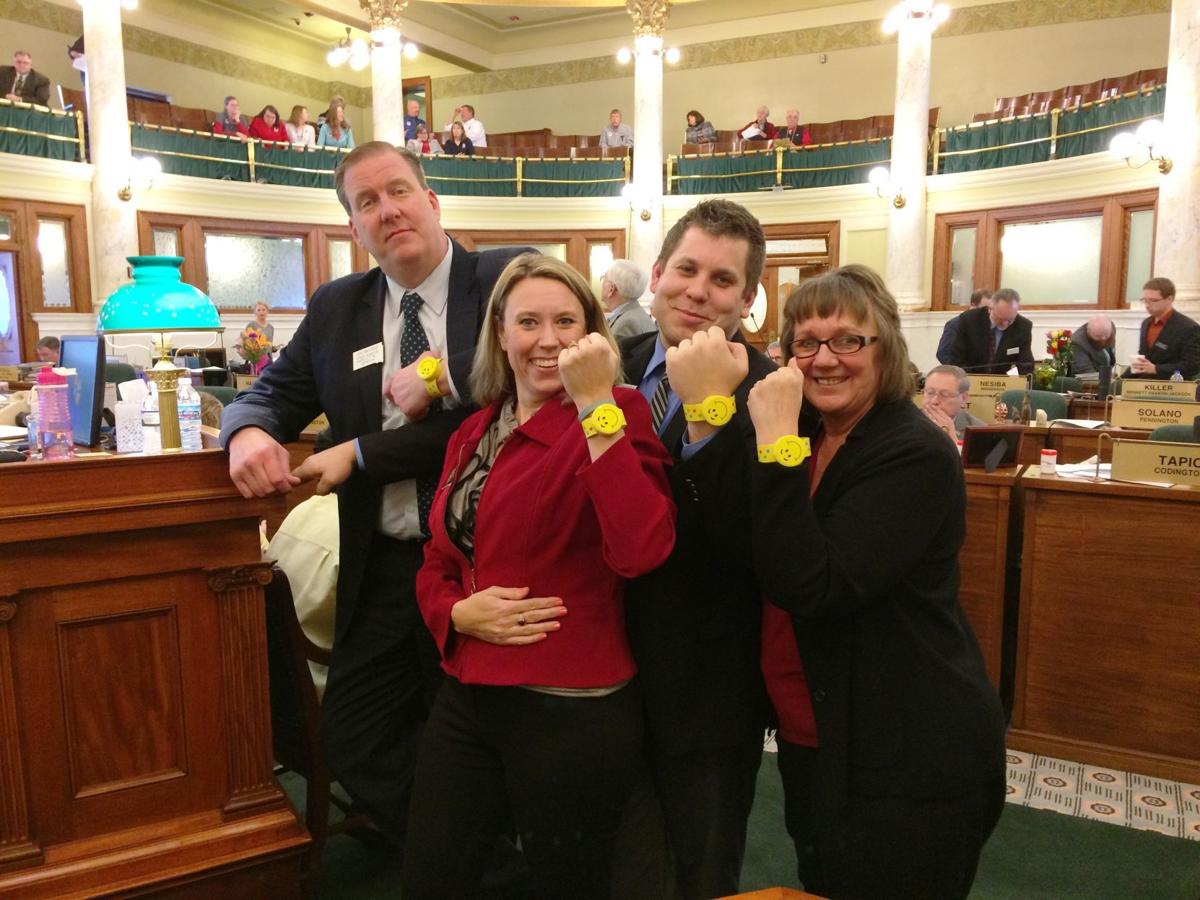 PIERRE | A spoof by two volunteer lobbyists was funny to some of the legislators who received a candy-filled "gold" watch as a gift Tuesday, but not so funny to supporters of Initiated Measure 22.
The watches were actually made of yellow plastic, and the lobbyists — Linda Schauer and Cindy Flakoll of Leola — said Tuesday the watches were a response to the IM22 campaign that, in part, sought to curtail corruption in government. It was passed by voters Nov. 8 but repealed by a law passed by the Republican-majority Legislature and signed by Republican Gov. Dennis Daugaard on the argument that parts may have been unconstitutional.
"It was a joke," Schauer said.
Schauer and Flakoll put the watches on legislators' desks Monday, then mentioned it to a news reporter, who took a photograph showing four legislators wearing the watches. The reporter posted the photo on a blog Monday night.
On Tuesday morning, there was a backlash from supporters of IM22, who said the picture was offensive.
The four Republican senators in the photo — Jeff Partridge of Rapid City, Deb Peters of Hartford, Jordan Youngberg of Madison and Terri Haverly of Rapid City — all voted last month to repeal IM22.
Schauer and Flakoll represent Concerned Women for America at the legislative session. Schauer said she bought the watches for 67 cents apiece.
Moments after the photo was taken, another senator, Democrat Troy Heinert of Mission, told the reporter he didn't think the watches were funny, that they were an insult to the voters who supported IM22.
IM22 would have created a publicly funded campaign system for candidates for the Legislature and state offices and would have established lobbyist gift limits, changed campaign contribution laws and set up an ethics commission.
Perhaps ironically, the House of Representatives approved gift restrictions Tuesday.
The national organization behind IM22 issued a public statement attacking the lawmakers and the photo.
"These legislators are thumbing their noses at the 180,000 South Dakotans who called for greater transparency and stronger anti-corruption laws at the polls last year," said Doug Kronaizl, spokesman for the local chapter, Represent South Dakota.
"The image is tasteless and tone deaf given the outpouring of opposition to the repeal effort. This behavior and culture of voter disrespect is precisely what South Dakotans sought to put an end to last November.
"The worst part: It is likely the legislators in that picture will not apologize to their constituents. They will, instead, talk about how it was a joke, how the campaign ads last year offended them, or they will offer up ad hominem attacks as a form of defense.
"They will not apologize because they do not believe they have done anything wrong, and that is a problem."