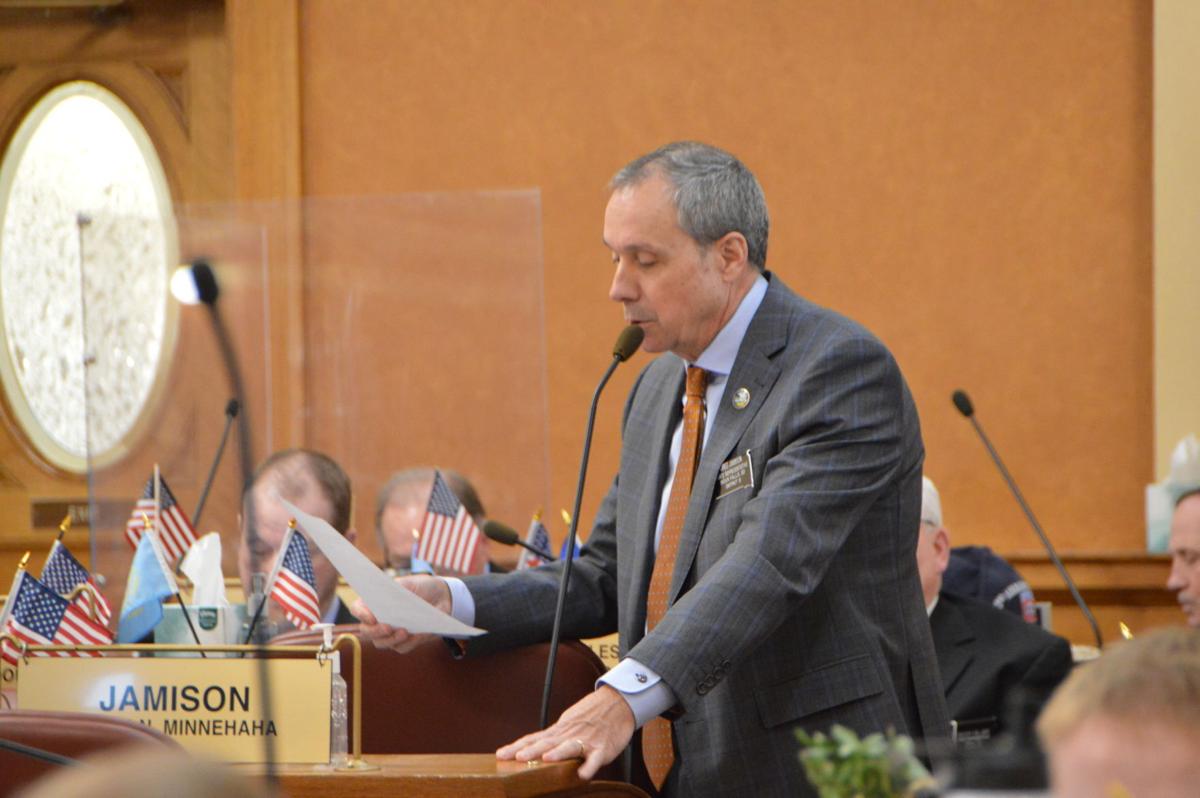 The House passed House Bill 1100 — a vehicle bill that was amended to compromise a later implementation date of Initiated Measure 26, legalizing medical marijuana — with a vote of 40-28 on Thursday.
The bill initially set back implementation a full year later than was proposed in IM 26, on July 1, 2022. IM 26, if left alone, would have become law on July 1, 2021. HB 1100 F provided a compromise between the two timelines, stating medical marijuana would become legal on January 1, 2022.
Amendment F, proposed by the bill's prime sponsor House Speaker Spencer Gosch, R-Glenham, came after IM 26 proponents on Monday announced their proposal for a compromise that would give the Department of Health and the legislature until January 31, 2022 to promulgate rules and regulations to implement a medical marijuana program in South Dakota.
"What I'm asking for is more time to do this right, to honor the will of the people, and to correct some of the mistakes that were done in IM 26. But again, I want to make no mistake: this bill does honor the will of the people, it just asks for a few months to do things right," Gosch said.
Medical pot advocates also called for decriminalization in the meantime so patients would not be punished for taking their medicine before the measure becomes law, a provision that was not included in HB 1100.
After Gosch's amendments were approved, Rep. Greg Jamison, R-Sioux Falls, moved another amendment, 1100 G. He said Gosch's compromise amendment didn't go far enough and that the citizens of South Dakota want IM 26 enacted as written.
Amendment G would have kept the original implementation date of July 1, 2021, decriminalized medical marijuana users, and changed the oversight committee to include more people who were involved in writing and advocating for IM 26.
One of the arguments Gosch made was that IM 26, and Jamison's amendment G, do not explicitly prohibit children from smoking marijuana. Jamison responded that children are not prescribed to smoke marijuana, and youth medicinal patients use nasal sprays or other ingestion methods.
"I just ask you to put that hysteria aside if you will and realize the common sense approach to this: this bill, IM 26, is going to help young children. This amendment gets it done sooner. That's the intent behind this compromise, helping children and others sooner," Jamison said.
Jamison's amendment failed, and the discussion continued on the bill as amended by Gosch.
Rep. Tom Pischke, R-Dell Rapids, urged the House to vote no on 1100 and enact the will of the people. He said he "didn't buy" the excuse that the Health Department doesn't have enough time to enact IM 26, and cited multiple other states who passed medicinal marijuana laws and implemented them in a few months' time.
"As you can tell, other states have been down this road before. We're not the first one out of the gate here, ladies and gentlemen. And our Department of Health is not tasked with rocket surgery, as this has been done in many other states," Pischke said.
He continued that even in the midst of the COVID-19 pandemic, the DOH is more than capable of enacting IM 26 as written. He said he was not a fan of the initiated measure process in general, but as IM 26 was approved overwhelmingly by the voters, the will of the people should be respected.
Rep. Ryan Cwach, D-Yankton, said that if the opposition to implementing IM 26 on time is that there isn't enough time, then maybe the legislature and the Health Department should be working overtime to ensure the will of the voters is enacted.
"We've got more one-time money than we've ever had, and we've got a clear mandate from our bosses, the people, that they want to see this happen," Cwach said.
Rep. Liz May, R-Kyle, argued that HB 1100 is not disrespecting the will of the people.
"I don't know anybody in this legislature that wants to take the will of the people away. For everybody's information, I voted for it, OK? I want it. My nephew is suffering from terrible cancer right now, and he's on it. I want it. What I don't want is to throw a bunch of money at this and have it squandered," May said.
She said that as elected officials, if citizens don't like the way legislators vote on bills they should vote them out.
"It's our job to take that information and make the best judgment," May said.
Rep. Jess Olson, R-Rapid City, agreed that as representatives of the people, they have to determine what is best for their constituents, but IM 26 is different because it was a voter-led initiative.
"Overwhelmingly, they desire medical marijuana, not once, but twice… And not next year, not in six months, now. They want us to work on this now," Olson said. "South Dakotans voted with 70% in favor… I'm telling you today I vote with veterans, cancer patients, and other people who are hurting in our state, the ones telling us that delaying and denying people alternatives to opioids is simply inhumane… Let's get to work, and let's make it happen for the people by July 1."
Rep. Ernie Otten, R-Tea, said he didn't "get" why it is so difficult to pass IM 26 as written.
"A lot of these folks are dying," Otten said of medical marijuana patients. "I want you to hold that in your head, because that's what we're really talking about with medical marijuana… I just do not understand what we're doing here."
Rep. Steven Haugaard, R-Sioux Falls, said he didn't want to go against the will of the people, but that most people who voted for IM 26 didn't read the full measure and don't fully understand it.
"Who's really gonna benefit from this? There's gonna be a few people that truly have medical conditions that will benefit from it. The ones who are really gonna benefit from this are the drug cartels," Haugaard said. "Here we go, it's just a free for all."
Jamison said the bottom line is that the public's trust in the legislature has eroded as the state continually challenges voter-led initiatives in the legislature and in court.
"I think we use this opportunity as a chance to rebuild trust with the public. Let's kill 1100 here, extend an olive branch to the public and say, 'OK, OK, we get it, we understand.' Maybe then next time when another initiated measure comes around, they'll communicate with us, they'll work with the [Legislative Research Council]… we'll do it together," Jamison said. "By doing it right the first time, it means we give the public what they asked for."
Gosch countered and said the legislature is trying to fix problems with IM 26, not subvert the will of the voters.
"We want to put it into effect for them so that it works the way it needs to work so that they don't get in trouble," Gosch said.
The bill passed with Gosch's amendments and will next go to the Senate to be assigned to a Senate committee.