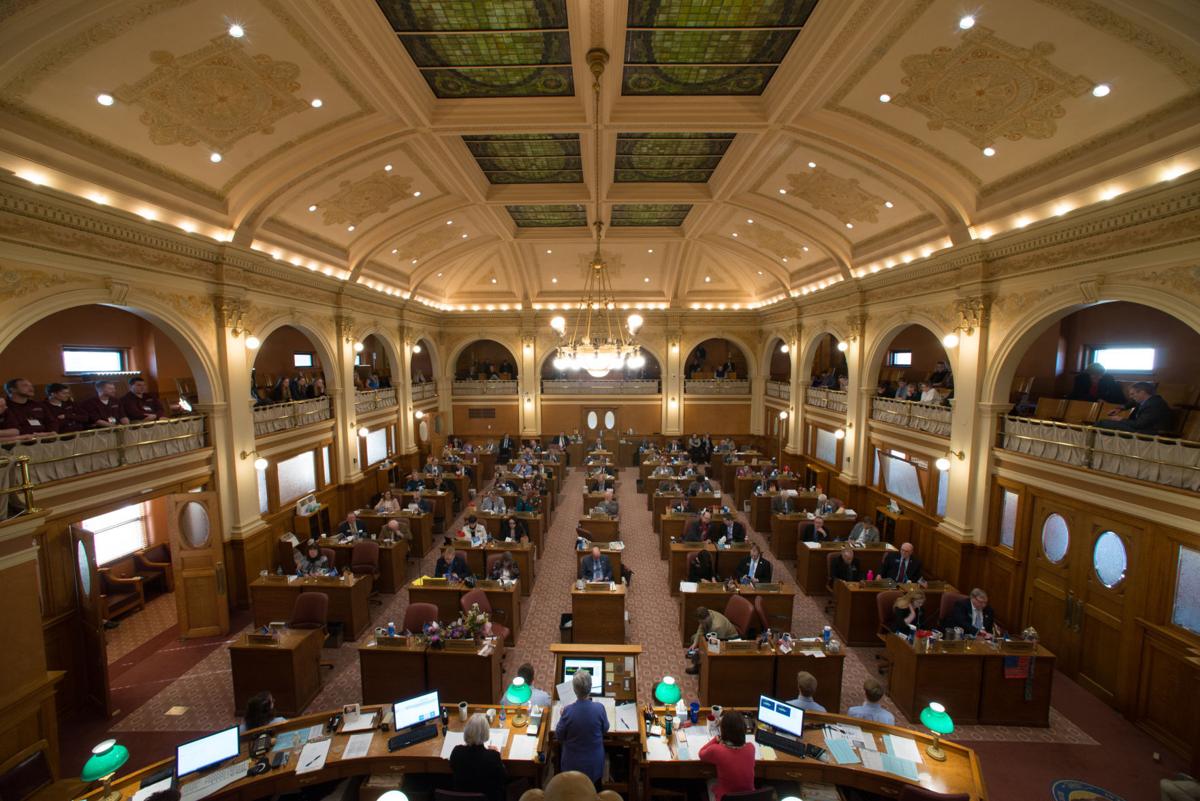 PIERRE | Despite testimony that it could lead to legal and financial problems for the state, the House State Affairs Committee endorsed HB1217 on Monday evening. Much of the testimony concerned girls sports.
HB1217 would ask students to verify their age, biological sex and that they are not taking performance enhancing drugs. False statements would result in the loss of the ability to compete in sports for one year.
No adverse action can be taken against a school for complying with the legislation and athletes who believe that they have been deprived of an athletic opportunity by a school's noncompliance can file a civil lawsuit seeking damages and court costs. HB1217 applies to both public schools and universities under the direction of the Board of Regents.
The bill's sponsor, Rep. Rhonda Milstead, R-Hartford, said males are biologically superior to females in athletics.
"A girl can't train hard enough to beat a male who trains just as hard," Milstead said. "Sports must be segregated" by biology.
Sara Frankenstein, a Rapid City attorney and a former center on her high school basketball team, told the committee to pay close attention to the way the game is played under the basket. Frankenstein said she had three knee surgeries during her career.
"That was playing against women," Franksenstein said, noting that going against male competitors would have been much rougher. "We don't have co-ed basketball teams for a reason."
Sen. Jim Bolin, R-Canton, said the real issue was the transgender policy enforced by the South Dakota High School Activities Association. A policy, Bolin said, that came as a surprise to him when it was enacted.
He compared the creation of the transgender policy to the recent publicity surrounding SDHSAA's efforts to decide on the number of football classifications needed in the state.
"There were efforts made to conceal it from the public," Bolin said of the transgender policy. "It was done through a shrouded process."
Rep. Bethany Soye, R-Sioux Falls, read testimony from female track athletes in Connecticut where two boys who identified as female earned 15 women's titles.
"We are in danger of losing all that we have gained" for female athletes, Soye said.
Rep. Steven Haugaard, R-Sioux Falls, tried to head off arguments that passage of the bill would cause economic hardship for the state by noting that North Carolina's economy did fine after passing a transgender bathroom bill.
"The economic impact was a positive in North Carolina," Haugaard said.
Opposing the bill was Dan Swartos, executive director of the South Dakota High School Activities Association. He respectfully disagreed with Bolin, saying that the SDHSAA's board of directors worked on the transgender policy for a year in public meetings.
Swartos took issue with the portion of the bill dealing with performance enhancing drugs.
"I'm not sure how this fits in with the intent of the bill," he said. "Are we supposed to start testing for steroids?"
Swartos said he took "umbrage" at testimony for the bill that cast the SDHSAA as somehow being against girls sports.
"Our office has pushed girls sports to where they are right now," he said.
The SDHSAA transgender policy has been in effect since 2013 and dealt with one male student who identified as female and played girls basketball and volleyball, Swartos said. He said that player's teams never had records that were over .500 and he characterized the student's play as average for a female athlete.
The current transgender policy calls for a student to submit a form to the local school. If the school approves it, the request goes to SDHSAA who passes it along to a hearing officer who rules on the merits of the request. There was one application this year, Swartos said, and it was denied.
"Most of this is in regard to two athletes who ran (track) in Connecticut," Swartos said, noting that the Connecticut law was being challenged in court. "We'll make adjustments to our policy based on that case."
Wade Pogany, representing the Associated School Boards of South Dakota, said local school boards have the first say on whether a student's request goes forward.
"We're not talking about a bunch of people trying to compete in female sports," Pogany said.
Roger Tellinghuisen, representing the Human Rights Campaign, said that athletic participation by transgender students has not been a problem in South Dakota.
"There simply is no problem here that needs legislative attention," he said. "It's a solution without a problem."
David Owen, representing the South Dakota Chamber of Commerce and Industry, said North Carolina's hospitality industry lost $100 million a year for at least two years due to its transgender bathroom bill.
"That loss was real," he said. "That loss is a risk that we take."
Nathan Lucas, representing the Board of Regents, said he wouldn't tell legislators to bow to the will of the NCAA which governs college athletics. He did note that the bill is at odds with NCAA policies and could result in the loss of tournaments or competition for South Dakota universities.
Rep. Jamie Smith, D-Sioux Falls, said he did not want passage of the legislation to cause South Dakota to be a test case in the courts. He urged the committee to allow the Connecticut case to play out.
"Let the courts figure that out," Smith said. "I don't want to pay that bill."
That was a bill Rep. Jon Hansen, R-Dell Rapids, was willing to pay.
"If there's a court case, it is worth every penny," Hansen said. "I think we ought to go ahead and we ought to win it."
The committee approved the bill on a vote of 11-2. It now goes to the full House.