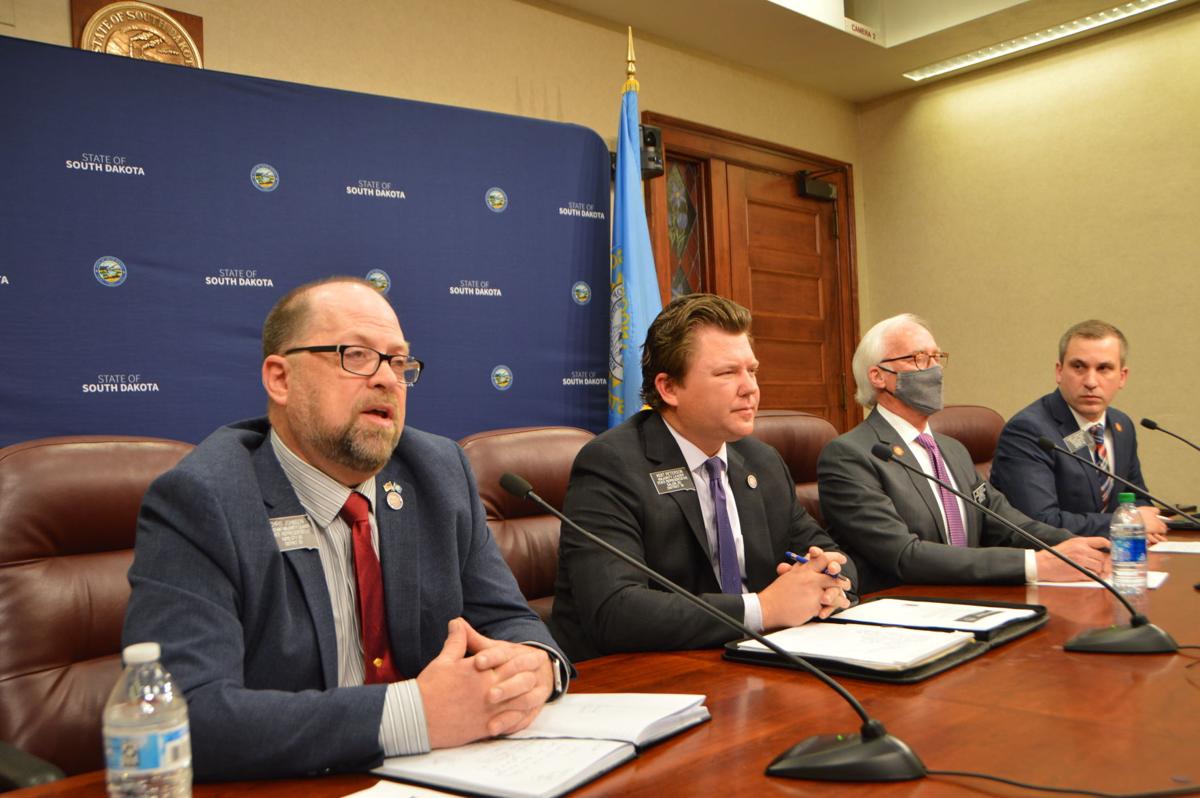 As the final week of the 2021 legislative session approaches and the most contentious bills move through the process, the future of legal weed in South Dakota is slowly taking shape.
Two bills creating frameworks for legal recreational marijuana in the event that Amendment A…
On Wednesday, House Bill 1100, which would modify the medical marijuana program laid out in Initiated Measure 26 that over 70% of voters approved, passed out of the Senate Health and Human Services committee with a 6-1 vote. Sen. Blake Curd, R-Sioux Falls, was the lone vote against the bill's passage. HB 1100, introduced and amended by House Speaker Spencer Gosch, R-Glenham, pushes back the implementation date of the state's medical marijuana program from July 1, 2021, to Jan. 1, 2022.
The House passed House Bill 1100 — a vehicle bill that was amended to compromise a later imp…
On Wednesday, Senate Assistant Minority Leader Red Dawn Foster, D-Pine Ridge, managed to add an amendment with a provision that would allow a medical marijuana user to use medical purpose as a defense in the event they were to be arrested for marijuana possession before the drug is officially legalized in the state. Proponents of medical marijuana had advocated for patient protections to be included when HB 1100 was introduced.
Senate Minority Leader Troy Heinert, D-Mission, said in a press conference Thursday morning that the compromise provisions in HB 1100 are not good enough and that the voters had been clear when over 70% of them approved IM 26 in November.
"The voters went to the voting booth, cast their vote, and said, 'This is what we want, and this is when we want it.' And we're not following that. We're not following any of it," Heinert said.
He explained that under HB 1100 and before legalization takes effect, even with patient protections in place, a medical marijuana patient can still be arrested for possession of marijuana.
"You can still be arrested, which is possibly a 12-hour process, and especially if you're poor, could be even longer. They could maybe possibly impound your car, now you have to pay for a towing bill to get your car out, and you are a cancer patient, and now you've sat for 12 hours in jail. That's the best we can do as a state? I don't think that's the best we can do. We can do better," Heinert said.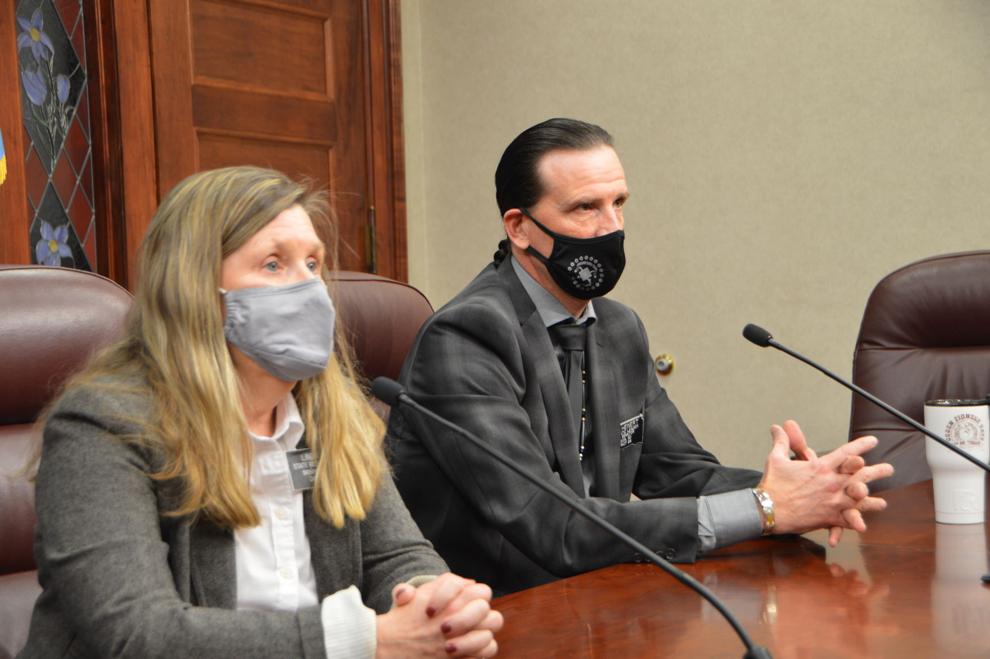 Heinert also pointed out that the opposing testimony for each marijuana-related bill has all come from the Governor's office. Governor Kristi Noem has made it clear many times that she does not support legalizing marijuana, often saying "no one ever got smarter from smoking pot."
Republican leadership maintained that the delay in implementing IM 26 was to make sure the program is done correctly.
"I think that the voters spoke pretty clearly. Part of our role is, and what I think our voters want, is to have certainty and safety in the regulatory environment for marijuana and the access to it, and so if it take a little more time to ensure there's some certainty and there's some safety in there, that is the role of the legislature, to ensure the state does it well and properly," Senate Assistant Majority Leader Mike Diedrich, R-Rapid City, said in a press conference Thursday morning.
Noem, in another press conference Thursday, said legalizing both recreational and medical marijuana at the same time would be unprecedented.
"Implementing medical marijuana as quickly as that ballot measure for South Dakota wanted to do was also unprecedented. We're just trying to take responsible action, make sure we set up the program correctly, that we're doing it the right way so that we don't run into unintended consequences throughout the process," Noem said.
Some Republican legislators have claimed that IM 26 and Amendment A do not represent the will of the people because voters did not know what they were voting for.
"I want to do the will of the people, but when I talk to the people that voted on this, they don't realize the bulk of what's in this bill," Rep. Steven Haugaard, R-Sioux Falls, said in regard to IM 26 during a floor speech on Feb. 25 as the House debated HB 1100.
During Senate State Affairs' Wednesday hearing on House Bill 1095, a vehicle bill that would have established criteria regarding legal marijuana, Senate President Pro Tempore Lee Schoenbeck, R-Watertown, echoed sentiments that voters did not fully understand the marijuana ballot measures. The Senate unanimously voted to table House Bill 1095 Thursday following a motion from Diedrich.
"The reality is that the pot industry hired the Robins Kaplan law firm to do this ballot issue for them and they intentionally made it so you couldn't tell what you're [voting on]; they made [Amendment A] about four or five different topics. Nobody can truthfully say that recreational marijuana got 54% of the vote," Schoenbeck said.
Democratic leaders opposed this line of thinking.
"I'm insulted often by the way some of our people in the legislature speak and it's demeaning the people of South Dakota, it insults their intelligence and it says they really don't know what they're voting for… and it's an insult on their intelligence and it's an assault on the people of South Dakota," House Minority Leader Jamie Smith, D-Sioux Falls, said in a Thursday press conference.
Rep. Linda Duba, D-Sioux Falls, said that voters were "very well-informed" on the marijuana ballot measures.
"I read hundreds of emails, and they weren't the stock email that you get as a cut and paste. They provided very specific examples in particular around medical marijuana, about the pain and suffering they see family members have. They knew exactly what they needed, and they were speaking out to us. And that's what we need to remember," Duba said.
Republican leadership said they couldn't speak for other caucus members but they don't support the position that voters did not know what they voted on.
"People say things, you know, it's not our official position at all that voters did not read the bill," House Assistant Majority Leader Chris Johnson, R-Rapid City, said during Thursday's press conference. "We don't speak for the voters, they speak through their votes, and so that's their knowledge, whether they read through the bill or not."